好时巧克力与王砺珉导演联手,Anomaly上海广告公司、制作公司The Eye以及MPC上海共同打造两部30秒的真人动画结合短片广告。
Hershey's teamed up with director Wang Limin, agency Anomaly Shanghai, production company The Eye and MPC Shanghai for two playful spots mixing animation with live action.
"这次的好时是一个很有趣的项目,把主角对好时巧克力的味觉体验化作视觉上的天马行空,去表现内在的好心情。"导演王励珉硕。
"It was a really interesting idea, to turn the taste of Hershey's into a visual experience, showing people's feelings and imagination", explains director Wang Limin.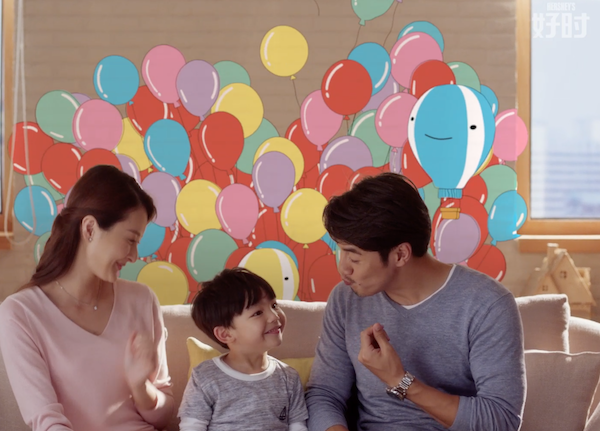 使用电脑特效插画与真人结合的方式来处理这条广告意味着大量的准备工作和舞台布置。
The creative decision to use illustration and CG alongside live footage required the production to be executed in specific stages.
好时与制作团队从一开始就紧密合作。导演王励珉,Anomaly上海,制作公司The Eye与后期团队MPC上海一起设计制定了广告的整体风格。插画则由Olivier Wyart负责绘制。
The whole team worked together to agree on a look based on Anomaly creative Mars' design for the earlier print ads.  Using those as reference, Mars and artist Olivier Wyart then illustrated new assets for the film.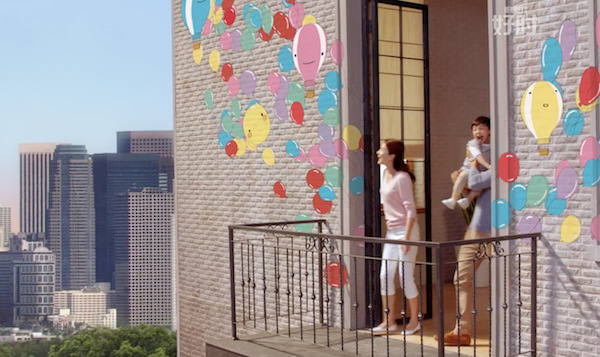 整个拍摄时长持续了两天。拍摄团队在现场设置了追踪点作为后期动画制作的参考。同时演员需要配合并不存在的动画元素进行互动表演。"实拍结合动画片本身就是一种想象。演员要一直想象在海边度假有海豚,脚下有海浪打上来。"The Eye执行制片人简慈慧说。
The shoot took two days, with tracking points set as reference in preparation for the animation blocking.  The actors needed to interact with non-existent cartoon elements.  "Shooting with live action and animation requires a lot of imagination. It's difficult for the actors to imagine they are at the beach with dolphins playing and waves hitting the sand," explains The Eye producer Chien Tzuhui.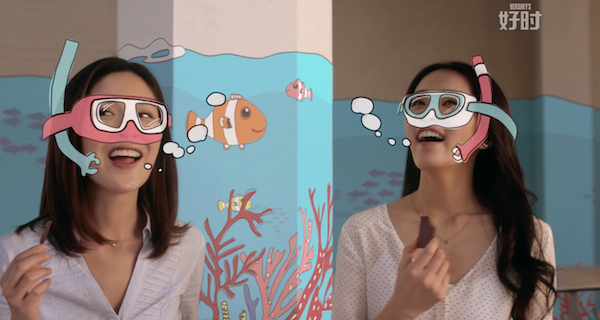 在拍摄完成后MPC上海的动画师就开始着手对动画元素进行加工,将这些二维画面放入三维的空间中。接着MPC的特效监制Barry Greaves接手将动画与真人影像结合起来并与客户一起完成调色。
MPC Shanghai's animators then took the illustrated elements and worked closely with the compositing artists to place them over the 3D set geometry.  Once they were set and working within the frame, the elements were handed to MPC VFX Supervisor Barry Greaves to comp and grade together with the clients. 
Greaves说:"我们面临的最大挑战是档期和预算,同时还有客户和我们对于这部片子的期待。我们必须得用手头的资源和为这部片子做出一些有新意又好玩的东西,加到故事里面。"
"The main challenge," says Greaves, "was managing both expectations and comments knowing time and budget constraints. We had to come up with new and fun ideas to add into the story by reusing and repurposing assets we already had."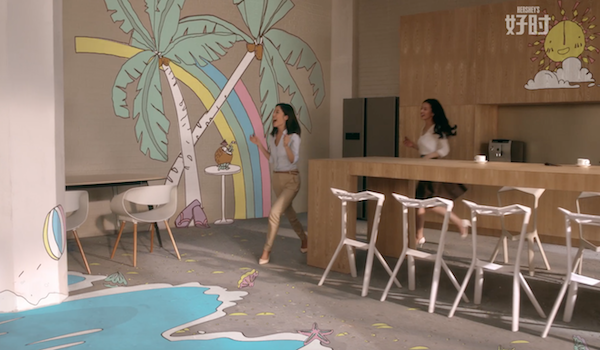 王励珉补充道:"MPC在动画上加了很多分,在我对动画的想象上添加了很多有趣的小细节。"动画制作的周期长达6个月。
Wang Limin valued the contribution, "MPC did a great deal of work in the animation stage, and added lots of fun details into my vision".  The entire animation process took about six weeks. 
王励珉同时对由台湾歌手范逸臣改编的配乐制作表示了敬意:"音乐也是一个亮点,通过范逸臣改编自己的原曲,结合这些可爱的动画把整个影片需要的愉悦氛围都传递了出来。"
The director was especially impressed by the music, created by Taiwanese singer Van Fan, "it's very impressive. Van Fan recomposed his own song to combine it with the cute animation.  It really tells a joyful story."
这两部片子呈现了好时巧克力诱人的甜意与喜悦:"我们都很高兴。这是一次十分成功的合作。"Greaves说。
The result is an attractive pair of films bursting with flavour.  "It was a great collaborative effort all round," says Greaves, "everyone went away happy."
制作名单:
客户:好时
广告公司:Anomaly上海
创意:Antonius Chen, Han Cong, Madeline Chen, Robin Zhang
客户经理:Cherrie Chan, Brian Chan
广告公司执行制片人:Jennifer Chien
广告公司制片人:Coco Gu, Fish Lin
插画师:Olivier Wyart,宋天舒
动画与设计:Toma Ever, Derek Lian, Axel Ketz
制作公司:The Eye
执行制片人:简慈慧
导演:王励珉
剪辑:Binglong Huang
后期:MPC上海
后期制片人:Chingwen Huang
特效总监:Barry Greaves
合成:Iman Javaherypour, Joseph Tsang, Madhuka Gunasekera
Credits
Client: Hershey's
Agency: Anomaly Shanghai
Creatives: Antonius Chen, Han Cong, Madeline Chen, Robin Zhang
Accounts: Cherrie Chan, Brian Chan
Agency executive producer: Jennifer Chien
Agency producer: Coco Gu, Fish Lin
Illustrator: Olivier Wyart, Mars宋天舒
Animation and Design: Toma Ever, Derek Lian, Axel Ketz
Production house: The Eye
EP: Tzuhui Chien
Director: Limin Wang
Editor: Binglong Huang
Post: MPC
Post Producer: Chingwen Huang
VFX Supervisor: Barry Greaves
Compositing: Iman Javaherypour, Joseph Tsang, Madhuka Gunasekera