Forensics Dicos 法医德克 – EP1
Three-episodes ad "Forensics Dicos" went online May 6th. To us, it's a totally different approach to advertising and it seems have worked really well; the spot generated almost a million views within only one day on the brand's official Wiebo alone. Dicos' ambitious aim is to differentiate itself from KFC, which introduced the now ubiquitous fried chicken to China in 1987.  To tackle this the brand entrusted Goodzilla to create an ad with all the right elements to go viral.
一个三集的"法医德克"广告于五月六号上线。对于我们而言,这是一种全然不同的广告方式,似乎也得到了不错的反响。短片一天之内仅在品牌的官方微博上就有一百万的浏览量。德克士有着远大的目标,就是要成为和肯德基不同的品牌,肯德基于1987年将当今十分流行的炸鸡带入中国。为了实现这一目标,该品牌委托意类Goodzilla创作了一个包含各种广泛受众元素的广告。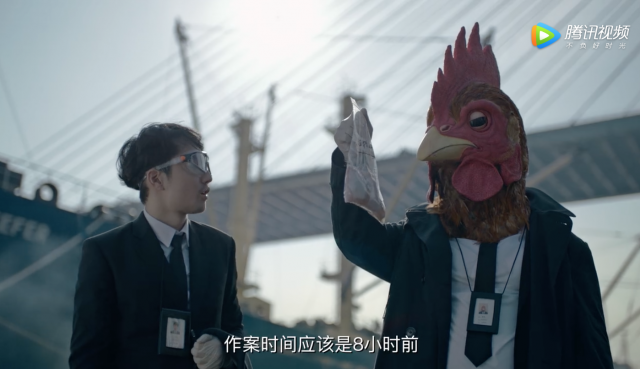 It's weird, it's made in best traditions of film noir and suspense, it's filled with black humor and absurd conflicts. And, it works: each episode in the series introduces one of the three main selling points of the brand's fried chicken in an unusual way.
这个有点不可思议,广告采用了黑色电影和悬疑片一贯的手法,充满了黑色幽默和荒谬的冲突。然而,这招十分奏效:每一集都以一种不同寻常的方式介绍了德克士炸鸡的三大卖点之一。
Forensics Dicos 法医德克 – EP2
Chicken forensic expert and his human assistant work together in the films to solve a "chicken homicide" case. This inevitably leads to small conflicts as the assistant can't help but say something inappropriate while drooling at the crime scene; fried chicken just looks so good. According to creative director Hesky, they wanted to find an interesting angle to introduce reasons to buy in a fun way. Creating a chicken forensic expert to investigate why people are so in love with eating fried chicken seemed like a fresh idea.
在影片中,鸡法医专家和他的人类助理一起侦察一起"鸡命案"。这样会不可避免地引发一些小冲突,因为助理在犯罪现场时除了一边流口水一边忍不住说一些不合适的话以外,帮不上忙;炸鸡看起来太好吃了。创意总监赫斯基表示,他们想找一个有趣的角度,以有趣的方式介绍购买的理由。创造一个鸡法医专家的形象来调查为什么人们如此钟情于炸鸡,这似乎是个新奇的想法。
The result is anything but boring, and possibly even a bit controversial – in the end, the plot makes Dicos the killer! Some netizens comment that connecting food and forensics in an ad is a bit uncomfortable, but overall, the mini-series received positive feedback on creativity with 84,000 people discussing the ad in Weibo by hashtag #法医德克#. It's enough views and comments to truly label the film 'viral'. It's unusual to see such daring creative approved in China, and we found the approach of the spot particularly interesting. It might be that the success of a film like this will lead to even more bold creative to come.
结果一点也不无聊,甚至可能有点争议——最后,剧情中德克士成为了凶手!一些网民评论道:在广告中把食物和法医联系在一起有点让人不大舒服,但总体来说,这个迷你剧集收到了相对可观的反馈,在微博上引起了84000人对话题#法医德克#进行讨论。这些观点和评论足以给这部影片打上"病毒"的标签。这种大胆的创意在中国得到认可是不寻常的,我们发现这种方式特别有趣。也许这样一部电影的成功会带来更为大胆的创意。
Forensics Dicos 法医德克 – EP3
---
CREDITS 制片团队
Brand | 品牌: Dicos 德克士
Agency | 广告公司:: Goodzilla 意类
Art director | 艺术总监: Hesky Lu 赫斯基 陆
Director 导演: mong