In a tidal wave of love-themed commercials for Chinese Valentine's Day or Qixi Festival, luxury brand Burberry's campaign stands out. Unlike Gucci or Louis Vuitton, Burberry did not present its limited clothing collection with a traditional fashion film and unlike Dior, they did not use celebrities. Instead, Burberry did something completely different.
七夕是中国的传统情人节,同往年一样,今年也涌现了大批爱情主题的广告,其中博柏利的品牌广告脱颖而出。今年的博柏利既没有像古驰,路易威登一样,推出了风格典型的时尚大片,去介绍自家的限量版系列,也不学迪奥采用明星阵容。今年,博柏利做了件与众不同的事儿。
Two weeks before the Qixi holiday, celebrated in China on August 14 this year, Burberry started to release 19 seconds short cute animations. In each of the five animated stories – POP the deer, Burberry's IP character – is dressed in specially designed limited edition festival collection, which reinterprets five Chinese love idioms. Media.Monks Shanghai, the agency that envisioned the "Love Idioms" campaign believe that: "Chinese love stories from hundreds of years ago can still touch and move you. When young people start to lose faith in love, we show them that love never changes".
在七夕(今年是8月14日)到来的两周前,博柏利开始陆续发布了数个19秒长的可爱动画短片。短片一共有五部,每部短片中,博柏利的品牌IP角色"博博鹿"身穿七夕专属限定系列萌趣出镜,摩登重演经久不息的中国爱之语。Media.Monks上海是这些作品背后的创意代理,他们构思出"爱语"的方案是因为相信:"千百年前的中国爱情故事,至今仍能为我们带来感动。当年轻人开始对爱情失去信心时,我们要告诉他们,爱情永不会变。"
The idioms are taken from some of China's most popular or significant pieces of literature, plays and legends – such as Journey to the West, and the love legend behind the Qixi Festival: Meet at the Magpie Bridge. One of the idioms further enhances the connection to the brand through its mascot. While "butterflies in the stomach" phrase describes the excitement of falling in love in English, in Chinese the corresponding idiom literally translates as "little deers bumping to each other".
这些成语来自于大家耳熟能详的中国传统神话和文学戏剧作品:例如西游记,和七夕节背后的神话爱情故事:鹊桥相会。而其中一个俚语最能体现与品牌吉祥物关联。在西方,人们用"胃里有蝴蝶"来形容怦然心动的感觉,而在中国,我们会用"小鹿乱撞"来形容这一奇妙又甜蜜的感觉。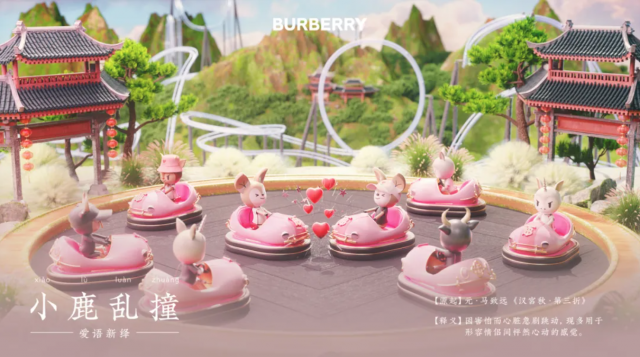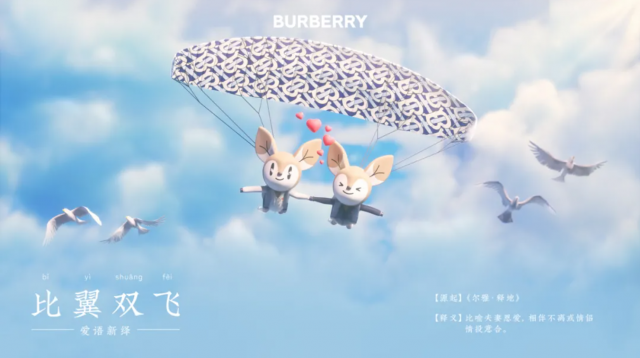 Surprisingly, character POP deer was created by Burberry Global back in 2018, and is one of the original characters of the Burberry Family including deer, ox, goat, and unicorn. South Korean animation studio Bugaboo produced the original set of character designs, and so the studio was a natural choice for the campaign considering the tight schedule, according to Media.Monks. From receiving the brief to launch, the campaign took around 3 months: one month to settle on the creative, and two months to complete the production.
博博鹿是由品牌在2018年创作的吉祥物,它还是博柏利家族最初的几个吉祥物之一,包括:博博鹿、博博牛、博博羊和独角兽。Media.Monks透露,之前是韩国的动画工作室Bugaboo,根据博柏利品牌提供的最初设计稿,制作了系列吉祥物角色的原型,所以在时间紧张的情况下,这家工作室成为了系列广告短片的最佳选择。在接到简报到制作完成上线,制作时间差不多花费了3个月:1个月用来确定创意,2个月用来完成制作。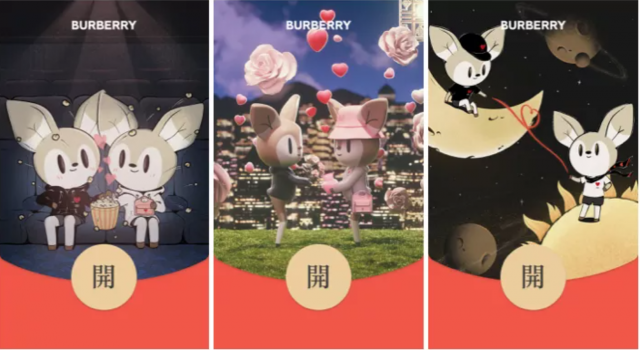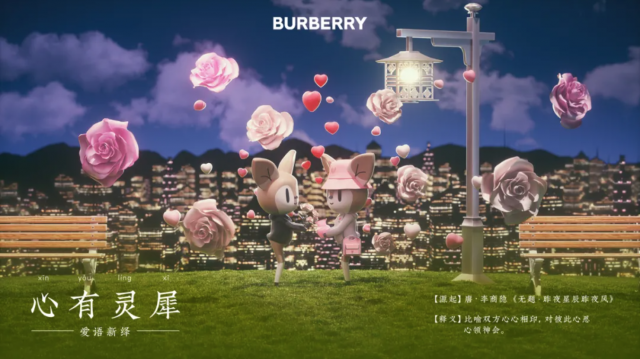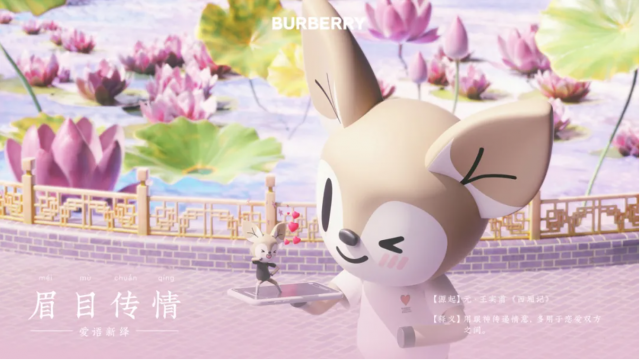 In addition to animations, the campaign included social communication, WeChat posts and stickers, as well as red packet cover, a set of unique dictionary cards, outdoor ads in Hangzhou. Media.Monks Shanghai was responsible for every aspect of the 360-marketing campaign, except digital media buying.
除了动画短片,这系列广告还包含了社交媒体互动,如官微内容发布、微信表情包及微信红包封面,实体创意字典词卡、数字媒体投放以及杭州户外广告投放等。Media.Monks上海负责了这场360° 营销活动除数字媒体购买之外的全方位推广。
Again, this year, Burberry didn't change its strategy to connect to local culture instead of pushing Chinese Valentine's Day-themed products in a superficial way. A 2019 "My Love, My Way" campaign done by TOMORROW, now known as Media.Monks is a good example. For the campaign, the brand ambassador Zhou Dongyu met several senior couples who have been together for decades and learned about their view on true love.
今年的博柏利,仍然选择走进中国文化,而不是简单直白地推介自己七夕主题的产品。他们2019年的广告活动"My Love, My Way"由TOMORROW(现在是Media.Monks)制作的,也是个好例子。在这个活动中,品牌大使周冬雨采访了几对走过多年风雨的老夫妻,向他们请教什么是真爱。
Burberry 2019 Qixi 七夕
According to Rogier Bikker, Managing Director of Media.Monks: "Media.Monks and Burberry have a long-running relationship and proven history of boundary-pushing craft. As Chinese Valentine's Day is a significant day of the year, we want to help celebrate this day by honoring some of China's great heritage in language. Capturing the capsule collection through this video book that also captures some of these significant Chinese love stories, is a great way for Burberry to connect with its customers." 
Media.Monks 的董事总经理 Rogier Bikker 说:"Media.Monks 和 Burberry 有着长期的合作关系,致力于突破创意边界,产出优质内容。作为重要营销节点,我们希望通过致敬博大精深的中国传统文化,融合品牌精神与传承,来庆祝七夕这一时刻。这次合作不仅以趣味形式展示了 Burberry 七夕限定系列产品,更演绎了许多重要的经典爱语故事,是 Burberry 与消费者建立深厚联系的良好方式。"
Does a luxury brand connecting with its customers through a cute, animated character seem like a balancing act? Maybe, but according to Media.Monks: "The concept of luxury is much broader than it once was. Instead of creating distance, we are coming closer to people's true emotions. Togeather with the clients, we have a mutual understanding on that one". 
奢侈品牌通过可爱的动画角色与顾客建立联系,这看起来像是一种平衡吗? 或许是,但Media.Monks告诉我们:"奢侈品的概念比以前宽泛得多。我们不是在制造距离,而是在接近人们的真实情感。我们和客户在这一点上是有共识的。"
 Credits 2021 campaign 
Creative Agency: Media.Monks
Managing Director: Rogier Bikker
Client Engagement VP: Caroline So
Creative Director: David Tse
Art Direction: Nicolas Barlier, Soup Wong, Shiwen He, Bagel Si
Copywriting: Icey Han, Mavis Ni
Project Management: Zoe Chu, Sherry Shi, Emma Fu
Producers: Rony Chan, Jaap Bosman, Wenjia Zhang, Xuechun Zhu
Animation Studio: Bugaboo Studio
Credits 2019 campaign 
Creative Director: JC
Copywriters: Jing Zhu, Anabelle Xie
Art directors: Lihan Zhang, Chenmiao Liang
Strategy: Dragon Zhang, Elinor Qiao
Account: Rui Zhang, Zoe Chu
Agency producer: Fiona Zhang
Production company: Nowness
Director: Zhao Dan
DOP: Li Dongjun
Production coordinator: Tang Qian
Line producer: Liu Jiangbin
Offline editors: Cheng Lin & FanC
Executive producer: Yao Hui
Photographer: Yu Cong
Producer: Chai Hu