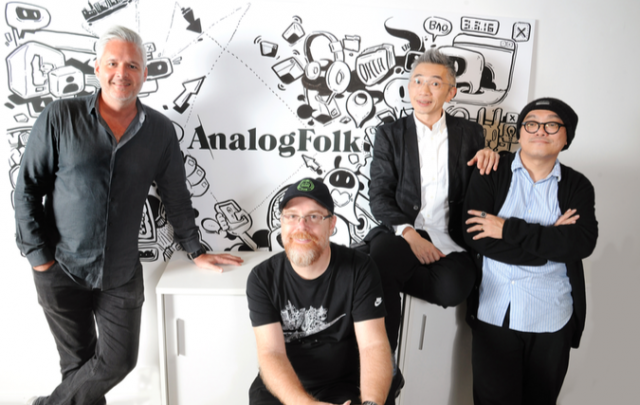 From left to right 左到右:
Chris Ryan – Managing Director Asia; Harry Llufrio – Executive Creative Director Asia;  Wayne Fan – Managing Director Shanghai; Tommy Liou – Creative Director Shanghai
Earlier this month London headquartered AnalogFolk, an independent digital creative agency, opened its doors in Shanghai.  The team will be led by Managing Director & Partner Wayne Fan and Creative Director & Partner Tommy Liou, both veterans of China's advertising landscape.  Jacob's Creek is the key client to start the office, a strategic partnership of the brand's existing global relationship with AnalogFolk's Sydney office.
本月,总部位于伦敦的独立数字营销创意公司AnalogFolk正式落户上海。公司将由董事总经理兼合伙人范文毅和创意总监兼合伙人柳耀勋掌舵,二人在中国广告业均很资深。上海公司迎来的第一个客户就是Jacob's Creek,这也是AnalogFolk悉尼公司现在的全球战略合作伙伴。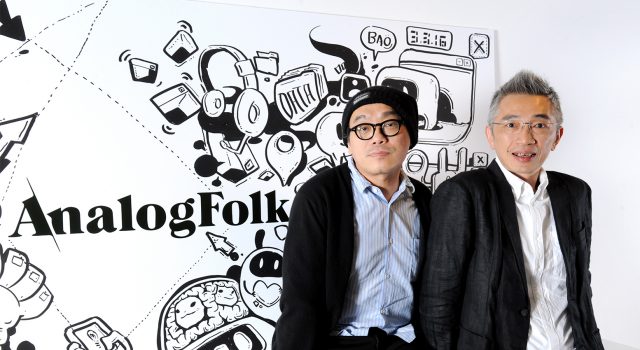 Tommy Liou and Wayne Fan
Chris Ryan, Managing Director & Partner for AnalogFolk Asia, commenting on the relationship particularly between the Hong Kong and Shanghai offices said, "Hong Kong is a regional base for many of our global clients and is both a perfectly situated gateway to China for western brands, as well as a gateway to the world for China brands.  The two offices are already working on proposals for clients headquartered in Hong Kong, Australia, the US and the UK. We aim to work as one team for our clients".
AnalogFolk亚洲区董事总经理兼合伙人Chris Ryan,在谈到香港公司和上海公司的关系时如是说道,"香港是我们服务很多国际客户的区域根基,同时也是很多西方品牌进入中国市场最理想的大门。香港公司和上海公司已着手撰写一些提案,为总部位于香港、澳大利亚、美国和英国的客户提供服务。我们的目标是要像一个团队一样为客户提供服务"。
With offices already in Hong Kong, London, New York, Portland, and Sydney, the newly opened office in Shanghai is part of the agency's larger ambitions to service the most progressive brands in the world's fastest growing markets. Harry Llufrio, Executive Creative Director & Partner at AnalogFolk said, "So long as we maintain that close connection between offices to help our clients – not just between HK and Shanghai, but also between Shanghai and other offices in our network – getting off the ground will be enjoyable for us and smooth for our clients."
AnalogFolk公司遍布香港、伦敦、纽约、波特兰和悉尼,现如今,上海分公司的成立体现了公司更为宏达的目标,要立足世界增长最快的市场,为最为卓越的品牌提供服务。AnalogFolk执行创意总监兼合伙人Harry Llufrio表示,"我们要保持各个公司之间的紧密联系,不仅是上海公司跟香港公司,也包括上海公司跟其他公司之间的联系,这样,上海公司就会起步腾飞,不仅员工能乐在其中,客户服务也会很顺畅。"