蘑菇街广告剧的广告系列剧《解忧买手店》于10月28日推出了第一季度的完结篇,为这部观看次数多达2亿,日均观看次数达1000万次的5集短剧画上了一个圆满的句号
The final film in the series of Mogujie's advertising saga "Tales of a Fashion Buyer" (TFB) was released on 28 October and brought the total number of views for the series up to an impressive 200 million, averaging around 10 million per day.
《解忧买手店》由上海琥珀传播为时尚电子商务网站与社区蘑菇街精心打造,上线后成为了10月收视的黑马,连续6天上榜单日网剧TOP 10,跻身最成功的网络广告之一。
Created by Amber Shanghai for China's largest online fashion retail & community Mogujie, "Tales of a Fashion Buyer" was in the Top 10 most-viewed online shows for 6 consecutive days making the dark-horse series one of the most successful online advertisements ever.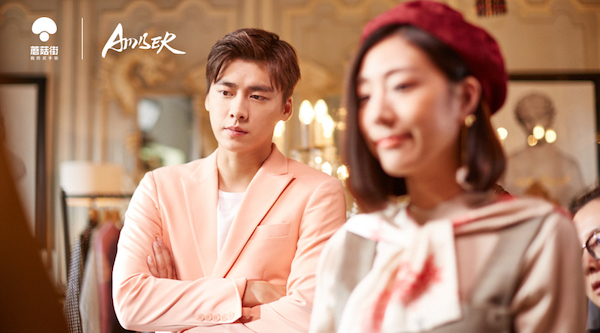 作为最大中国最大的时尚电子商务网站与社区,蘑菇街旨在为90后的年轻女性解决如何搭配穿衣风格的问题。同时,琥珀传播通过调研数据发现视频APP是少女们手机中的挚爱前三,因此决定以打造一部这些年轻女性所喜爱的娱乐剧为手段,来剧情唤起少女们对于"好看穿搭"的购买需求。为了吸引更多的女性用户,他们请来了蘑菇街的形象代言人——当下最火的"小鲜肉"李易峰作为本剧主演。
As China's largest online fashion retail & community, Mogujie aims to help their target audience of 90s young women solve the problem of what to wear. Amber's research showed that these young women used video apps the most, so decided to create a web series to help suggest the "right" clothing in a film format. Bringing in ultra famous celebrity Li Yifeng as the protagonist definitely added to the appeal of the advertising idea.





Posters of Each Episode | 剧集海报
琥珀传播从50多个故事脚本中为《解忧买手店》挑出5部制成短剧,由台湾导演范阳仲选取年轻人喜欢的惊悚、穿越、恋爱、校园等题材融入不同穿搭主题。由于天气以及场地、演员档期等诸多因素,制作团队不得不在6天内完成了本片的所有素材、KV、包括双十一广告的拍摄。同时,为配合每周三周五的剧集上线,以及每集预告上线,创作团队投入了大量时间与精力尝试不同的剪辑方式,力求呈现出最终完美的结果。
The series (chosen out of 50 script ideas) consists of 5 episodes, each of which centers on a favourite theme of the targeted generation: horror, time-travel, love story and school/university life. The series was helmed by Taiwanese director Fan Yangzhong.  Filming for all 5 episodes, as well as KVs and a TVC for China's Singles' Day online shopping holiday on 11 November was completed in only 6 days due to weather, locations and the actors' availability. A lot of effort was put in by the team to hit the schedule of releasing a new episode on every Wednesday and Friday along with the trailers for the following episode. The well-timed result kept the audience interested throughout the series.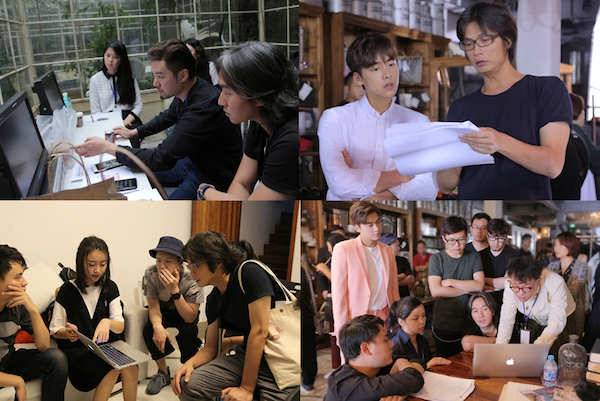 在推广方面,琥珀传播撇弃传统广告宣传方式,将《解忧买手店》作为一部影视剧来推广,以"李易峰新剧"为主题引发粉丝对剧情的持续关注。蘑菇街APP站内页同时开设了一家与消费者互动的解忧买手店,随着每一集剧情相应的开运装、恋爱升温装、百搭白衬衫、元气装、主角光环上新产品,带动站内主题款的热销。
Amber took the approach of promoting TFB as one would a new TV Series, teasing fans with "a New Film from Li." Online and offline posters appeared before the release to drum up attention. Mogujie App then also opened a new store with a dedicated fashion buyer who interacts with customers, showing them how to dress well. The app also found that the clothing featured in each new episode released, immediately became popular, taking sales through the roof.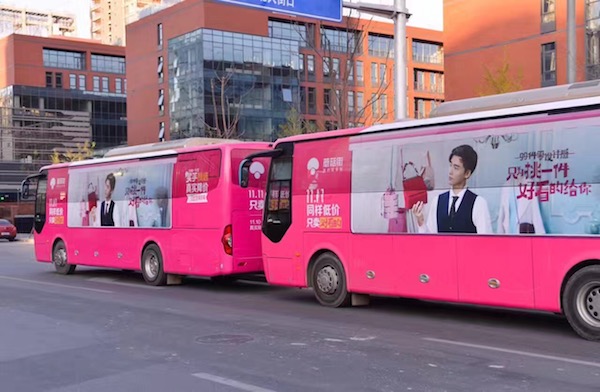 Posters of Tales of a Fashion Buyer | 《解忧买手店》海报
这一系列有别于传统广告的制作与推广方式,结合琥珀传播此前的精心调研,加之李易峰的明星光环加持,使得琥珀传播与蘑菇街的这次合作达到了空前的成功。
The unusual format, combined with well-placed research, a great execution and empowered by Li, landed Amber and Mogujie with an incredible advertising success.