Amanacliq 正在为第三届夏日艺术派对征集艺术创意。为期两天的周末艺术展将在7月8日的欢迎派对后正式开启。Amanacliq旗下Studios Ark将会成为本次派对的主办方。
夏日艺术派是一个为广告从业者(市场,媒体及娱乐产业相关人员)展示个人创意作品(非商业用途)的平台,以满足他们除了日常工作以外的创意需求。人们可以欣赏他人的艺术创意作品,并从中吸取灵感。
关于本次活动的目的,Amanacliq总经理兼摄影师、活动主办者Jonathan Tay说:"我们希望为所有人提供一个广告以及市场营销以外的创意平台,让人们有机会做自己真正喜欢的东西。"
Amanacliq is calling for creative submissions for its Summer Festival, the third edition of its annual party on July 8th.  The company's Studios Ark plays host to the festivities, which kick off with a huge launch party and concert followed by a two-day weekend exhibition. 
The Summer Festival is unique in showcasing the personal, non-commercial creative work of the individuals who make their living in advertising, marketing, media and entertainment industry, celebrating the independent pursuits that keep them creatively fulfilled. 
Event curator, photographer and Amanacliq president, Jonathan Tay, outlines the objectives, "The idea is to create a platform where everyone is outside their mandate of advertising and marketing.  This is an opportunity to express something that we love."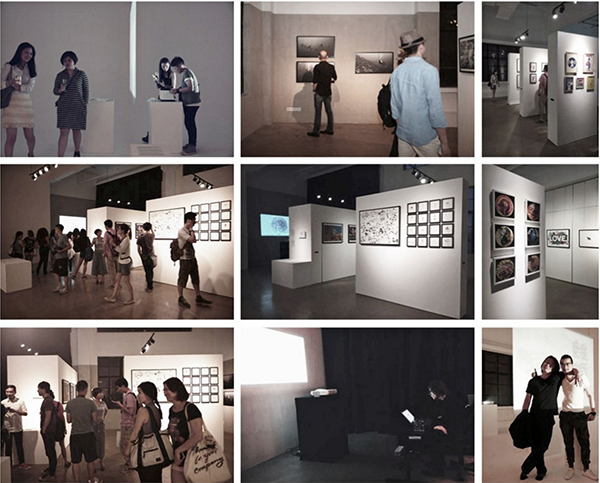 2015夏日艺术展展区|2015 Amanacliq Summer Festival ehibition area
Tay解释说:"BBDO大中华区首席创意官梁伟丰是个出色的作曲家,他对于音乐创作充满热情;W+K的Terence Leong吉他弹的很好。这并不是说他们获了多少奖,所以很厉害。而应该是"陈耀福很厉害,他写了本书!"智威汤逊北亚地区首席创意官陈耀福写了本书,只是因为他喜欢写作。这才是人们应该学习的地方。"
Tay elaborates, "Leong [Wai Foong], the CCO of BBDO Greater China, is a well-known songwriter and he's still passionate about creating music.  Terence Leong from Wieden is amazing on the guitar", says Tay.  "It's not about saying 'they're good, they won an award', it's saying 'Norman (Tan) is good, he wrote a book!' Norman Tan, the North Asia CCO of JWT, has time to write a book, purely out of passion! That is something people should get inspiration from."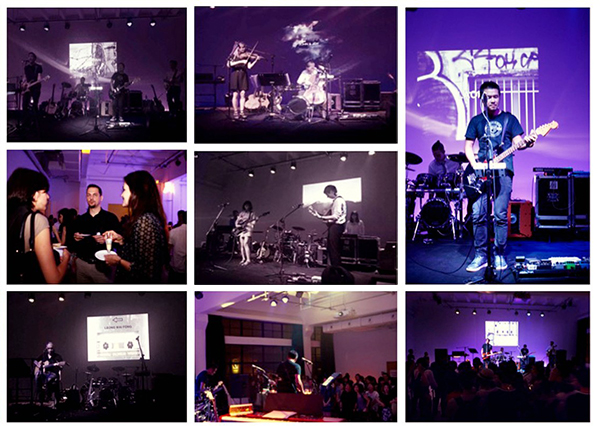 2015夏日艺术展舞台区域|2015 Amanacliq Summer Festival stage area
著名影像制作公司Amanacliq邀请所有广告从业者包括市场人员,广告公司,导演,制片公司与后期公司来参与夏日艺术派对,一起聚会、欢庆。Tay说:"最主要的就是大家能玩的开心,打破规矩,一起畅饮, 做蠢事,一起合影,结识更多的同行。"
Amanacliq, a leading visual production company, is throwing its doors open to anyone working in the industry (marketeers, agencies, directors, production, postproduction etc) to come, meet, and be merry, explains Tay, "The core thing is for everyone to have fun, break the ice, drink, be silly, take pictures and get to know people from the industry."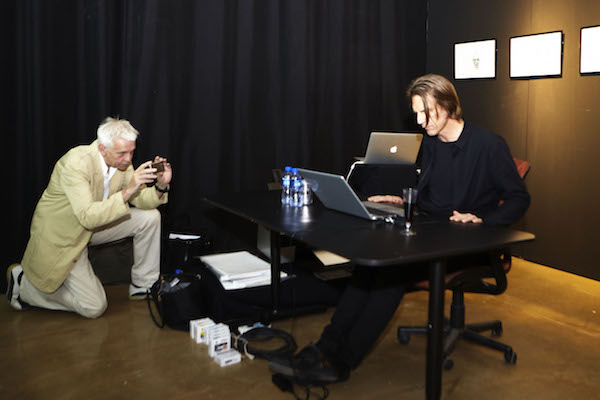 奥美中国首席创意官Graham Fink,2015夏日艺术展参展人|2015 Amanacliq Summer Festival exhibitor Graham Fink, CCO of Ogilvy China
首届夏日艺术派对于2014年非常成功,次年的派对对公众开放,吸引了将近800人次前来参加。派对的高光时刻包括:一支由业内人士组成的乐队——前上海腾迈创意总监Patrick Tom主唱,W+K上海Terrence Leong担任吉他手,W+K上海行政总监Bryan Tilsman担任贝斯手。梁伟丰表演了自己的原创音乐,而DJ整容则由多名来自各广告公司的员工组成。所有来宾一直狂欢到凌晨时分。
The success of the festival's inaugural year in 2014, and an open–house policy in 2015 saw more than 800 guests attend last year.  Among the highlights, the live music featured a band comprising former TBWA Shanghai creative director Patrick Tom on vocals, W+K Shanghai CD Terrence Leong on guitar and W+K Shanghai MD Bryan Tilsman on bass. Leong Wai Foong performed his original compositions, while an extensive roster of DJ talent from creative agencies kept revelers dancing till the small hours.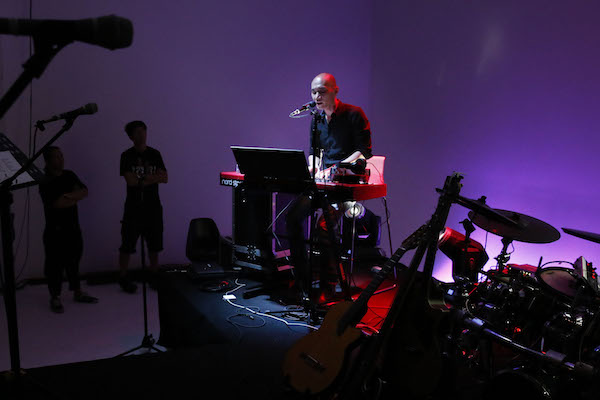 BBDO大中华区首席创意官梁伟丰,2015夏日艺术展现场音乐|2015 Amanacliq Summer Festival concert, Leong Wai Foong, CCO of BBDO Greater China
除了主工作室的狂欢外,其他区域主要用作展出各类艺术作品:奥美中国首席创意官Graham Fink用眼睛作画,文明执行创意总监兼导演骆耀明朗诵他的诗作"我,旅行家"……还有许多其他广告从业者的摄影作品,画作等。
Alongside the concert in the main studio, the other spaces played host to art and installations including Ogilvy China CCO Graham Fink painting with his eyes, Civilization ECD Andrew Lok reading from his volume of poetry, 'I Am A Tourist' and photography, illustration and paintings by marketeers, managers and more.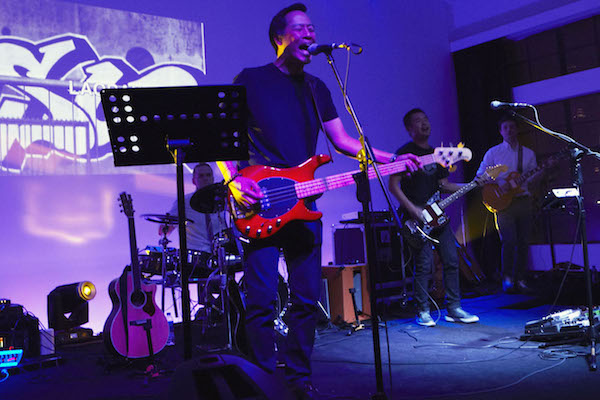 前上海腾迈执行创意总监Patrick Tom,2015夏日艺术展现场音乐,|2015 Amanacliq Summer Festival concert, Former ECD of TBWA Shanghai, Patrick Tom.
Tay不能透露其他有关今年的展出与表演信息,但是可以肯定的是,2016夏日艺术派对将会更加宏大与大胆,说不定会有一两个名人出席。
这一切绝对不能错过。我们Ark Studio见。
Tay cannot yet reveal too much about this year's lineup, but it is safe to assume 2016 will be even bigger and bolder, maybe with a celebrity appearance or two thrown in for extra glitz.
This is not to be missed.  See you there.
Amanacliq夏日艺术展
@ Studio Ark
3rd floor, East Block 1, 1029 South Zhongshan Road, Huang Pu District, Shanghai
上海黄浦区中山南路1029号1号楼东3楼
开幕派对
艺术展
更多有关夏日艺术派对信息请联系:Edie Zhang 138-1867-2735
Amanacliq Summer Festival
@ Studio Ark
3rd floor, East Block 1, 1029 South Zhongshan Road, Huang Pu District, Shanghai
Opening Party
8th July

8pm – late

Open invitation
Exhibition
For more information, please contact: Edie Zhang 138-1867-2735