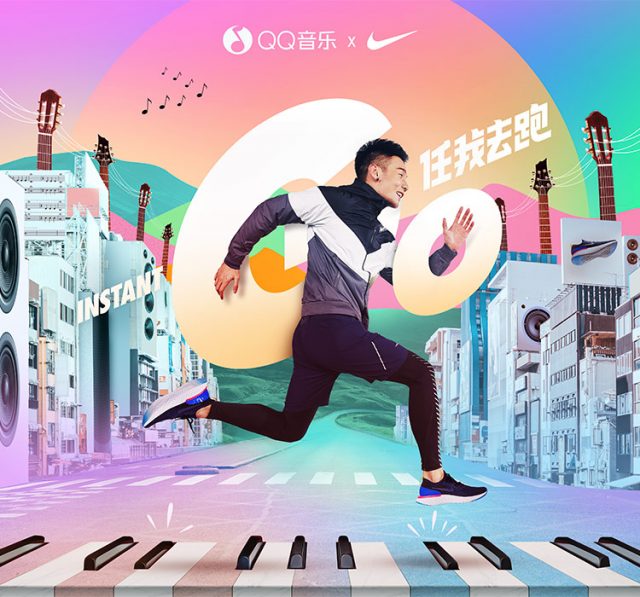 https://i.y.qq.com/v8/playsong.html?songid=213288478&source=yqq#wechat_redirect
Music is often an integral part of a runners' motivation and routine. As such, Nike took the opportunity during its latest global footwear release, Nike React, to incorporate audio storytelling into the campaign. Together, AKQA creative agency and GUM music house, created three immersive, audio stories where original music was paired to voice overs of two NIKE runners, Liang Jinsheng and Ge Manqi, and one musician, Li Ronghao.
音乐往往都是跑者不可或缺的动力来源。因此,耐克最新的全球跑鞋广告也抓住了音乐的力量,Nike React通过音乐来讲述故事。雅酷创意机构和GUM音乐制作联手打造了三部沉浸式的语音跑者故事,原创音乐与旁白融合在一起,运动员葛曼棋、梁劲生和歌手李荣浩倾力献声。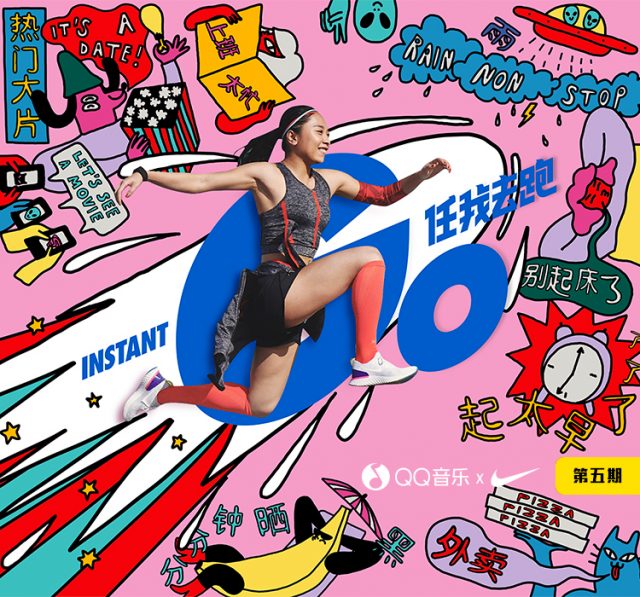 https://i.y.qq.com/v8/playsong.html?songid=213481351&source=yqq#wechat_redirect
Ge Manqi 葛曼棋
The distinctly different music tracks and stories are meant to guide runners in their athletic journey. "Each 'story run'" the AKQA team shared, "reveals an engrossing narrative in which the runner plays an active participant. Run the same route. Choose a different episode. Experience a different story. The possibilities are limitless. Enabling runners to rediscover the passion for the same streets they've run a thousand kilometers over."
与众不同的音乐旋律和故事是为了提供语音跑者指导。雅酷团队表示,"每一个'跑者故事'都引人注目,跑者积极参与。跑同样的路线,选择不同的篇章,体验不同的故事。充满无限可能,让跑者在跑过上千遍的熟悉的路上发现新的热情。"
The three audio stories were released on QQ Music over the course of seven weeks starting on March 9th and leading up to 'Go Day' on April 22nd, QQ's Music Festival Celebration Run, which also was timed on Earth Day.
三个语音跑者故事于从3月9日起,直到4月22日,连续7周在QQ音乐上播放,4月22日是地球日,也是QQ唱跑音乐节。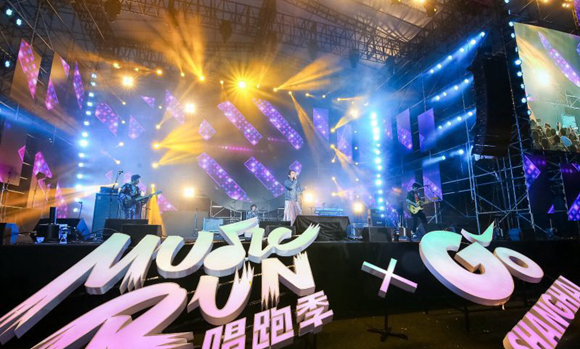 From the creative team's perspective it was challenging to imagine and visualize an 'invisible' experience. The AKQA team had to ask "how do we tell a purely visual story and make it come to life solely through music and SFX? Can we make an experience 'immersive' simply through audio and inspire runners to break through their running limits?"
对创意团队而言,要想象一次"无形"的经历,呈现出来,这很有挑战。雅酷团队不得不思考,"如何能够单单通过音乐和特效把单纯的视觉故事生动讲述并呈现出来?能否通过声音来展示一场'沉浸式的'体验,激励跑者打破极限?"
For music house GUM, the project required a three-month time devotion. After the three voice overs were recorded the team of composers, music producers, sound engineers and designers worked diligently together to perfect the total sixty minutes of original music needed for the campaign. In the end, six composers, two based in Shanghai and four in Paris, were needed to keep this music-heavy project on track. It was one of GUM's biggest budget and time consuming projects since opening in China four years ago.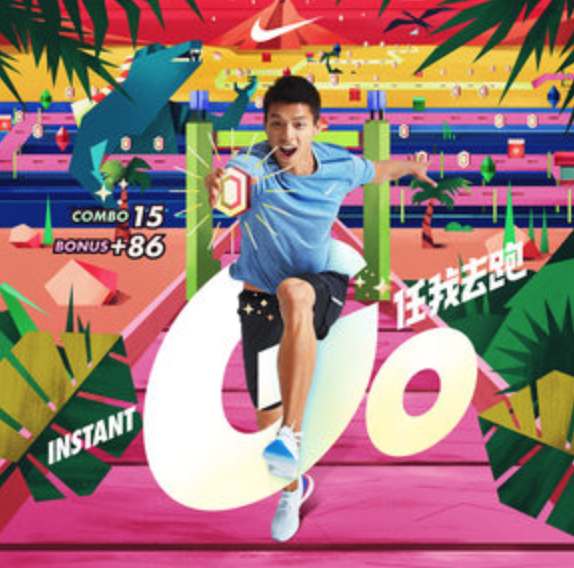 https://i.y.qq.com/v8/playsong.html?songid=213391576&source=yqq#wechat_redirect
Liang Jinsheng 梁劲生
对于GUM而言,是三个月的专心致志。三个声音旁白录好之后,作曲、音乐制作人、音效师和设计师兢兢业业,将项目所需的60分钟的原创音乐打磨完美。最终,需要六名作曲(两位来自上海,四位来自巴黎)才能保证庞大的音乐项目顺利进行。这也是GUM中国成立之初到现在四年以来预算最大、最耗时的项目。
AKQA shared "this project required super close collaboration between Nike x AKQA x GUM. We're super lucky to have had the opportunity to explore new territories that allowed and challenged us to step into terrains unexplored. Sometimes our limitations are actually a blessing in disguise. It led us to a creative solution that didn't duplicate or overlap with other parts of the campaign but instead amplified and enhanced it by offering another dimension".
雅酷表示,"项目需要耐克、雅酷和GUM三方紧密合作。我们非常幸运,能有机会探索新的领域,挑战自己踏入未知的领域。有时候,我们知识的局限其实反而是潜在的恩赐。引领我们找到创新的解决方案,避免了复制和重叠,我们能够拓展全新的维度"。
Credits 制片团队
Client | 客户: NIKE
Agency | 广告: AKQA, Shanghai 雅酷上海
Executive Creative Director | 执行创意总监: Eric Cruz
Associate Creative Director | 创意副总监: Derek Lui
Senior Art Director | 高级艺术指导: Meeyee Foong
Script Writer | 脚本: Daisy Liu, Miranda Yuan
Copy Writer | 文案: Achur Chen, Ines Li
Designer |设计: Sia Song, Jochen Wang, Cheng Zi
Project Manager | 项目经理: Viola Ping
Senior Account Director | 高级客户总监: Ken Chen
Account Manager | 客户经理: Marvin Yan
Social Team | 社交媒体团队: Kaysee Jeng, Ceci Hu
Illustration | 插画:
Group KV
Photographer | 摄影: Jedi Zhou
Illustrator | 插画师: Shotopop UK & Amanacliq Shanghai
Album Cover 1 | 专辑封面1: Run with Li Ronghao:
Photographer | 摄影: Jedi Zhou
Illustrator | 插画师: Magdiel Lopez
Album Cover 2 | 专辑封面2: Run with Liang JinSheng:
Photographer | 摄影: Jedi Zhou
Illustrator | 插画师: Dan Matutina
Album Cover 3 | 专辑封面3: Run with Ge Manqi:
Illustrator | 插画师: Egle Zvirblyte, Amanacliq Shanghai
Music | 音乐:
GUM Shanghai
Executive Producer | 监制: Thomas Faucheur
Producers | 制片: Fabien Langard & Ronald Qiu
Assistant Producer | 助理制片: Man Jiahao
Sound Designers/Engineers |混音: Fabien Langard, Ronald Qiu and Man Jiahao
Music Composers | 作曲: Stephane Prin, Alain Governatori, Damien Salençon, Charles Caste & Fabien Langard
Studio Recording & Mixing | 录音&混音:GUM Shanghai