The Shanghai-born and produced film 'Metalepsis' is both a stunning execution of bullet time filmmaking and, more importantly, a telling example of what can be accomplished when a passionate team of skilled professionals pull together in support of a clear creative vision, purely for the love of great filmmaking.
In late 2014, Rodney Evans, executive producer of Shanghai production company Central Studios, was approached to participate in Paper Stone Scissors' charity exhibition Now & Them, teaming up unlikely collaborators in search of unique creative outcomes.  Evans was paired with Lucie Lebailly, a senior chemist for a leading cosmetic company.
Lebailly would bring to the project an assortment of raw cosmetic materials including brightly colored powders and liquids of varying viscosities.  Evans brought in established Australian beauty photographer Justin Cooper.
Evans explained the process of deciding how to employ Lebailly's products, "We explored all kinds of options – a print installation, layering cosmetics over printed materials – but Justin was really passionate about doing a video and I was keen to do something new.  We decided to see how far we could push the materials.  It was definitely an exercise in visual creativity."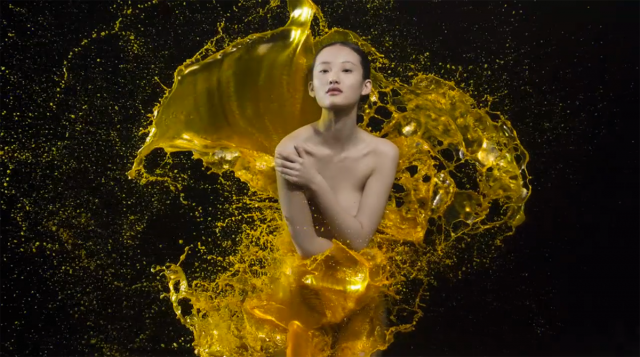 Evans and Cooper, both experts in print photography but relatively new to video, were stepping outside their comfort zone. Understanding the technical challenges ahead, and aware of the post-production requirements, Evans called old friend Steven Marolho, GM of MPC Shanghai. Marolho was enthusiastic from the out-set, "it was always about getting the most value for the director. Nurturing directorial talent has always been a huge part of our business.  It's great to support someone who has been so successful in print transitioning into moving image.  It felt like the kind of industry support gig that I was used to." 
The MPC Shanghai studio strives to support clients and agencies from the earliest stages of projects, to ensure efficient planning and a smooth execution.  As such, Marolho came in as a pre-shoot consultant, "our job was to ask what they wanted to do creatively, and help them understand what they would have to go through in post."  Evans stressed the value of having such experience on the project, "[MPC] really added a lot by being there to consult with in the pre-shoot days.  Those extremely knowledgeable insights before the shoot probably saved us from making a few costly mistakes."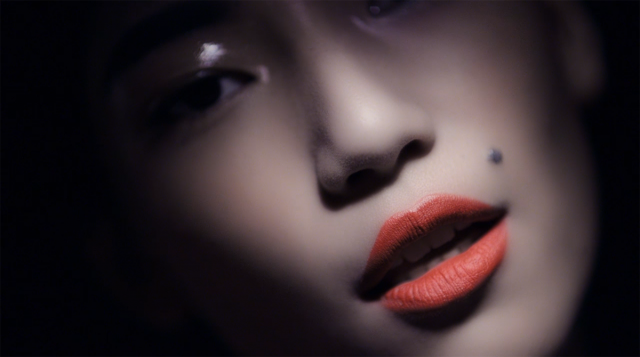 Evans assembled an all-star crew, including renowned local editor TH (Teng Hui), a clutch of gorgeous female models, and Shanghai and Melbourne-based high-speed camera effects experts, the Splice Boys, aka Richard Kendall and Tom Brandon.  The band was coming together. Marolho summed up the mood; "it was a combination of professional creatives collaborating to execute an idea because they all believed in it.  Everyone was in for the passion"
The first major consideration was figuring out how best to control the movement of the cosmetic materials.  "We tried everything', explained Evans, "we had hydraulic catapults, various tubes that would project the viscous liquid and a little overhead waterfall.  Sometimes the pressure wasn't strong enough or it would miss the target.  At other times we'd just take a little silver mixing bowl, swirl it around and throw it onto the model."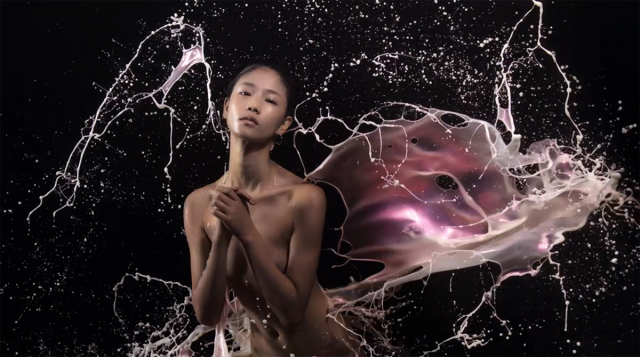 After only a couple of days of experimentation and preparation, the shoot took place across one 20-hour day at Central Studios, involving 75 cameras in total, and a Phantom Flex 4.  Splice Boy Tom explained their approach to shooting bullet-time,
"We basically had two rigs set up – a fixed camera rig and a 25 camera rig mounted directly above it with different lenses, so we could get double coverage in the same take.  The shots in the final cut are all very high speed flash frozen. You need super fast flashing to freeze all the liquid. We used big studio flashes to freeze the motion and get that really crisp frozen feel."
Working with two rigs necessitated a different process. Brandon explained, "it was different with the triggering, especially with the aggressive stuff, altering the firing. As the larger rig was firing down the line, then the smaller rig was firing in sync, so you'd get the right coverage in the right points."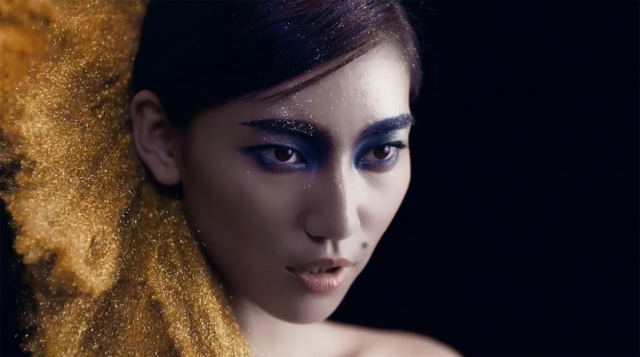 Despite positioning a plastic pool in the 'drop zone', the large volumes of liquids and powders being repeatedly projected onto the set meant that by the end of the day everything, bar the cameras, was caked.
The mood on-set was creative and highly collaborative. Though there was a sizeable shot list, Cooper's directing was liberated, uninhibited by 3rd party pressure or client restrictions.
During the copious reset breaks, during which models and set were cleaned, MPC was on-hand to offer support and advice. With time splice cameras on both sides, much of the guidance involved understanding the media management. After the shoot, the offline edit was a collaborative process between director, editor and post house, ensuring that selected shots would be manageable in post.
The major challenge from then was to stabilize the time-splice footage. With extensive experience working with the technique, MPC are well versed in the smoothing and image stabilization process.  The team did a 3D track of the shaky cameras in Nuke, projecting the images on cards and re-shooting them with a smooth 3D camera. The color flickering was fixed in Resolve by lead colorist Vince Taylor. The Phantom Camera that was used on the shoot had a few dead pixels on the sensor, so a matte was made of the dead pixel locations, and the surrounding pixels values were averaged to replace them. This was then applied in bulk on top of all the Phantom plates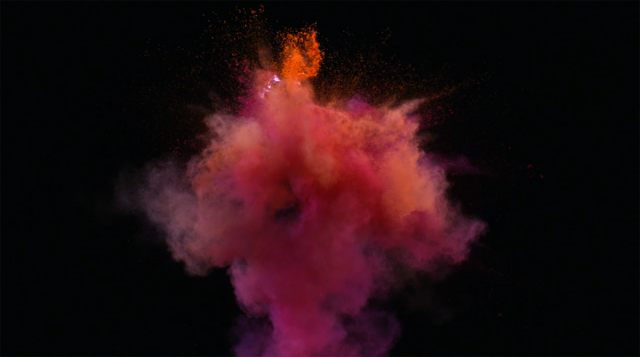 With regards to time splice, Marolho again emphasized the importance of thorough planning, stressing the value of early approval of the rig and explaining how they always put in tracking plates to, as he put it, 'give post a chance.'
‪The task was then primarily beauty work and retouching. With a three-and-a-half-minute offline edit to contend with, the biggest challenge with handling so many shots was time. In-keeping with the spirit of the project, MPCs entire core 2D team stayed after hours to help on the beauty shots, completing all the retouching work in just a couple of hours.
MPC lead colorist Vincent Taylor then applied his magic touch in the color grade, to further invigorate the already breathtaking imagery.
Evans expressed the joy of seeing all the elements come together in service of Cooper's direction,  "It was really a chance for Justin to just fulfill a vision, not working for a client. Working with beautiful girls, amazing effects, fantastic cameras, a brilliant post-production house, and a committed team. Everyone was so supportive.  It was a marvelous experience to work with all these great people."
Marolho also paid tribute to Cooper's directorial vision, "his idea was really strong, and he really saw it in his head.  It's moving print." and the spectacular outcome, "It's a wonderful show of slow motion with beautiful images.  It's non-stop glory shots.'
He summarized, "MPC were very happy to be involved in the production. In fact, we haven't done anything new.  We brought our expertise and our craft, but the project itself had a different flavor to the norm in Shanghai, which was great for everyone involved"
Director: Justin Cooper
Cosmetic Chemist: Lucie Lebailly

Executive Producer: Rodney Evans
DOP: Richard Kendall

Splice Time Specialist: Tom Brandon
Offline Editor: Teng Hui
Post Producer: Lily Li
Colourist: Vincent Taylor
VFX Artists: Erwan Leroy, Cheng Qui & Ting Ting Su

Online Producer: Eason Wu
Post Studio: MPC
Make Up: Wang Qi (王琪)
Hair stylist: Nic Chau for Head Couture
Prop Master: Xiaowu (小伍)
Gaffer: Xiao Wei (魏长青)
Models: Han Bing & Feng Zhuona (Elite), Wang Yi, Miffy + Isis (Esee), Valeriya (Reals)

Producer: Rongkai Zheng @ Central Studios

Production Assistants: Berry Jiang, Mew Chiang @ Central Studios
Photo assistants: Feng, Dark @ Central Studios
Song: We Disappear (feat. Lulu James) by Jon Hopkins
诞生并制作于上海的广告片《视角越界》不仅是一部令人惊叹的冻结时间的制作,更重要的是,它向我们展现了一个拥有娴熟技能和如火热情的团队。如果纯粹出于对制作的热爱,以清晰的创作视野为支撑,可以创造出 一部怎样的作品?
2015 年初,上海出品公司奂镜(Central Studios) 的执行制作人罗德尼·埃文斯(Rodney Evans)被邀请参与 纸石观(Paper Stone View)举办的名为《此时·彼时》的慈善展会。与看起来不太可能的搭档进行合作, 创作独特的创意效果。埃文斯被分到了与来自一家著名化妆品牌公司的高级化学卢西·勒巴伊(Lucie Lebailly)组成团队。
勒巴伊为该项目带来了各种未经处理的化妆品原料,包括颜色鲜艳的粉末和不同粘性的液体。埃文斯还引荐了澳大利亚时尚摄影师界的后起之秀——贾斯汀·库珀(Justin Cooper)。
埃文斯讲解对原材料运用的最终决定是如何得出来的:"我们实验了所有的可能性——一个打印装置,将化妆品在打印材料上进行分层。但是贾斯汀特别想做一个视频,而我也期望做一些新东西。我们决定看一下对这些材料运用的创意到底可以走多远。这绝对是一个视觉创意的锻炼。"
埃 文斯和库珀都是印刷摄影方面的专家,但在视频方面都没有什么经验,两人就这样走出了自己的舒适区。埃文斯理解需要面对的技术挑战,同样也意识到后期制作的 要求,所以他想到了自己的老朋友——斯蒂文·马龙(Steven Marolho)——MPC上海的总经理。马龙从一开始就很热情,尤其热衷于支持像库珀这样的年轻导演。他说:"让导演的才华发挥最大的价值。支持年轻导 演一直是我们行业重要的部分。这个项目正是我往常支持的产业项目。"
MPC 上海工作室致力于在项目初始阶段就支持客户和代理商,以确保有效的规划和顺利的执行。因此,马龙在筹备时就以顾问的身份参与该项目:"我们的工作就是了解 他们的创意,并帮助他们理解后期需要做的事情。"埃文斯解释能有类似经验的人参与项目的价值所在:" (MPC)在这里的顾问工作确实起到了很好的作用。开机之前,精准专业的观点使我们避免了几个代价很高的错误。"
埃文斯组成了一个全明星阵 容,其中包括本地有名的编辑TH (Teng Hui),一组外形姣好的女模特,上海和墨尔本的高速摄像效果专家,以及专注冻结时间拍摄的 Splice Boys——由理查德·肯德尔 (Richard Kendall)和汤姆·布兰顿(Tom Brandon)组成。团队组建到此完成了。马龙总结了当时气氛:"这是一个专业的创意团队,大家协作实现一个共同坚信的概念。每个人的加入都是出于热 爱。"
首要考虑事项就是弄清楚如何最佳地控制化妆材料的运动。埃文斯说:"我们尝试了所有事情,液压弹射器,各种可以投射粘性液体的导管和一个挂在顶上的小瀑布。有时候压力不够大,或者没射中目标。其他时候我们会拿一个银质的搅拌碗,让材料转起来,然后把它扔到模特身上。"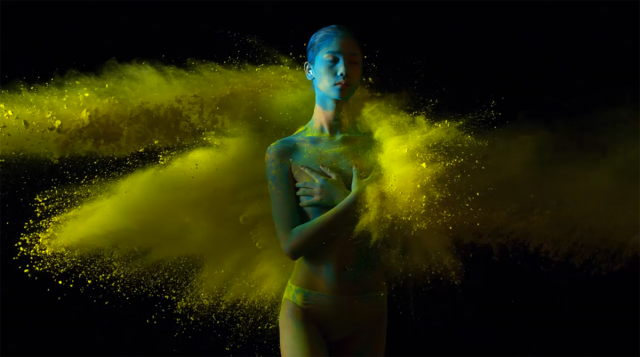 在 仅仅几天的实验和准备之后,摄影工作在Central Studios 里开始了大概20个小时的拍摄,总共使用了75个照相机和一台Phantom Flex4。 Splice Boy的汤姆解释了他们摄制冻结时间的方法:"我们基本上有两个支架,一个固定的摄像设备和一个固定了25个照相机,即有25个镜头在上面的支架,这样在 同一个场景我们就能同时拍到两个面。在终剪里镜头都是高速瞬间冻结的。这需要超级快速拍摄以冻结所有的液体。我们使用大型工作室来拍摄冻结动作并得到真正 瞬间冻结的感觉。
两个支架的摄影过程不同。布兰登解释道:"触发点不一样,特别是快速的拍摄,会改变拍摄的开始时间。 随着较大的支架开始连续拍摄,较小的支架也会开始 [同步], 这样才能在准确的角度拍到准确的内容。"
尽管我们在"投放区域"放置了塑料池,大量的液体和粉末还是不断地投射到了整个拍摄场地上, 也就是说,在一天结束之后,所有的东西,除了摄像机外,都铺满了厚厚材料。
现场非常有创造气氛和团队之间也很合作。尽管有一个相当大的拍摄清单,因为没有第三方的压力或是客户限制,库珀的导演显得天马行空。
在大量的复位休息期间,在模特离场和现场被清理后,马龙会做一些拍摄的美术指导,检查编辑和评估后期制作时需要考虑的元素。 由于现场有冻结时间相机,大多数指导还包括拍摄素材的管理。在拍摄完成之后, MPC根据拍摄素材开始后期剪片。
这 个阶段里主要的挑战来自如何稳定修正晃动镜头。MPC凭借丰富的技术使得该过程能够顺利进行,我们在Nuke做了一个晃动摄像机的三维跟踪纪录,将图片信 息投射到卡片上并用一个平稳的摄像机重新拍摄。这个过程进展的非常好。文斯·泰勒, (首席调色师)用Resolve修正颜色的闪变。摄像使用的 Phantom相机在传感器上有几个坏点像素 ,所以我在坏点像素的地方做了标记,并得出临近像素的值并将他们替换。我在所有的Phantom盘顶上大量使用了这个方法,成功解决了问题。"
对于冻结时间的拍摄,马龙再一次强调了全盘规划的必要性,强调了支架早期核准的必要性并解释他们为何要放入追踪装置,用他的说法就是:"给后期一个机会"。
此后的任务就是模特镜头和润色。拿到三分半钟的初剪之后最大的挑战是在有限的时间内处理众多的镜头。MPC团队齐心支持确保该项目按时完成:"整个二维的团队加时加点的完成后期精修部分。由于整个团队的投入,我们在几个小时内就完成了的模特部分的皮肤的修正。"
在MPC首席调色师文森特·泰勒神奇的调色下,给已经惊艳万分的画面上增添新的活力。
埃 文斯欣喜地看到所有的元素加在一起,很好地体现了库珀的执导,"这是一个让贾斯汀真正实现梦想的机会,而不是为了客户的工作。能与美丽的模特工作,取得漂 亮的效果,还有完美的摄像机和的出色的后期制作工作室。每个人对我们都很支持。能够和这些出色的人一起工作绝对是一次非凡的经历。"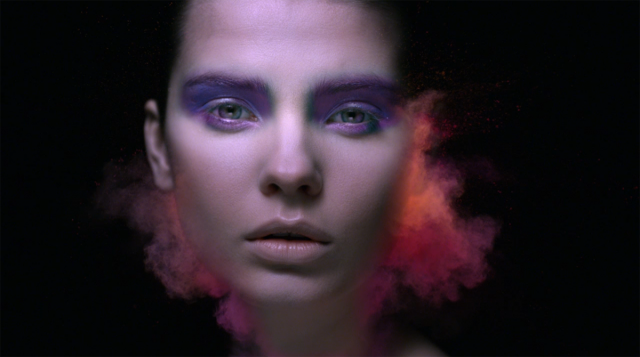 马龙同样称赞了库珀的执导视野,"他的想法很强,他真的在脑海中预见了画面,就像一个动态的印刷品。"对于非凡的效果,他说:"片子是对慢动作和美丽视觉的完美呈现。它是一组不间断的光芒四射的镜头。"
他总结道:"MPC非常高兴能参与到该过程中。事实上,我们没有带来什么新东西,我们只带来了我们的专长和技术,但是以上海现有的(视觉)标准来说,这条片子有一种独特的韵味,这对于每一个参与者都大有裨益。"