In honor of International Women's Day earlier this month, SHP+ gathered comments and quotes from women working in China's creative industry. We hope these words will give encouragement to the already strong and powerful presence of women working in and with China's creative industry.
三月恰逢国际妇女节之际,SHP+收集了中国创意产业女性的心声。我们希望这些激励人心的话语能够鼓舞中国创意产业的女性,注入更多的力量。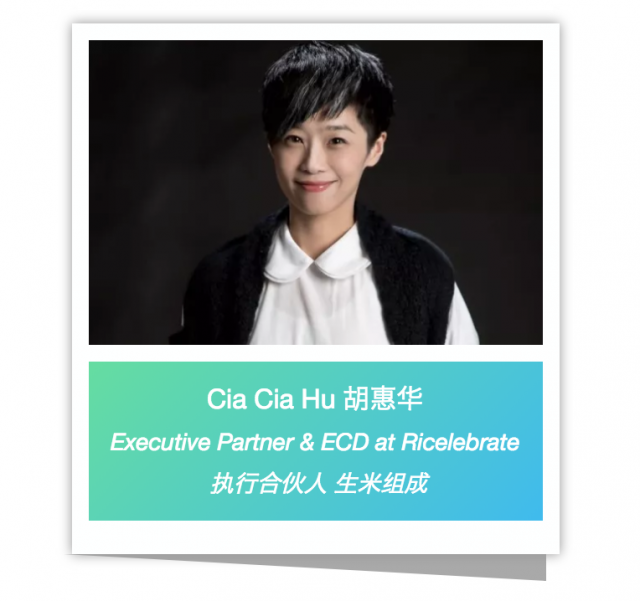 I'd say the advertising industry is probably the only one where gender symbol is blurred. You might be labeled as a devoted fighter, a hot-blooded rocker, a poet, an intelligent bigot…..But rarely you get labeled as a "female" fighter, no matter if they're high heels or flip-flops on your feet. That's why I'll continue this path, and eager to see more fascinating, "de-gendered" labels appear in our industry.
如果说有一个行业拥有相对模糊的性别标签,恐怕就是广告创意了。你可能是一个深沈的战士,一个热血的摇滚者,一个诗人,一个聪明的偏执狂…但你很少会被标签成一个女战士,不管你征战的时候穿著高跟鞋或者夹脚拖!所以我继续在路上,也乐见更多去性别化的迷人的标签出现在这个行业。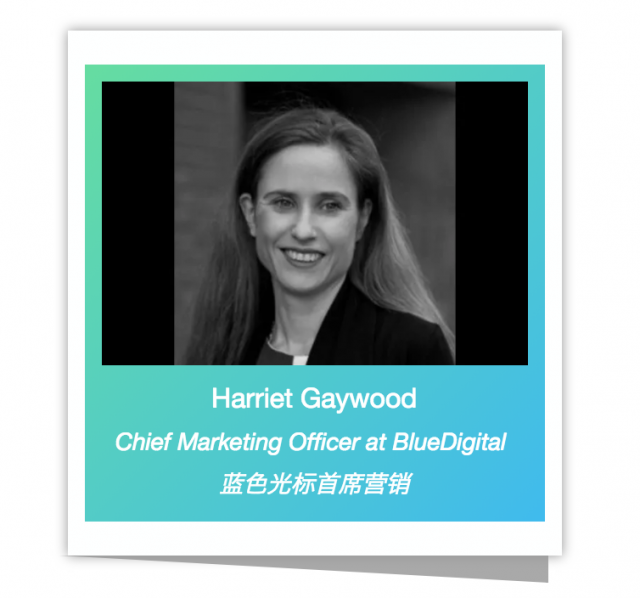 "Bullying in the workplace is destructive well beyond that moment. When you bully a woman you bully her, her family and her future. Be a true sister or brother and you will inspire yourself and those around you."
"职场霸凌的危害很深远,欺凌所伤害的不仅仅是女性本身,还有她们的家庭,她们的未来。做一个善良的人,你所激励的不仅仅是你自己,也会带动周围的人。"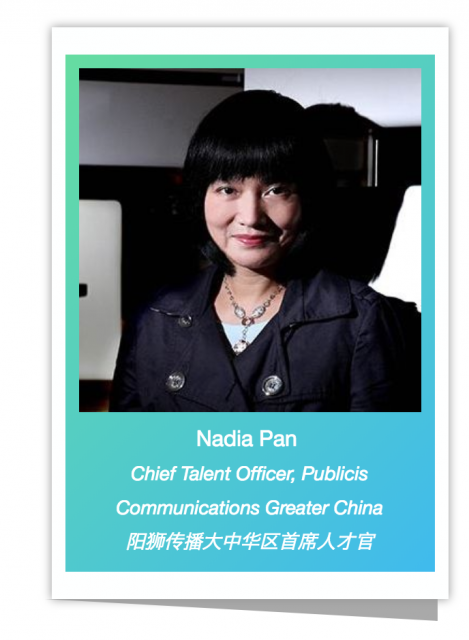 Over the years I have had the good fortune of being helped by many people and therefore I strive to give back by helping others as well. I enjoy coaching and being helpful. Especially for women, we should help and support each other. One other suggestion I would like to share: take pauses to reflect. Although the creative industry runs on an uninterrupted wheel, from time to time we need to slow down to take stock to see if we're on the right track towards our own vision.
一路走来有幸获得很多贵人相助,因此我也努力回馈,希望成为别人的贵人。帮助他人做职业培训,令我享受助人为乐的美好,尤其对女性而言,我们更应该互相帮助。我还有个建议:时常停下去思考。虽然创意行业不停轴转动,但有时候,我们应该放慢脚步,看看自己是不是正朝着自己的愿景前行。

When I take a portrait I'm capturing that person in one exact moment of their life, there is no rendering, no stretching the truth, no polishing. What I'm attempting to do is simply uncover and show you as who you are.  And in "you" and I often see "myself".
我拍人像,是那一刻的你,没太多烘托,也不是戏说,我拍的你,不需要我来捏,只需要打开,呈现你本来的样子。我看到 "你 ",看到"自己"。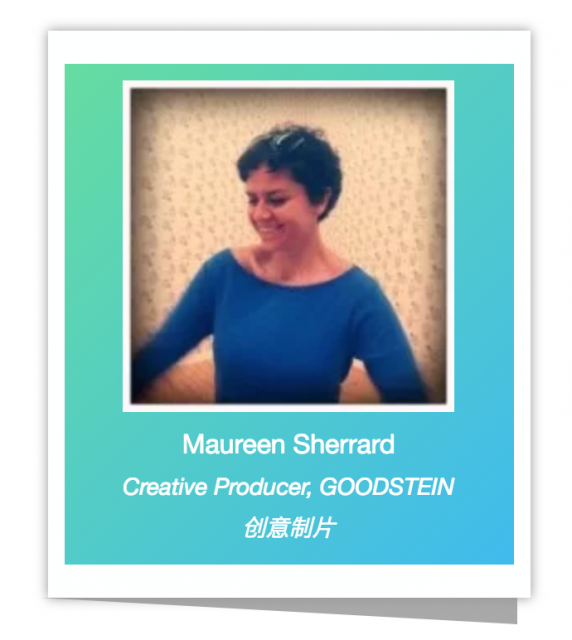 Words like sexism, sexual harassment, misogyny and gender discrimination are still very much alive and new words like mansplaining, manterrupting, manspreading (you get the idea) are all over the place.
有时候觉得并没有太多改变性别歧视、性骚扰、厌女症这些词依然很常见,男人说教、男式打断、大爷式占座这些跟男性相关的新词也层出不穷。
But lets not give in or up and #PressForProgress. (This year's theme)
and most importantly, celebrate how awesome you are. Always!
但是我们不能屈服,也不能放弃 #PressForProgress(今年的主题)
最重要的是,要为自己的伟大喝彩,不断喝彩!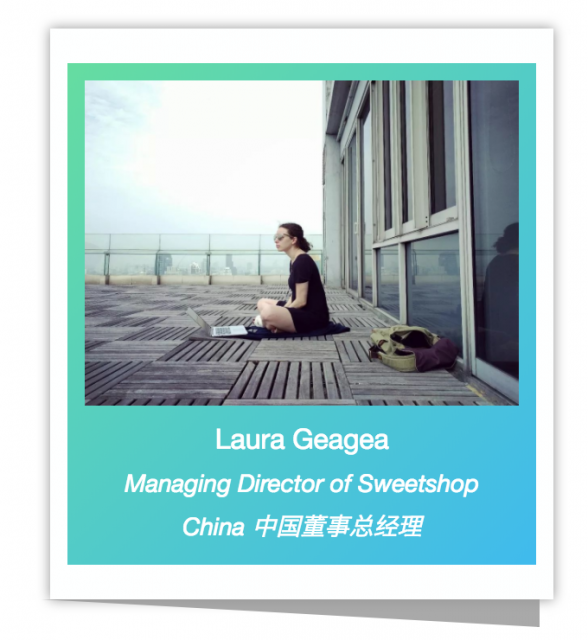 "The #MeToo movement is complex and it's full of uncomfortable truths. But above all, it is defined by women giving their opinions and telling their stories. All that really matters is that these stories are being told. #MeToo is called a movement because it keeps moving. Far more than a hashtag, it's now a conduit for unity among women. It's contagiously spreading positive public opinion. We don't know where it will go next. What we are seeing now is not backlash. It's the beginning."
"#MeToo运动很复杂,也充满了令人不安的事实。但最重要的是,女性勇于表达自己的观点,敢于讲出自己的故事。真正重要的是要把这些故事说出来。#MeToo之所以是一场运动,是因为它没有止步。它不仅仅是一个符号,而是一个让女性团结起来的渠道。不断地传播积极概念,感染大众。我们也不知道它会走向哪里。我们所看到的不是抵抗力量,而是全新的开端。"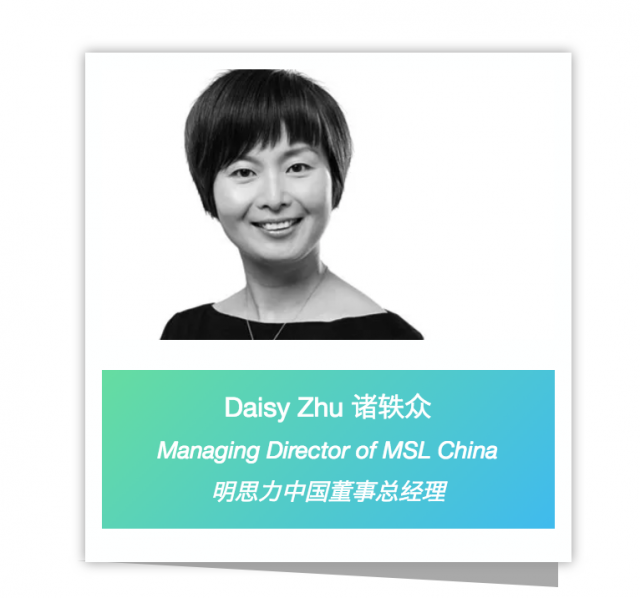 I always believe that inspiration is everywhere. It is fairly important to follow what is happening in the world; yet what makes an excellent talent, woman talent specifically, is being sensitive to the moments of life. A book, a trip, a film, a quality conversation with some interesting people, even playing games with your kids…I found myself get inspired easily through these kind of activities.
我一直相信,创意无处不在。关注产业内的新鲜事、观点和趋势当然很重要,然而一个好的创意人,尤其是创意行业的女性,一定是对生活点滴高度敏感的人。一本书、一次旅行、看一场电影、和一个有趣的人的谈话,甚至陪小朋友一起玩游戏,都会让你有所启发,灵感骤现。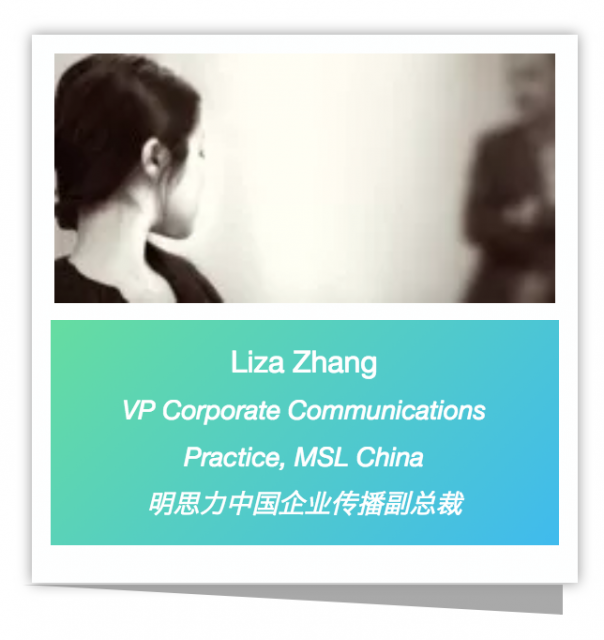 I've noticed two interesting qualities in creative talents:
我觉得在这个时代,能够有创意的人有两个最主要的特点:
EXPOSURE, for one. "There is nothing new under the sun" (Ecclesiastes 1:9 NIV). When we talk about "creativity and innovation", it is more about restructuring and re-creating the excited elements, and showing its value in a new way. Therefore, it is important for people who work in creative industry to step outside their comfort zone, to connect with a variety of different people and to experience a different world.
首先是足够的exposure。《圣经》里说,"阳光下没有新鲜事"。创意和创新,更多的是把现有元素做不同的组合,进而绽放新光芒。因此,创意人要多去接触人,接触和你不一样的人;多去看世界,看和日常生活不一样的世界。
DYNAMIC, for another. It is an industry that requires extremely high level of energy. Keeping balance is the key to fight sustainably. I always encourage my team members, myself included, to work out and keep fit, as the positive energy coming from exercise maintains enthusiasm and work efficiency, which benefits everyone as well as the whole team.
同时,这是一个非常生龙活虎的行业,需要保持精力充沛。因此我一直鼓励团队,包括我自己也一样,平常多去健身。运动带来的正向能量能够维持工作的热情和高效率的状态,从而让整个团队收益。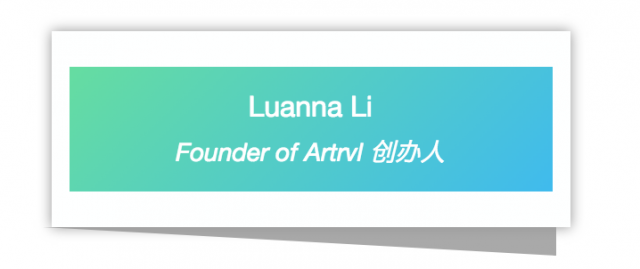 别做简单的事,除非你只想做个常人,做没人敢想的事。别将就,你能做的更多。如果别人让你问三个问题,问十个。
"Don't do things that are easy, unless you want to be regular, do things no men can do. Don't settle, do more, If you are told to ask three questions only, ask ten if you need to.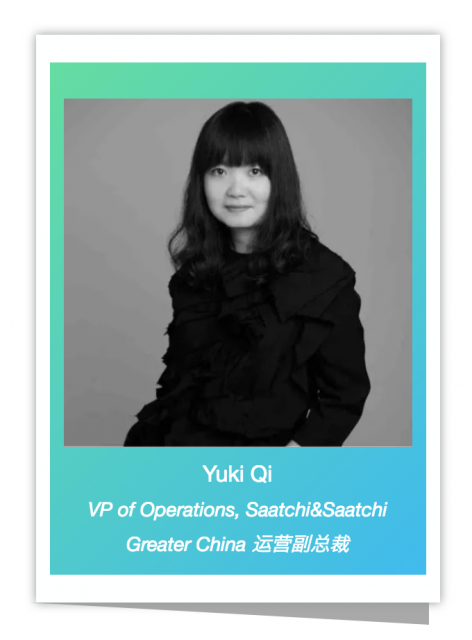 I am proud to be a part of the feminine force in the creative agency at Saatchi&Saatchi. Being a person of experience, I encourage more female presence in my company as well as in this industry as a whole. I have had the pleasure of working side by side with many outstanding women throughout my career, from whom I saw nature born insightfulness and empathy. They are curious learners, persistent fighters, caring leaders, daughters, wives and mothers …they are just like me, and just like you.
身为创意行业中的女性力量,我很自豪;而作为过来人,我鼓励更多女性加入我的公司,加入创意行业。我曾与许多出色的女性共事过,从她们身上我看到了与生俱来的观察力与同理心,同时她们也充满激情,充满斗志,也心怀关爱,她们是女儿,是妻子,也是母亲……她们就是我,也就是你。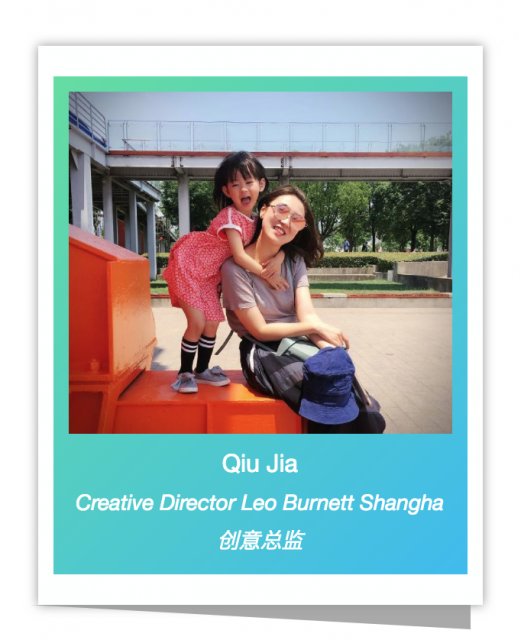 The viral thing is to keep curious to the world, having the eyes of a child. As I'm a creative person, I like to glean miscellaneous small stuff through daily life, whether it is an interesting detail in a kid's story book when I read it for my daughter, or a fun hand-written signboard in front of a little shop… feels like they are reckoning me, asking me to put them in my treasure box – so I probably would write it down in my handbook or mobile memorandum. These pieces will generate chemical reaction with each other and finally melt into one thing – your own thoughts. And one day, when you need to come up with an idea, these treasures will give back to you.
最重要是对世界保持一颗好奇的心吧。因为我是一名创意,平时生活中会注意点滴积累,譬如说跟孩子讲故事的故事书,或者是在小店门口看到很有趣的手写招牌,等等,好玩的,好看的,别人分享给你的,都要积累;多看会激发想法,我会随时记录在本子或者手机备忘录里。融会贯通,有一天当你需要灵光乍现的时候,那些积累会对你涌泉相报。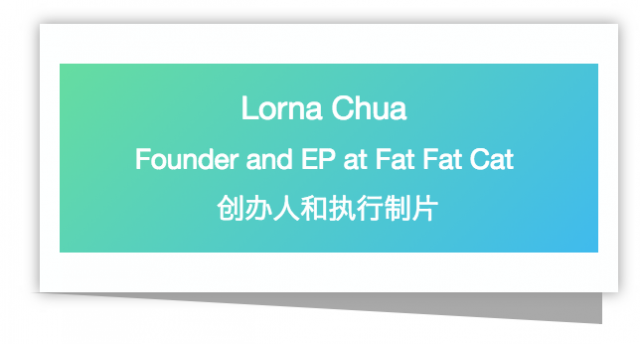 Investing in people, investing in thoughts.
投资于人,投资于思想.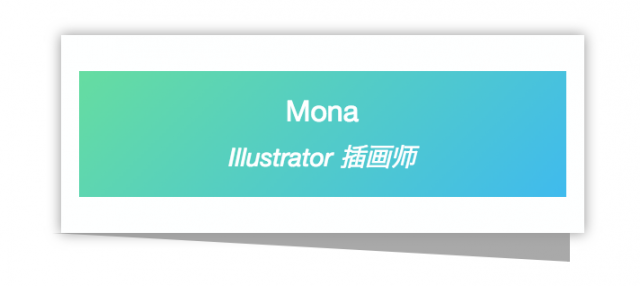 能够真正把脑子里天马行空的想法呈现出来的时候,创造的快乐是无与伦比的。
The joy of creation is unparalleled when you turn a powerful and unconstrained idea into reality.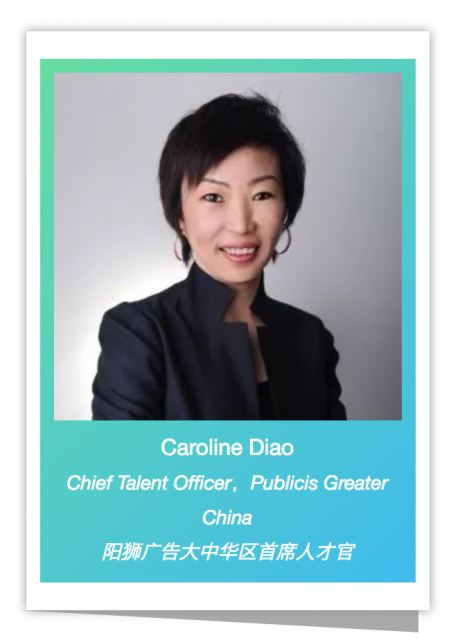 I am both a woman and an executive, and in both, I have always been intrigued by things that are delicate, intricate, graceful and chic. Working in creative agencies, such as my current firm has given me a career platform that values these things. While at the same time, outside of my work, I continue to stay true to these same things, remaining fresh and energetic by devoting plenty of time, to my personal hobbies and passions of yoga, drawing, painting.
作为女性,我时常被精致和优雅的事物所吸引。创意行业给了我一个这样的平台去发掘和欣赏更多美好的品质。闲暇之间,我会花很多时间画画和做瑜伽,这些爱好能为我的工作带来更多能量。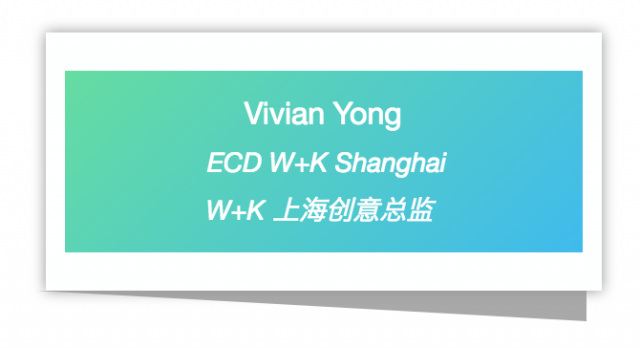 Vivian shared a quote that has inspired her over the years | Vivian分享了一句多年来激励她的一句话
"I used to walk into a room full of people and wonder if they liked me… now I look around and wonder if I like them."
"以前一看到一屋子的人,我总会想别人喜不喜欢我,但是现在我会想,我喜不喜欢他们。"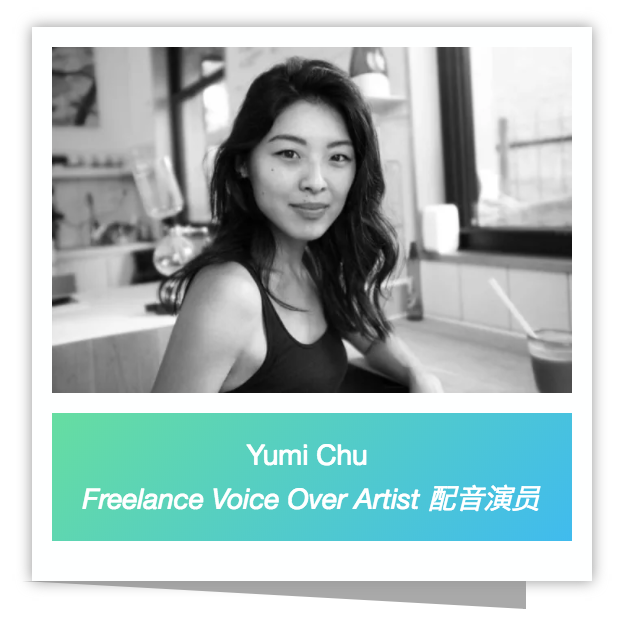 Women have a lot of pressure these days to succeed in our careers. Whether it be as a corporate executive or creative freelancer or anything else in between, I try to remind myself that success and passion come in different forms and ultimately I determine what success means to me.女性追求事业成功,面临着巨大的压力。企业高管也好,自由创意人才也罢,包括任何职位在内,我总提醒自己,成功和热情不是只有一种,所以我要自己去定义成功。