Anyone can enjoy the thrills of speed and skillful driving, chases, crashes, and explosions in a movie, but very few of us get to take part in them willingly and still come out in one piece without a single scratch. Still, some people do: they are professional stunt artists. This particular group of performers is sworn to secrecy of their identities and deemed to live permanently in the shadow of actors. Until now.
看电影的时候,任何人都可以享受速度、炫技驾驶、追逐、撞车和爆炸带来的刺激,但很少有人愿意真正地参与其中,即便愿意,普通人也很难毫发无损地离场。但是,有些人就是专吃这一碗饭的:专业的替身艺术家。这群特殊的表演者发誓要保密自己的身份,很多人认为他们永远生活在演员的阴影下。直到今天。
SHP+ spoke to veteran stunt artist, coordinator, and director Julian Chica Rose. He's the founder of the Stunt Masters Team, a troupe of over fifty precision stunt artists from all over the world, now based in China. They perform a permanent live-action stunt driving thrill show in Jinan and tour the country for many film projects.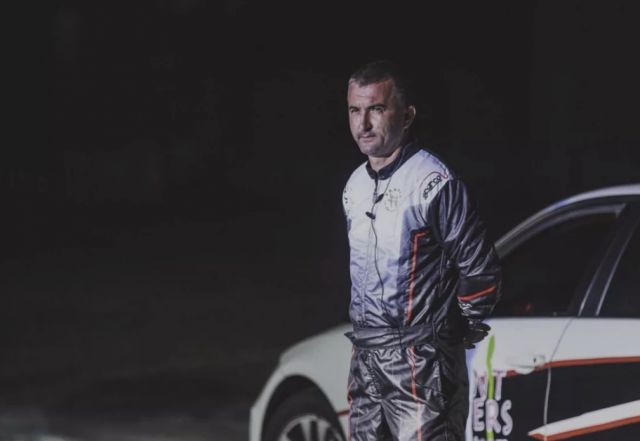 SHP+采访了资深特技演员,协调人,导演Julian Chica Rose。他是特技大师团队(Stunt Masters Team) 的创始人,该团队由来自世界各地的50多名精英特技艺术家组成,目前在中国工作。他们在济南表演真人驾驶特技表演,并为许多电影项目在全国巡回演出。
Julian told us (almost) everything about the thrills of his biz, the challenges — and what really matters when you're driving a pickup truck, full speed, balancing only on two wheels.
Julian告诉了我们做这一行(几乎)所有的刺激、挑战,以及当你开着一辆皮卡,全速行驶,只用两个轮子保持平衡时,真正的要点是什么。

"Even if there are training schools in the stunt world, you learn the skills on the field, and then you perfect them. Sometimes you need to dive in," Julian says.
"就算真的有专门培养替身演员的培训学校,这一行还是得在实践中学习,不断完善自己的技术。有时候,你需要做的就是全身心地投入进去,"Julian分享到。
And that's just what he did.
而他自己就是这么做的。
In the late 1990s, straight out of college, Julian joined a stunt group in Rome, doing live shows and working in film stunts. Over the years, he performed in big productions, like Luc Besson's 1998 Taxi and the 2003 drama Cold Mountain. From the beginning, he wasn't only performing the stunts; he was also preparing them, which gave him a holistic view of things.
20世纪90年代末,大学一毕业,Julian就加入了罗马的一个特技团体,参与现场表演,并在电影中表演特技。这些年来,他的参演的作品中不乏大制作的佳片,比如1998年Luc Besson导演的《出租车》和2003年的《冷山》。而从一开始,他就不仅仅是表演特技;他也有准备道具,这些经验让他对事物有了更全面的看法。
In 2013, the company he worked for went to China to perform a live show in Sanya. Back then, stunt driving thrill shows were new to the country, but it quickly became a trend.
2013年,他所在的公司前往中国三亚进行现场表演。当时,刺激的特技驾驶秀在中国还是个新鲜事,但很快就火了起来。
But in China, things were different.

但中国的市场有自己的特点,Julian不禁感叹:

He found that the country provided an ideal environment for him to improve himself even further, and why not take the lead of things. It was then that he founded the Stunt Master Team. Nowadays, besides a large team of stunts—amongst the world's best—they count on full-on inventory with different cars, motorbikes, trucks, monster trucks, and gear such as lighting and sound systems, grandstands, and all the protective equipment and props necessary to perform.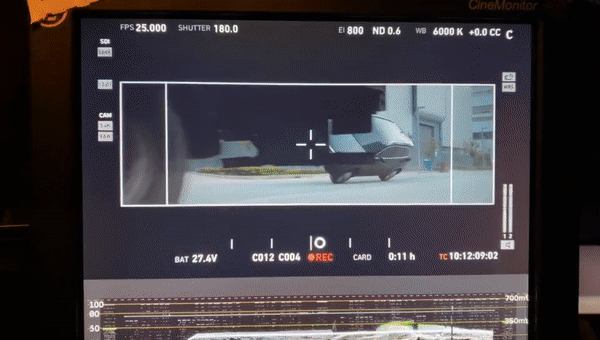 他发现中国提供了一个理想的环境让他进一步提高自己,那么为什么不抢先一步呢? 也就在那时,他成立了Stunt Master团队。如今,除了拥有一支世界上最好的特技团队外,他们库存中还有各式各样的汽车、摩托车、卡车、怪物卡车,以及诸如照明和音响系统、看台、以及表演所需的所有保护装备和道具,这些都是生意兴隆的保证。
Julian is the commander-in-chief, in charge of everything, from developing big concepts to ensuring everything happens precisely and safely.
而Julian作为总指挥,从开发大概念到确保事情按时按点,安全地进行,一切大小事务都是他来负责。
He sometimes has to manage five or six precision driving shows simultaneously, each with over twenty stunt performers, while still working with film projects thousands of miles away with production houses.
他有时不得不同时主持五到六场精准驾驶表演,每一场都有超过20名的特技演员,同时还要与数千英里之外的制片公司合作拍摄电影项目。

Precision driving takes its name because it needs to be very exact. Everything happens in a limited space. But there's much more to it than just knowing how to drive very well.
精准驾驶之所以得名,是因为它需要非常精确的技巧。一切都发生在有限的空间里。只知道如何把车开得很好是远远不够的。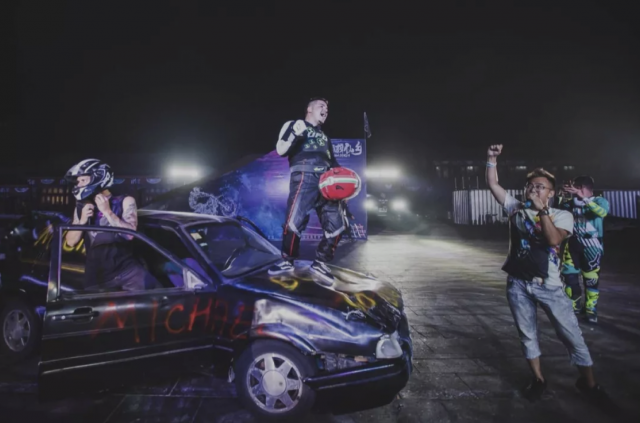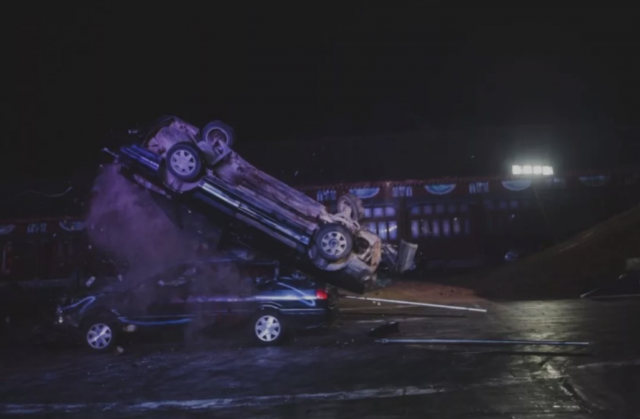 Stunt Masters team 
And this synergy needs to go beyond the stunt team itself, extending to whoever is in proximity to action: actors and production, art, and filming crews are also part of the team. "Everyone has to know their place, just like a sports team."
而这种协同作用需要超越特技团队本身,延伸到任何准备表演,做动作的人:演员、制作、艺术和拍摄团队他们都是团队的一部分。"每个人都必须清楚自己的位置,就像一支运动队一样"。


Most of Julian's cars are especially changed for stunt driving by a team of in-house mechanics. They need to resist the most different conditions on high stunt action, like high temperature and high RPM, sometimes for up to four hours nonstop. Regular cars simply wouldn't resist a week doing what they do.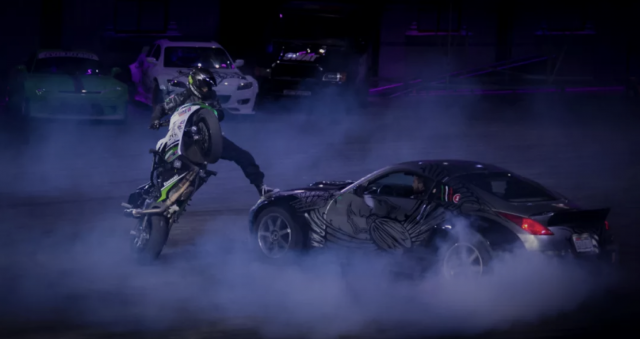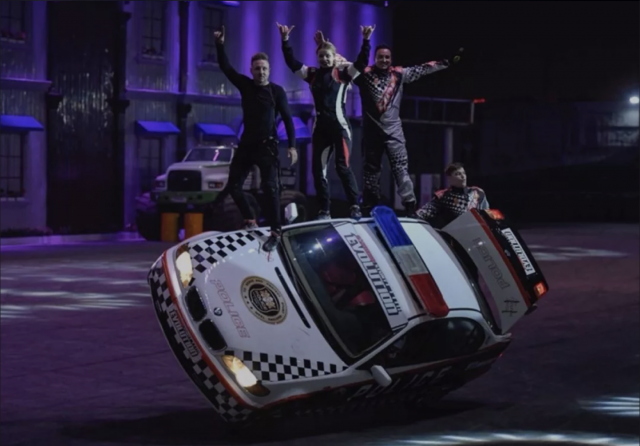 Julian的大部分汽车都是由内部机械师团队专门改装的,以进行特技驾驶。他们需要在各种极端不同的条件下进行高特技动作,比如高温和高转速,有时长达四个小时不间断。这些项目,普通汽车根本不撑不了一周的时间。

Above all, there's one common thing in everyone's mind throughout all stunts: safety. "It's the most important thing," Julian emphasizes. "We need to follow strict protocols and wear protective gear to guarantee the safety of the stunt, the crew safety, and the audience."
最重要的是,在所有的特技表演中,每个人心里都得记住这一条:安全。"这是最重要的事情," Julian强调:" 我们需要遵守严格的规程,穿戴防护装备,以保证特技表演、机组人员和观众的安全。"
Julian's rule of thumb has a track record. In over twenty years in the field, he had no serious issues, not with him nor with any of his team of stunt masters. He's an exception, though. Sadly, in this industry, accidents are more common than people think.
Julian的经验法则有着良好的记录。在20多年的特技生涯中,无论是他自己还是他的特技团队中的任何一位,都没有遇到过严重的问题。但他是个例外,不幸的是,在这个行业中,事故比人们想象的要普遍得多。
Continue to read about spins and flips, car crashes and watch the Masters Team's work in Chinese advertising next week.
下周Stunt Masters故事继续,我们将发布更多内容关于旋转和翻转,撞车以及团队在广告的工作。