Director Insight: Exclusive Interview with Marc Raymond Wilkins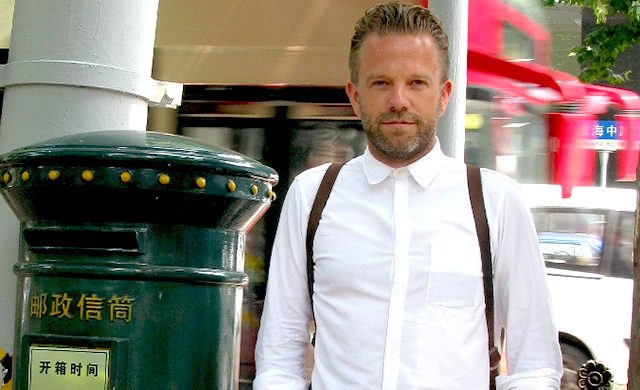 After actively pitching projects in China for a while, director Marc Wilkins finally set foot in China and found himself working on spots he will never forget.
Marc had six shooting days, for four commercials, with two different production companies and agencies within four weeks. Welcome to China! He added the journey to a personal record of his: "Right now I am at a record high because I left New York seven weeks ago and flew to Kiev, did a shoot there then came here to China to shoot for Harbin Beer & Sony. Now, I am heading to Kiev for four more projects!"
The last day before Marc left Shanghai, SHP+ managed to drag him out of the editing house Attic for a quick chat. In a busy restaurant on Huaihai Zhong Road, the charismatic director told us all about his China experience.
SHP+:Give us one word or phrase that summarizes your China experience
Marc Wilkins:There isn't a sentence or word I could say to describe the whole experience.
The first job with Harbin was fantastic, a top notch international production on every level. From the way the agency dealt with the project, to having a wonderful smart creative team. Ken Yap, the producer was very effective, strong, honest and straightforward… it was wonderful. The second job was a challenge. I spend most of my time in meetings with the agency. In each meeting were easily 20 people. This is something I am not familiar with. I experienced a "culture of meetings". The producing itself was very adventurous and not as smooth as I like it to be. I am still trying to figure out what was a "cultural-difference" or a simple bumpy organization, production-wise.
I need to work with much more Chinese production companies before I can come to a conclusion if this is the way one produces in China or not. Overall, it was a new experience for me. I learned a lot and I don't regret anything.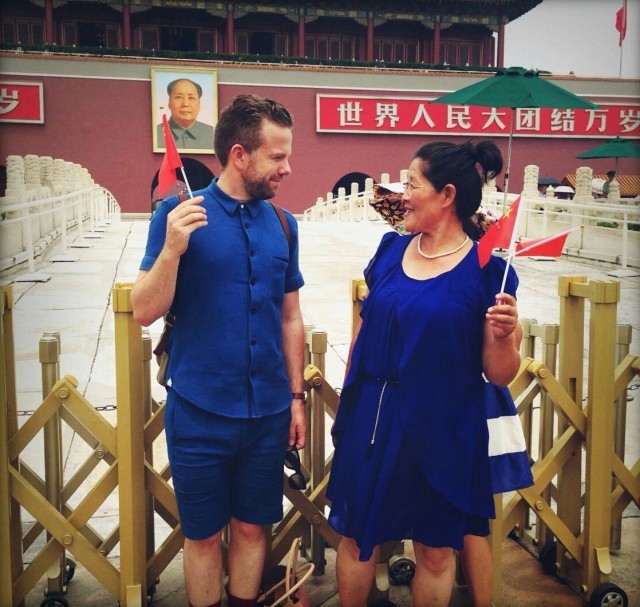 Marc explored Beijing during his trip to China
SHP+:What do you think about Chinese Advertising?
Marc Wilkins:I do not like the typical Chinese advertising. The normal stuff I see on TV or showreels is quite staged and glossy. But I always fight against fake-realities, staged advertising in my work. I believe that the brand needs to convince its audience that the product is great in our real world. The product shouldn't only be cool in a wonderful Parisian shiny fashion show with super models.
It is a personal mission of mine to make advertising that makes people happy, because they can discover themselves in it, and not sad, because they are being seduced by dreams out of their reach.
An example with Harbin Beer, once the job was confirmed, we started the location-scouting and casting. The first few location ideas and the first casting results were all very glossy. They casted models who were all above 1.80m, looking like from a Prada commercial! This wasn't what I asked for. I wanted real people, guys who could be your friend next door. When I expressed this thought to the production company, they got a bit nervous. However, once I met the client, the client loved this approach! He said "Yeah! Our beer is fun and refreshing in the real world and should be drunk by real people".
I was happy that the client and agency here were longing for what I call Poetic Realism. This is something that has existed in the West for a couple of years now as brands like Nike turned their ads into more realistic scenarios. I see it now happening in China as well. It makes me very happy and very excited to see this change happening. Big brands discover a more "human", "down to earth" approach to their ads.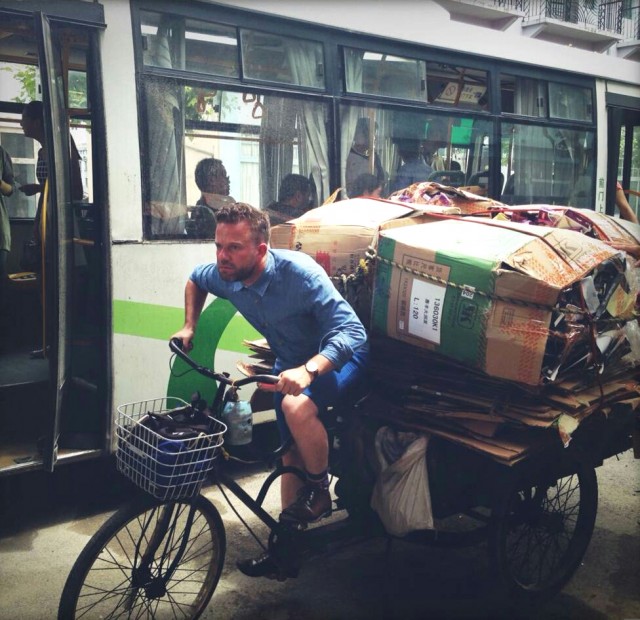 Marc working hard in busy Shanghai!
SHP+: How's your first cooperation with Rain Li?
Marc Wilkins: It was so wonderful to work with her. She is such an inspiring cinematographer, with strong ideas, fantastic ways to express herself and so much energy. I've never worked with a DOP who after 16 hours of shooting is still so positive and bringing things forward. I wouldn't have managed this shoot without her. She is an amazing partner for adirector, organizational-wise and creatively.  I am looking forward to work with her again ASAP. 
SHP+: Thanks for your time! Anything else you would like to add?
Marc Wilkins: Yes! I must confess that I was expecting Shanghai to be much more exotic, strange, mysterious than it actually is. I never come to China before, I did not know what to expect. I know Chinatown in New York, alright, but Shanghai revealed itself as a very modern, international city. I found wonderful cafés, fantastic galleries, incredible cocktail bars and lovely new friends. I watched cool concerts and flirted with beautiful girls. Shanghai is more similar to cities I am familiar with, like Paris, Berlin, London, New York than I expected.
Can't wait to come back!
If you are interesting in finding out more about Marc Wilkins, you can go to his website: http://marcwilkins.com/