Since the outbreak became public in late January, COVID-19 virus has affected every aspect of life in China, on both personal and professional levels.  The commercial industry is no exception.  With consumers housebound and many fearful of spending amid the economic uncertainty, the lifeblood that flows down throughout each layer of production has been affected.  Meanwhile, the near total ban on shooting within Mainland China places limitations on possibilities open to creatives and production companies, and has clear knock-on effects for the post houses.  But beyond the obvious disruption and challenges, are there opportunities to be found?
自从疫情爆发在一月底被公布,COVID-19病毒已经影响了中国人生活的方方面面,无论是个人层面还是职业层面。商业广告行业也不例外。因为消费者宅在家里,许多人在经济不确定的情况下害怕消费,连接影视制作各个层面的命脉已受到影响。与此同时,中国内地的电影拍摄几乎都被禁止了,限制了创意人员和影视制作公司发展的可能性,一系列连锁反应显然也影响了后期制作公司。但是除了四处可见的破坏和挑战,还有机遇吗?
In this three-part series we talk to top figures of companies from each part of the production process – agencies, production houses and post houses – to see how this situation is affecting their businesses and how they are handling these exceptional circumstances.
在这次包含三部分的系列文章里,我们与公司高层对话,他们来自制片流程中的各个环节——广告公司、影视制作公司和后期制作公司——来看看现在的局势如何影响他们的公司,以及他们怎样应对这些特殊情况。
---

For this first part, we spoke with leading figures from six production companies based in Shanghai or Beijing, while some of them were working from home in China or still on prolonged forced "holidays" in Australia, Thailand and Brazil. We are thankful to all of them for their thoughts, ideas and insights. During these challenging times we all need to share, exchange and support each other.
在第一部分里,我们同位于上海或北京的六家影视制作公司的高层进行了对话,虽然在他们当中,有些人在中国的家中办工,有些人分别在澳大利亚、泰国和巴西,仍处于被迫延长的"假期"中。我们非常感谢他们,分享自己的思考、想法和见解。在这个具有挑战性的时期,我们都需要分享、交流和互相支持。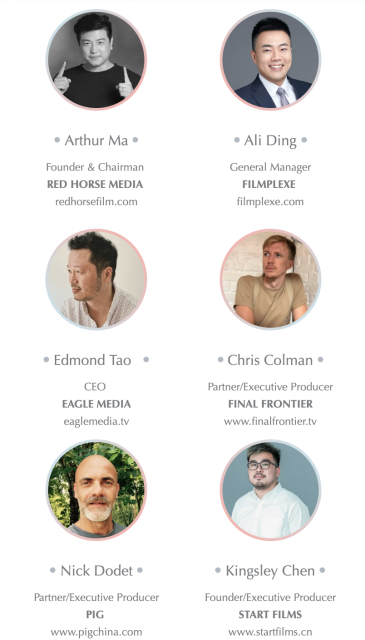 Q:
How has the "virus" situation affected your projects and your business so far? 目前"病毒"形势如何影响了你们的项目和公司?你仍在接到广告公司的创意简报吗?
Edmond Tao, Eagle Media鹰美广告:We had 5 projects confirmed in February that have been cancelled. We are pitching on several new projects, but nothing confirmed yet. We might loose approximately RMB 50 million of turnover for 2 to 3 months.
我们在二月份确认合作的五个项目,现在不得不取消了。我们正在参加新项目的比稿,但是还没有拿下任何项目。在两到三个月的时间里,我们可能损失大约5000万人民币的营业额。
Chris Colman, Final Frontier 终极先锋:Some potential projects with China clients have been put on ice until further notice, but that has been offset by a spike in approaches from other clients that maybe wouldn't have come under normal circumstances. In some cases that is because they are choosing to go with animation, and in others it's because they know our studios are primarily based outside China so we never stopped working over CNY or during the virus.
一些和中国客户合作的潜在项目已经被搁置,等候进一步通知。但是来自其他客户的接洽激增(在正常情况下不会出现),抵消了这一影响。在一些情况下,是因为客户选择制作动画,还有一些情况下,客户知道我们的工作室大多在海外,所以我们在春节或疫情期间没有停止营业。
Ali Ding, Filmplexe 普莱斯:We had several shoots scheduled for February, all of which had to be postponed. During this period we have received many boards from agencies but nothing confirmed yet.
我们有好几个安排在二月份的拍摄都延迟了。这期间我们收到了很多广告公司的制片需求,但是还没有被确认的。
Nick Dodet, PIG: The situation is extremely fluid. We are getting pitches from agencies and clients, and we did confirm one project; but several projects we had pitched on prior to CNY have been put on hold indefinitely. We have obviously lost revenue by not being able to service foreign companies shooting in China, but this has been mostly offset by a surge in animation projects. And the fact we have considerably reduced our overhead and debt exposure in the past 2 years allows us to be a lot leaner, and to sustain the situation for a few months.
情况极其不稳定。我们接到一些广告公司和甲方客户的比稿邀请,我们也确认要合作一个项目,但是在春节前参与的好几个比稿项目都无限期暂停了。因为不能帮助海外公司在中国完成拍摄,很明显我们有损失。但是动画制作的项目数量在激增,这一部分损失在很大程度上被抵消了,所以我们目前没有想要参加比稿。另外,在过去两年内,我们大幅度地减小开支和债务敞口,这样我们变得更加精简,能够再维持几个月。
Arthur Ma, Red Horse 赤马: Our business is OK because we mainly do international projects and for most clients it's easier to shoot overseas now. We are shooting a few projects in Thailand. We receive boards from agencies every two or three days. We did have some shoots planned for China that we can't shoot, including jobs featuring celebrities who are not easy to move out of China. For those we planned to shoot in New Zealand or the States, but we cannot shoot now because of the ban on flying.
我们公司还OK,因为主要做国际项目,而且对于多数客户来说,现在在国外拍摄要更容易些。我们现在在泰国进行几个项目的拍摄,每隔两三天就会收到广告公司的需求。我们之前是有一些跟中国相关的拍摄计划,因为现在中国明星出境不容易了,所以包括那些有他们参与的片子,现在不能拍了。对于之前计划在新西兰或美国的拍摄,由于飞行限制,现在都不能进行了。
Q:
What solutions are you offering to clients?  你们给客户的解决办法是什么?
Chris Colman:The same as always, namely, making our extensive global animation network available to them. Obviously now is a good time to work in animation as it doesn't require physical shooting, so we're making sure clients are aware of that possibility and that we're here for them.
还是和往常一样,就是让海外的动画制作合作方参与其中。很明显,现在是一个制作动画的好时间,因为动画不要求实际拍摄,所以我们一定要让客户知道可以选择动画,并且我们一直都在这里为他们服务。
Nick Dodet:We have no choice but to adapt. Trying to leverage our global network, we can offer clients to shoot in foreign countries where Chinese citizens are still welcome; we are also developing, with some of our tech partners, a live feed system straight out of the video tap, to allow agencies and clients to be watching live from China, while we shoot in any country; and we are pushing our 2D and 3D animation studio partners really hard, to offer an alternative to live action shoots.
我们没有办法,只能去适应。我们尽量去利用我们的国际资源,有些国家准许中国公民入境,我们能帮助客户去这些国家拍摄;我们也和一些合作的技术公司一起,开发一个直接连接拍摄键的实时动态系统,当我们在国外拍摄时,让广告公司和甲方在中国就能观看拍摄,并且同时进行反馈;当然,为了在拍摄过程中另外进行同步直播,我们给了2D和3D动画的合作公司很大压力。
Arthur Ma:The solutions are: one, shoot overseas; two, use previous footage to edit; three, we have a subsidiary (post house) company and many jobs go there.
解决办法:一是海外拍摄;二是用之前的素材进行剪辑;三,我们有一个(后期)子公司,很多工作都在那里完成。
Kingsley Chen:We keep in close contact with our partners located overseas to provide as many filming options as possible. Many of our executive producers went through filming during SARS, so they are prepared both psychologically and technically. If a client needs to film in China, in order to follow the government's epidemic prevention and control regulations, we will apply to the local authorities, guarantee disinfection. Prevention and control measure would be taken by our staff, such as tracking the history of direct contact, monitoring temperatures, and distributing materials like masks, goggles, clinical gloves and so on.
我们积极联络分布在海外的合作伙伴,提供尽可能多的拍摄选择。我们几位监制都经历过非典时期的拍摄,心理和操作上还是有准备的。如果客户需要国内拍摄,我们也响应政府紧跟疫情防控机制,向当地有关部门做好申请,做好人员的消毒防疫,追踪过去的接触史,测量体温,配发口罩护目镜医用手套等必须物资。
Q:
Are you worried about the impact on your business?  你们为公司受到的影响担心吗?
Kingsley Chen:We are not super worried, since we still have projects and, all of us are improving our professional skills at home. Regular video communication works for now, and clients' needs are being met. While we cannot predict how long the epidemic will last, we can project how long we can hang in there. For now we don't have to worry about the capital operation of the company.
其实我们并不太担心,我们依然有片拍,每位小伙伴也都很自律的在家进行专业深造。有定期的内部视频交流,也无时无刻回应代理商客户的需求。虽然疫情持续多久我们无法推断,可以推测的是我们能坚持多久。目前公司在资本运作上不会让大家担心。
Chris Colman:Because our model is primarily working with international directors and studios, business has continued as normal, if not increased due to the fact that more clients are choosing to go with animation and to work with overseas talent. Obviously with China on lockdown there has been less in terms of in-person client contact and BD, but at the same time that has allowed us to focus on developing new relationships across Asia and beyond. Generally, we're seeing this time as an opportunity to reflect on the business, expand our artist network and optimise internal structures.
因为我们的模式主要是和国际导演和电影公司合作,我们的业务虽然没有增加,但也维持正常,因为有更多客户选择动画和与海外人才合作。众所周知,中国封城后,面对面的接触和业务拓展已在减少,但是同时也让我们更聚焦在开展亚洲和亚洲以外的新业务关系。总的来说,我们将这次视作一个机遇,反思业务,拓展艺术家人脉网络和优化内部结构。
Arthur Ma:Business is of course not as we expected, but it's the same for all the companies. And crisis breeds opportunity. This is a chance for us to consider new modes of working. Maybe we don't need an office in the future to save money and pay better salaries. New technology is changing the industry, so maybe you don't really need to go to locations to shoot, and we can just work with a small team in the studio. We are also discovering new, cheap countries with good locations and services for shooting. I experienced the 2003 SARS and I know if you have a strong mind, you are prepared for a lot. We have a good financial system, we have good relationships with banks, we do good things for clients. So overall, it's not good, but it's also not all bad, because it's a chance to explore new things.
业务当然没有如预期那样好,但是所有公司都一样。危机孕育着机遇。这次给了我们思考新工作模式的机会。可能我们以后不用办公室了,以节省开支,提高薪水。新技术在改变行业,所以你可能不用为了拍摄去现场,而且我们在工作室就能和一个小团队合作。我们也在寻找其他成本更低的国家,且有好的拍摄场地和服务。我经历过2003年的非典,而且我知道,如果你的意志强大,你就做好了很多准备。我们有一个良好的财务系统,与银行有良好的关系,我们为客户做好事。所以总体上,现状不佳,但也不全都糟糕,因为仍有探索新事物的机会。
Q:
How long do you think it will last? How different will industry be when it becomes active again?  你对现在形势的总体感受如何?你觉得还要持续多久?行业复苏后,它的变化有多大?
Nick Dodet: Chinese authorities are prioritising getting the manufacturing sector back on track, so we may not see much improvement in the service sector for several weeks. For production companies it all depends on how long the moratorium on shooting lasts. It is probably going to weed out quite a few in China, especially those with high overheads and/or high debt exposure. On a strictly business point of view, this is a good thing, as every industry needs a regular consolidation of resources in order to remain healthy. But it will be painful for the few who do not have the financial muscles to sustain a high level of revenue losses. They will start feeling the pain sometime in March as their cash reserves dry out. More importantly, crews will be the first affected, and are already feeling the brunt of it.
中国政府强调优先让制造业回到正轨,所以我们可能在几周内不会看到服务业有很大改善。对于影视制作公司,这完全取决于暂停拍摄的时期要持续多久。有可能会淘汰少数一些中国的影视制作公司,尤其是那些开支大和(或)债务敞口大的公司。从严格的商业视角看,这是个好事,因为每个产业都需要定期整合资源,以保持产业健康。但是对于少数几家没有财力承受大幅度亏损的公司,这将是痛苦的。在三月份,他们会时不时感到艰难,因为他们的现金储备逐渐枯竭。更重要地,团队将最先受到影响,而且已经开始感受到冲击了。
Ali Ding:At the beginning there was fear, but the government intervention has brought an increasing degree of confidence. We believe this won't last too long and hope shoots in China will pick up in March. If we get this under control, I think the industry will fully recover in 3 months, by the end of May. Following a steep drop in production, things will pick up fairly quickly. If we don't get this under control quickly, as the owner of a private company, I don't know what the future will look like.
开始的时候会害怕,但是政府的干预让大家信心增强。我们相信情况不会持续太久,也希望在中国的拍摄于三月份开拍。如果我们控制了局势,我认为行业会在三个月内,也就是在5月底完全复苏。在经历制片量的急剧下降之后,一切都会恢复得相当快。如果我们没有迅速掌握局势,作为一家私企的老板,我不知道未来会成怎样。
Chris Colman:Sometimes you encounter a reticence about working in animation because clients fear they will be detached from the process somehow. I guess being forced to go down that route and seeing how smooth the process and good the results can be, may give clients and creatives a nudge in this direction in their future thinking. To meet the demand, I know some live action production companies are increasingly bringing animation in to their offering. Those two factors combined should give a boost to animation in the China commercial market.
面对采用动画的想法时,有时你不会收到客户的回复,因为他们担心自己在某种程度上会被置于整个过程之外。我想,被迫沿着这条路走下去,看看过程有多顺利,结果有多好,那么在未来的思考中,可能会推动客户和创意人员选择动画这个方向。为了满足这个需求,我知道一些实景拍摄的影视制作公司正越来越多地在服务中加入动画元素。这两个因素结合起来,应该能推动中国商业动画片市场的发展。
Nick Dodet:Once everything comes back to normal, I hope production companies will take a hard look at their business practices, especially when it comes to clients payment terms. We have created a pyramid scheme in which production outfits take on huge amounts of debt with very little ROI. I hope those who will weather this storm will rethink their business model to make sure industry practices improve in the future.
一旦一切回到正轨,我希望影视制作公司认真审视一下业务开展情况,尤其是涉及客户收款的条件。我们已建立了一个金字塔计划,这个计划中,制片设备这一块占了债务的很大部分,但是ROI(得到的投资回报)很少。我希望经受住了这场疫情暴风雨的企业要反思一下自己的商业模式,确保行业实践在未来有所提升。