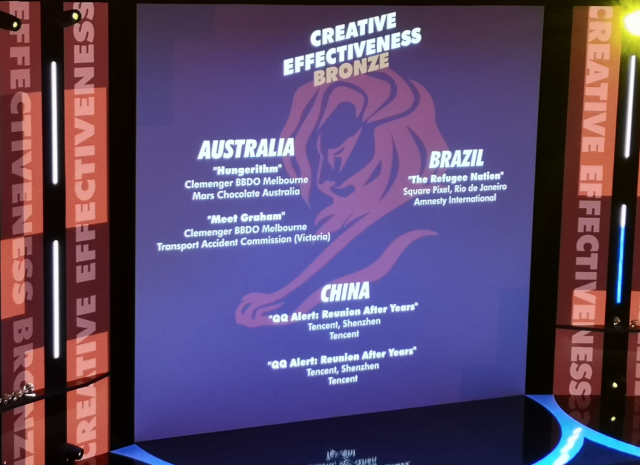 Tencent's QQ Alert campaign won two Bronze Lions in Creative Effectiveness Categories
腾讯QQ全城助力"人脸寻亲"公益项目摘得创意效果两座铜狮奖
Last week at Cannes Lions International Festival of Creativity, China's brands and agencies submitted their best work for global recognition, winning three Bronze Lions and one Silver. Ten domestic campaigns were also shortlisted this year. Last year, nevertheless, China made a stronger showing when four campaigns won Bronze and five won Silver. Six were shortlisted, suggesting that this year's work didn't quite cut through the competition as strongly.
在上周举办的戛纳国际创意节,中国品牌和广告机构递交了最优秀的作品参加国际大赛,最终,摘得了三座铜狮奖和一座银狮奖。同时,十部国内广告作品都入围戛纳。相比之下,中国的表现更为出色,六部作品入围,四部作品获得铜狮奖,五部作品获得银狮奖,这样的数据让人看到,今年中国作品在戛纳的表现不如去年那么强劲。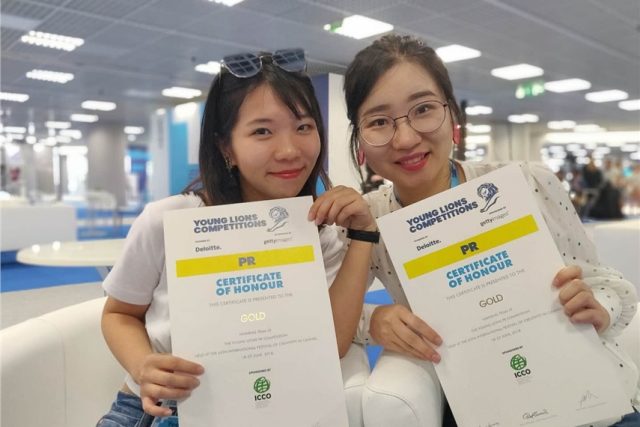 Xiaoyu Guan and Shengying Yan of BBDO Shanghai after winning first place in the Young Lions PR Competition
天联广告上海Xiaoyu Guan和Shengying Yan,天联夺冠幼狮公关奖
Two Young Lions competitors from BBDO Shanghai also won first place in the Young Lions PR Competition, where they were given 24 hours to create an innovative PR campaign from a client brief.
天联广告上海的两部作品还夺冠幼狮公关奖,而在做这两部作品时,天联在拿到客户的要求之后要在24小时内,提出创新创新广告宣传方案。
Winning two Bronze Lions was Tencent Shenzhen for Tencent's "QQ Alert: Reunion After Years" campaign in two Creative Effectiveness categories. The campaign used a new QQ feature to alert its 860 million users when a child was missing within their vicinities. The campaign successfully found 54 missing children and reunited 12 families.
腾讯QQ全城助力"人脸寻亲"摘得两个实效奖铜狮奖。QQ利用全新的人脸识别特征,让8.6亿人了解周围是否有走失的孩子。这场活动已经成功帮助54个走失的孩子和12个家庭重新团聚。

Amber China Shanghai's print campaign for Ammeloo
上海琥珀传播为艾美龙品牌打造的纸媒宣传
With one Bronze Lion in the Industry Craft Lions for Illustration was Amber China Shanghai for knife brand Ammelloo, with their playful print campaign "Chop Chop 2.0" showing an animal chopped neatly into cubes – even before the animal knows it.
上海琥珀传播为刀具品牌艾美龙打造的创意纸媒广告《Chop Chop好块》摘得行业制作工艺狮铜狮奖。广告展现的是一只动物不知不觉就被艾美龙的刀具切割成了完美的方块。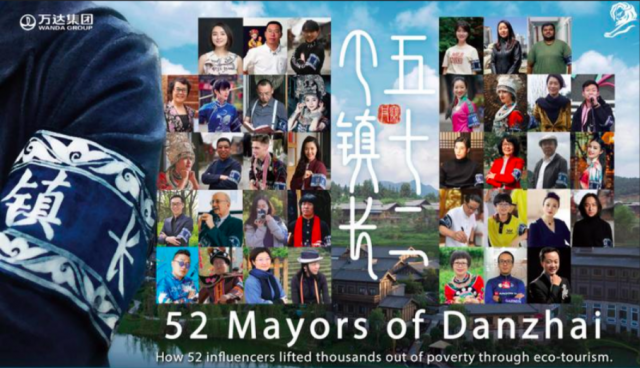 Ogilvy Beijing also took home a Bronze Lion for the Wanda campaign, "52 Mayors of Danzhai" in the Entertainment Lions category for Innovation in Branded Content. The campaign featured Wanda's reconstruction of impoverished village Danzhai into an eco-tourism destination. It brought 52 KOLs each week to act as city mayor and highlight the craft, charm and history of the village, resulting in a surge of tourism and creating 12,000 new jobs in the village.
奥美北京同样也摘得戛纳创意节娱乐类别的一座铜狮奖,获奖作品是为万达打造的《52 个镇长》。万达把穷乡僻壤的丹寨打造成了生态旅游景点。每一周,都有一位"关键意见领袖"扮演成镇长,展现丹寨的手艺、魅力和历史,这也带来了丹寨旅游热,给小山村带来了12000个新的就业岗位。
Taking home a Silver Lion was McGarryBowen Shanghai for the Alzheimer's Association campaign "The Fading Font" in the Health & Wellness category. They designed a new half-faded font, capturing the feeling of not being quite able to remember what you want to say. The campaign called on KOLs, brands and netizens to use the font to share memories they wouldn't want to forget. The font was downloaded more than 130,000 times, with memories in the font shared by more than 100 brands and celebrities.
麦利博文上海凭借为阿尔兹海默学会打造的《The Fading Font》斩获了Health&Wellness类别银狮奖。他们设计的阿尔海茨海默症字体,让人们切身体会到记忆减退的感受。他们找来了"关键意见领袖"、品牌和网友,一起使用这种字体,分享不想遗忘的记忆。字体总共下载量达到了13万多,100多个品牌和名人都用这种字体分享了他们的记忆。
Also shortlisted were Ogilvy Shanghai for H&M, R/GA Shanghai for Nike, Logicillogic Shanghai for De Li, Ogilvy Beijing for Intel, and Mindshare China Shanghai for Uniqlo, Maybelline and KFC campaigns.  Check below for the complete list of Shortlisted and Lions winners from China.
同样,入围的作品还包括:奥美上海H&M广告,R/GA上海耐克广告,逻辑不逻辑上海De Li广告、奥美英特尔广告、传力中国上海优衣库广告、美宝莲广告、肯德基广告等。以下是入围及获奖的中国作品完整名单。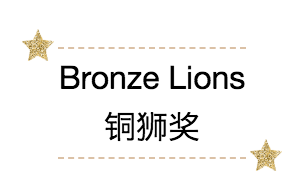 Campaign: 52 Mayors of Danzhai
Brand: Wanda
Entrant: Ogilvy Beijing
Bronze Lion in Entertainment Lions – Innovation in Branded Content
Shortlisted in Social & Influencer Lions – CSR/Corporate Image
作品:《52个镇长》
品牌:万达
参赛机构:奥美北京
娱乐类别铜狮奖 – 创新品牌内容
入围社交及影响者营销类别 – 企业社会责任/企业形象
---
Campaign: Chop Chop 2.0
Brand: Ammeloo
Entrant: Amber China Shanghai
Bronze Lion in Industry Craft Lions for Illustration – Print and Publishing
3 Shortlisted in Print & Publishing Lions – Consumer Durables
作品:《Chop Chop好块》
品牌:艾美龙
参赛机构:上海琥珀传播
行业制作工艺狮铜狮奖 – 纸媒与出版
三部作品入围纸媒与出版类别 – 耐用消费品
---
Campaign: QQ Alert: Reunion After Years
Brand: Tencent
Entrant: Tencent Shenzhen
Bronze Lion in Creative Effectiveness Lions – Creative Effectiveness for Good
Bronze Lion in Creative Effectiveness Lions – Single Country Creative Effectiveness
作品:腾讯QQ全城助力"人脸寻亲"
品牌:腾讯
参赛机构:深圳腾讯
实效奖铜狮奖 – 公益实效
实效奖铜狮奖 – 单个国家实效
---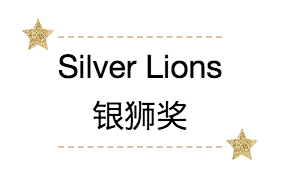 Campaign: The Fading Font
Brand: Alzheimer's Association
Entrant: McGarryBowen Shanghai
Silver in Health & Wellness Lions, Shortlisted in Design Lions
作品:《The Fading Font》
品牌:阿尔兹海默症学会
参赛机构:麦利博文上海
Health & Wellness银狮奖,入围设计狮类
---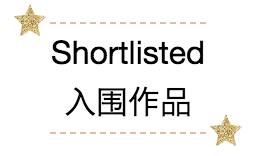 Campaign: Reactland
Brand: Nike China
Entrant: Nike China Shanghai
Shorlisted in Brand Experience & Activation Lions – Customer Retail / In-store Experience and Digital Installations
作品:Reactland
品牌:耐克中国
参赛机构:耐克中国上海
入围品牌体验活动狮类别 – 零售/店铺体验与数字装置
---
Campaign: H&M Social Stylist
Brand: H&M
Entrant: Ogilvy Shanghai
Shortlisted in Social & Influencer Lions – Social Data & Insight
作品:H&M Social Stylist
品牌:H&M
参赛机构:奥美上海
入围社交及影响者营销狮类别 – 社交数据与洞察类
---
Campaign: Nike HBL
Brand: Nike China
Entrant: R/GA Shanghai
Shortlisted in Digital Craft Lions – Motion Graphics Design & Animation
作品:Nike HBL
品牌:耐克中国
参赛机构:R/GA上海
入围数字工艺狮类别 – 动态图形设计与动画
---
Campaign: A Meme Gallery
Brand: Tencent
Entrant: Tencent Shenzhen
Shortlisted in Media Lions – Use of Social Platforms
作品:"小朋友"画廊
品牌:腾讯
参赛机构:深圳腾讯
入围媒体狮类别 – 社交平台使用
---
Campaign: Math is Beautiful
Brand: De Li
Entrant: Logicillogic Shanghai
Shortlisted in Industry Craft Lions – Illustration Outdoor and Art Direction-Print and Publishing
作品:Math is Beautiful
品牌:De Li
参赛机构:逻辑不逻辑上海
入围行业制作工艺狮类别 – 户外插图与艺术指导-纸媒与出版
---
Campaign: House of Emotions
Brand: Intel
Entrant: Ogilvy Beijing
Shortlisted in Social & Influencer Lions – Content Creation
作品:House of Emotions
品牌:英特尔
参赛机构:奥美北京
入围社交与影响着营销狮类别 – 内容创作
---
Campaign: Joy Story: Joy & Heron
Brand: JD.com
Entrant: Passion Pictures Melbourne
Shortlisted in Film Craft Lions – Animation
作品:Joy Story: Joy & Heron
品牌:京东
参赛机构:Passion Pictures墨尔本
入围电影工艺狮类别 – 动画类
---
Campaign: Turning KFC Into Gamers Playground
Brand: KFC
Entrant: Mindshare China Shanghai
Shortlisted in Media Lions – Retail
作品:Turning KFC Into Gamers Playground
品牌:肯德基
参赛机构:传立媒体上海
入围媒体狮类别 – 零售
---
Campaign: Hijacking the Largest Shopping Festival in the World
Brand: Uniqlo
Entrant: Mindshare China Shanghai
Shortlisted in Media Lions – Retail
作品:Hijacking the Largest Shopping Festival in the World
品牌:优衣库
参赛机构:传立媒体上海
入围媒体狮类别 – 零售
---
Campaign: Power to the Queens
Brand: Maybelline
Entrant: Mindshare China Shanghai
Shortlisted in Social & Influencer Lions – Audience Targeting/Engagement Strategies
作品:Power to the Queens
品牌:美宝莲
参赛机构:传立媒体上海
入围社交与影响着营销狮类别 – 受众定位/娱乐战略类
---