Events and video executive Cédric M presents a video-centric platform to promote and connect all players in the industry. In beta mode now, the platform will be fully functional before the year ends. Cédric is also looking for a co-founder to help him expand it.

近日,擅长活动与影视制作的Cédric M推出了一个以视频为中心的平台,希望借此为行业发声,连接行业中的所有参与者。目前该平台还在测试中,预计将在年底前正式上线。同时,Cédric也在寻找一位联合创始人,来帮助他扩大业务。
This is China in 2008 by Cédric M
Armed with a handheld camera, Cédric M recorded all the glitzy events and parties you missed in the 2000s. His name is almost a Shanghai institution, engraved in the city's collective memory. If you were in China about fifteen years ago, do you remember those fun, one-minute party clips with the slogan "be in it" that were shown on Taxi TVs?
Cédric M用手持相机记录了21世纪以来你错过的所有精彩酷炫的活动与派对。他的名字几乎成了上海的一个时代标志,镌刻在这座城市的集体记忆中。如果大约15年前你曾在中国生活过,还记得出租车后座电视上,播放的那些趣味横生的小广告吗?其中有一个系列会高喊 "一起来吧" 的广告词,全是时长一分钟的派对短片。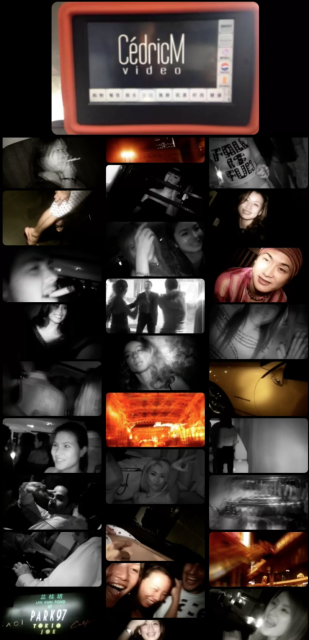 Voila, same guy.没错,就是他的作品。Now, Cédric is giving us yet more FOMO with a bold new project: a new platform presenting videos of the best events in luxury, fashion, lifestyle, auto, music, and art and culture — not just in Shanghai but all over China.
现在,Cédric通过一个大胆的新项目给了我们更多不容错过的机遇: 这是一个崭新的平台,汇集了上海,乃至全球的奢侈品、时尚、生活方式、汽车、音乐、艺术和文化领域的最佳活动影片。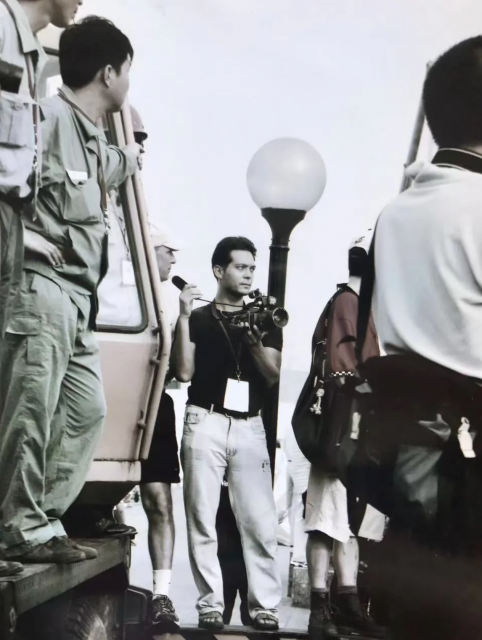 Experts foresee the global event industry to reach a global market size of over one and a half trillion dollars by 2028. China, naturally, is the world's most prominent market.
专家预测,到2028年,全球活动产业的全球市场规模将超过1.5万亿美元。中国,自然是全球最突出的市场。In such a scenario, EVENT TV emerges as the only go-to business-to-business platform for the niche.在这种情况下,EVENT TV就会成为该利基市场唯一的B2B平台。
And this time, you better be in it.
而这一次,你最好"一起来"。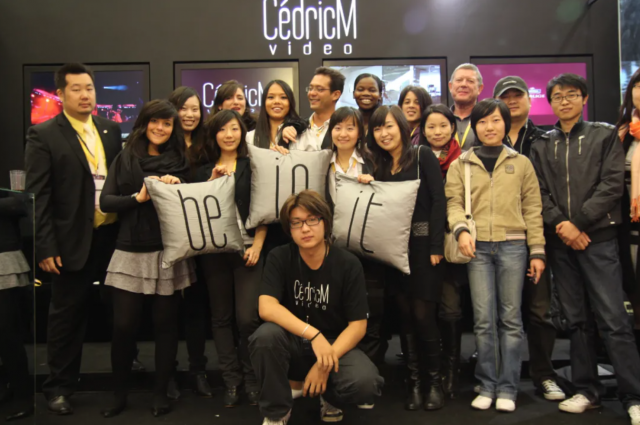 And this time, you better be in it.
而这一次,你最好"一起来"。
 What it EVENT TV? 
 什么是EVENT TV
You can think of it as a hybrid of YouTube with Pinterest and LinkedIn — but for premium events. Or, in Chinese terms, it's a mix of WeChat Channels, Xinpianchang, and TVC Book, focusing on the events sector.
你可以把它看作是为各类活动打造的,YouTube,Pinterest和领英的结合体。或者,在中国市场的背景下,它可以被看作是微信公众号,新片场和TVC Book的结合体,专注于活动行业。
EVENT TV teaser
Built on a WeChat mini-program and a global website — no VPN needed— EVENT TV is a video platform serving as a cross-border tool for whoever is in the events industry, and it's the first of its kind.
EVENT TV有微信小程序和全球门户网站,无需VPN。它是一个视频平台,是为活动策划行业的相关人士提供跨境服务的一个工具,它独一无二,目前甚至没有同类产品。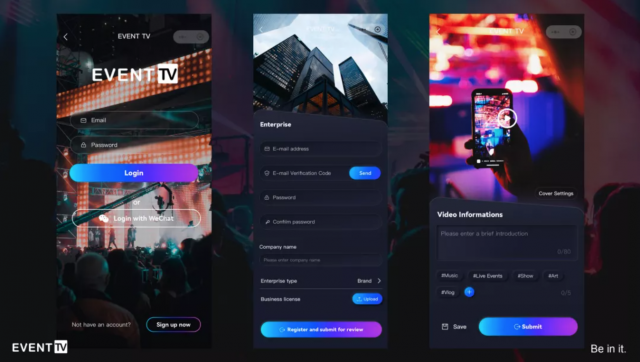 Brands, agencies, events, marketing, and video professionals can create profiles to showcase their work, connect with others, and find talent. You can also get inspired by everything happening in the world of prime events by simply browsing through the countless videos on the platform.
品牌和代理机构、活动、营销和制片专业人士,都可以通过创建个人账户来展示他们的作品,与其他专业人士联系,寻找行业人才等等。你也可以通过浏览平台上的海量视频,从各种当前高端活动界的趋势与日常中获得灵感。
And it's not just about what happened in the past. It's also about what's happening right now and what will happen in the future. They'll embed a live streaming feature to cover real-time content, as well as an upcoming events tab, and a news section to the platform.
该平台不光关注过去,还关心当下与未来。很快平台上将嵌入直播的功能,以覆盖实时内容,还会有即将进行的活动标签和新闻板块。
EVENT TV Guideline
It only takes one click to stay on top of the latest and hottest events, know who's who, who's doing what, and connect with the people who matter.
只需轻轻点击,您就能了解最新最热的事件与活动,知道谁是谁,TA在做什么,并与您重视的人脉联系。
A Platform for Everyone in the Industry
为业内各类人士使用的平台
To Cédric, EVENT TV represents a modern response to his lifelong passion for connecting people. Cédric M Video, his production company, is still going strong with a team of twenty people, directed by Mrs. Tang, Ben Lazerges, and Marie Li. Now, after over twenty years of gathering resources, he felt it was time to give back to the industry.
对Cédric来说,EVENT TV代表了他毕生致力于人与人之间联系的热情。而他的制作公司Cédric M Video仍在蓬勃发展,这个20人的团队,由唐女士、Ben Lazerges和Marie Li领导。现在,在Cédric积累了20多年的资源之后,他觉得是时候回报行业了。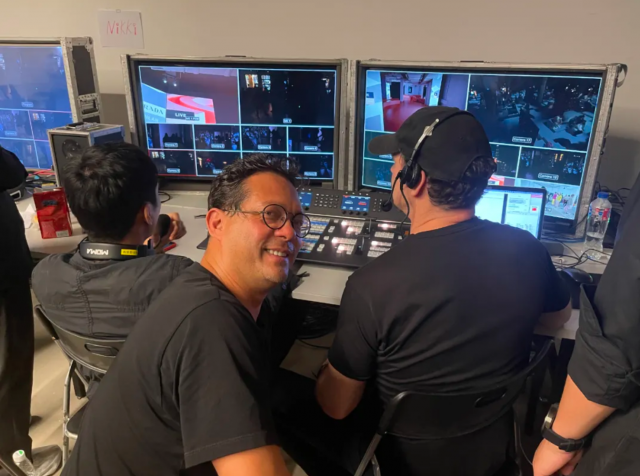 Cedric M at latest Prada live show in Shanghai
"There are so many new amazing content creators around events now. This platform is one destination to find all of them in one place instead of browsing aimlessly," Cédric says.
Cédric告诉我们:"现在有很多活动界的新内容创造者都非常有才。而这个平台可以让你不必再耗费时间漫无目的地浏览,可以在一个地方找到所有的人才与内容。"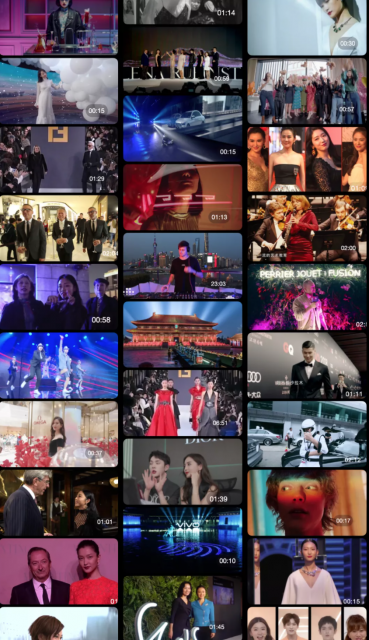 EVENT TV counts on a top-line editorial committee to ensure that videos and events are top-notch, in line with their audience's expectations. EVENT TV依靠顶级的编辑委员会来确保平台的视频与活动均为一流,符合目标观众的期望。
And while he might be the beating heart of the party, the party is by no means thrown only for him. EVENT TV wants to promote other video agencies and studios. "Cédric M Video and EVENT TV are two separate identities. EVENT TV is a resource for everybody in the industry," he emphasizes. "Including those who might think of me as a direct competitor, like PR Photo, JunProd, ID Creations, and many more. Everyone is to benefit from this platform."
或许Cédric可能是派对跳动的心脏,但这场派对绝不只为他一人而精彩。EVENT TV的目标是推广其他视频机构和工作室。"Cédric M Video与EVENT TV是各自独立的。EVENT TV对行业中的每个人来说都是一种资源。包括那些视我为直接竞争对手的人,如PR Photo, JunProd, ID Creations等。每个人都将从这个平台中受益",他分享。
EVENT TV is still in beta mode but already showcasing over 5,000 videos spanning 18 years of footage and over 500 channels.
EVENT TV目前仍处于测试阶段,但已经上线了5000多个视频,跨越18年的影片和500多个频道。
Beyond connecting people that work in the same industry, Cédric's platform also has the incredible potential to reach the consumer base of brands. That's in their long-term plans. "It's a B2B2C marketplace in the end because the target is also all the premium lifestyle consumers and brand addicts," Cédric says.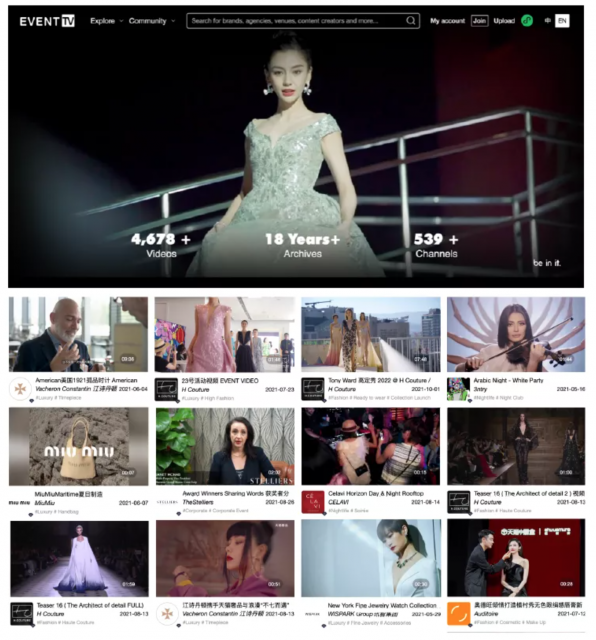 Through the "explore" tab, you'll find videos in all the important niches, such as auto, fashion, lifestyle, and corporate, to name a few.  通过"探索"标签,您会在想要进入的片段中找到视频。平台拥有所有主要的细分市场,如汽车、时尚、生活方式和企业等。
将业内人士联系在一起,Cédric的平台还具有触及品牌消费者群体的惊人潜力。这是他们的长期计划。Cédric表示:"这最终是一个B2B2C的市场,因为目标人群也是所有高端生活方式消费者和品牌迷。"
Serving as a living memory archive for events in China, and doubling as a touchpoint for brands and consumers, EVENT TV is a showcase of Chinese creativity to the world and a door for foreign companies to enter the Chinese market.
作为国内活动的"鲜活记忆档案",EVENT TV也是品牌与消费者的接触点。此平台尽力向世界展示中国的创意,也是外国企业进入中国市场的大门,一举两得。
The Team 团队
EVENT TV's team is composed of eight people from different nationalities, and it's fair to say they exude the core values of the platform itself. As proof of commitment, they've personally invested over three million renminbi in this project. They are now seeking to raise three million dollars in a pre-A round of funding.
EVENT TV的团队由来自不同国家的8人组成,可以说,他们体现了平台本身的核心价值。为了表示自己的决心与诚意,团队的个人在这个项目上的投资超过300万人民币。他们现在正努力,希望在A轮融资准备中筹集300万美元。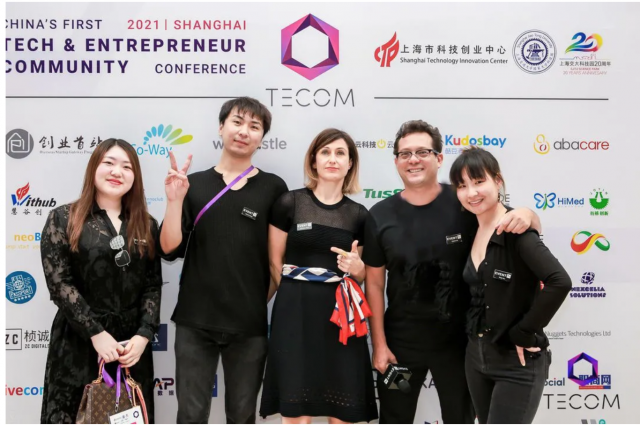 EVENT TV Crew at TECOM
Lynn Liu holds the project manager position; customer care is in the hands of Sissi Xu, and there's also a tech team taking care of all the complicated tech that goes into the platform.
团队中,Lynn Liu担任项目经理,客户服务由Sissi Xu负责,还有一个技术团队负责平台上所有复杂的技术需求。
For the first year, Caroline Pujo took care of operations. She's a French engineer with a strong passion for the arts and entertainment world at large. However, from now on, Caroline will turn her attention to growing their model internationally.
第一年的运营由Caroline Pujo负责。她是一名法国工程师,对艺术和娱乐界有着满腔热情。不过现在开始,Caroline将把她的注意力转向发展国际模式。
Cédric is currently interviewing candidates for the position of co-founder — he's looking for someone with plenty of experience to take on responsibilities across HR, Sales, PR, marketing, and, particularly, growth.
Cédric目前正在面试联合创始人一职的候选人,他希望能找到一位经验丰富的人来承担人力资源、销售、公关、市场营销,尤其是增长与发展方面的职责。
Be in it…一起来…
The best time to join EVENT TV is right now, during its beta mode phase, while the platform is still free to join. But it won't stay free forever. A paywall will come up in November for content upload.
加入EVENT TV的最佳时机就是现在,在目前的测试阶段,该平台仍然是免费加入的,但不会永远免费。内容上传的付费功能将在11月启用。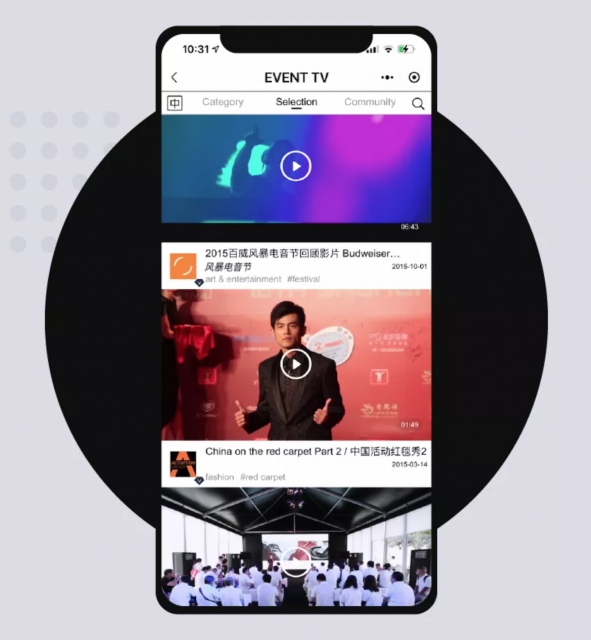 So, if you want to showcase your talent to this crowd and keep informed on what's going on, you can set up a profile on eventtv.video or WeChat. In the latter, look for EVENT TV on your Mini-Programs tab.
所以,不论是您想向业内人士展示才华,还是了解时事,都可以在eventtv.video或是微信上建立个人账户。你还可以在微信小程序中搜索EVENT TV了解更多。
For business and professional inquiries, the team is quite approachable. You can reach out to Cédric or Caroline through WeChat or email.
关于商务和专业咨询,EVENT TV团队乐于回答您的任何问题。您可以通过微信或电子邮件联系Cédric或Caroline。
· Cédric M, cedric@cedricm.com, WeChat ID: beinit
· Caroline Pujo, caroline@eventtv.video, WeChat ID: CarolinePujo