Last week at Cannes Lions, SHP+ caught up with China's ad makers and shakers about Chinese innovation, creativity, and their presence on the international stage. In this Cannes Lions Conversation, we talked with W, a Shanghai-based independent agency, after they gave a session titled, "Don't be a Creative, Be a Creator." We were joined by 3Water Li, Founder of W, Irene He, Brand Strategist, and Jack Zhang, Business Director, to talk about W's place in the world and its plans. Though W has attended Cannes once before, this was 3Water's first time on stage, and W also submitted two campaigns for awards this year.
上周戛纳国际创意节期间,SHP+采访了中国广告制作人和大咖,讲述中国创新和创意,以及中国在国际舞台的表现。上海独立创意机构W举办了"不做创意人,只做创造者"活动,活动之后,我们采访了W创始人李三水、品牌策划何日清、业务总监张振杰,共同讨论W在世界的地位以及公司未来的计划。虽然这不是W第一次来到戛纳,但其实这一次是三水第一次等上戛纳主舞台演讲,和戛纳其它重量级演讲嘉宾并列亮相。
---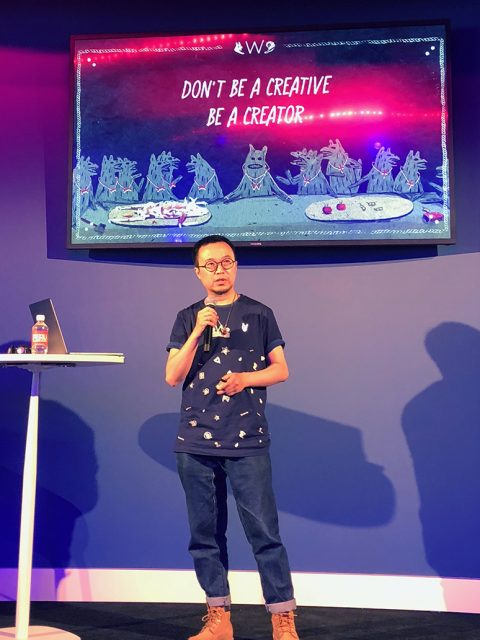 W Founder 3Water | W创始人的李三水

SHP+: How did you end up speaking this year at Cannes Lions? Was it through your relationship with Adquan?
你们跟广告门是什么关系?

Irene: [Adquan] are the media, they have the connections. They're like AdWeek. They invited us here and recommended us to Cannes to select us as a speaker. This is the first time a Chinese independent agency is speaking on a main stage.
日清:广告门是媒体公司,他们有人脉, 就像《广告周刊》一样。这也是第一次有中国本土独立创意机构,受邀在戛纳主舞台上演讲。
W's "Songs to Future Advertisements," turning ads into music videos

SHP+: Everyone is talking about China brands breaking into the Western world. If the creative for those brands was more like the work you guys just shared, which is so original, it would break through much faster. Your work is very Western friendly but understands China insights. Are those the kind of projects you're aiming for? Bringing a Chinese brand into the Western market?
大家都在谈论中国品牌正在打入西方世界,如果所有公司的广告创意都能像W的原创作品一样,那中国很快就能打入西方市场了。你们的作品非常适合西方,但是又是标准的中国洞悉。这样的项目就是你们的目标吗?要把中国品牌带到西方市场?

3Water: Sure. Our next step is to go into the international market, and build our agency towards international agency levels.
Irene: We're the first world-class independent local agency. It's a long adjective, but you get what we're talking about.
3Water: We have so many clients like Alibaba and Tencent who want to go international.
三水:没错,我们的下一步就是走向国际市场,把W打造成全球化的广告机构。
日清:我们是国际一流的本土独立广告创意公司。我说的修饰词有点多,但这就是我想表达的。
三水:我们有很多客户,比如阿里、腾讯,这些公司都想打入国际市场。

SHP+: So do you think there's an advantage to having someone like you guys instead of an agency based in the overseas markets?
你们觉得相比于海外市场的广告机构,像你们这样的创意人才更有优势吗?

Irene: Well our local insights definitely put us in a position where we're connecting cultures together and getting the point of what brands want.
日清:我们对本土市场的洞察,无疑让我们可以很好地把不同的文化连起来,真正了解客户所想。

SHP+: Right. Obviously your Chinese understanding is very strong and Chinese brands will see that. Are they seeing how well you understand creative work that hits Western perceptions as well?  Are clients like Huawei wanting to work with agencies like you to go overseas?
没错,显然,你们对中国理解很透彻,中国品牌会看到这一点的。你们很了解适合西方口味的创意公告作品吗?如果华为想要走向海外市场,他们是更愿意跟你们这样的广告机构合作吗?

Irene: Even large, very popular ad agencies – when they operate for international clients, there's no guarantee they can understand or deliver the best messages. But if you can find someone who does, it doesn't matter their size. We're only 33 people, and we've managed to do so many things in the past three years. Size doesn't matter, only local insights and the ability to deliver.
日清:即便是非常知名的大型广告公司,在给国际客户做宣传的时候,也不能保证他们能够完全理解并传达出最好的信息。但是如果能够找到理解客户意图的广告公司,其实大小并不重要。我们只有33个人,但是在过去3年,我们做了很多很多项目。公司大小不重要,重要的是要有本土市场的洞悉的能力。
An Ad That Shouldn't Have Existed

SHP+: What did you submit to Cannes this year?
今年的戛纳,你们有递交作品参赛吗?

Irene: We submitted two campaigns. The "Return to Shanghai," and one for Unionpay, "The Ad That Shouldn't Have Existed," an interactive thing that works when you wave your phone. That's a connecting-brand function because it shows how you wave to pay. You don't need to scan anything or take out a card. One was submitted to Digital Craft Lions and the other is in Entertainment Branded Content Lions – Social Influence category.
日清:递交了两部作品。《Return to Shanghai》,还有一个作品是给银联云闪付做的《一个不该存在的广告》,挥动手机,就会有互动。这就是联动品牌功能,一挥即付。不用扫描,也不用把银行卡掏出来。两部作品,一个参加的是数字工艺狮类别,另一个是娱乐品牌内容狮 – 社交影响力类别。
Wild Dog Island exhibition for 33 brands

SHP+: What are the pros and cons of being a small agency in such a big market?
在这么大的一个市场里,作为一家小公司,你们有什么优势和劣势?

Jack : I think the advantage is very obvious because the market is changing very fast. Being small means being more flexible and we can adapt faster to many changes.
振杰 :优势非常明显,因为市场瞬息万变。小就等于灵活,我们可以很快适应很多变化。
Compared to the budgets of our clients and the costs of larger agencies, we have so much room to be skyrocketing in this market because our costs are lower. Our overhead is small. We're able to find other elements, instead of money, that help us move fast for our clients. 3Water believes that creating a shared community, a shared destiny, with our clients, consumers and with corporate partners is the best way to work.
对比一下客户的预算和大型广告公司的成本,我们在市场上有很大上升空间,这是因为我们的预算较低。我们的运营成本也低,要找到除了预算以外的其他元素,帮助客户快速发展。三水认为,打造共同社区,跟客户跟消费者跟企业合作伙伴同甘苦共命运,就是最好的方式。
Irene: So in short, [clients and brands] have capital and markets to drive whatever they do, but small agencies only have creatives. We need to find the next motivation and build to drive everyone forward, which is why 3Water says we need to build a shared community.
日清:简而言之,我们的客户和品牌 – 他们有资本,有市场,不论做什么都可以,但是小型广告公司只有创意。我们需要找到新的动力,激励每个人,所以三水说我们需要打造共同社区。

SHP+: Any other challenges, besides money, to being a small agency?
除了资金之外,作为一家小公司,你们还有其他挑战吗?

3Water: Talents. A lot of strong talent goes to large agencies, or companies like Alibaba and Tencent, because they have so much recognition.
三水:人才。很多优秀的人才都去了乙方公司(大广告公司),或者是阿里、腾讯等等,因为这些大公司更有知名度。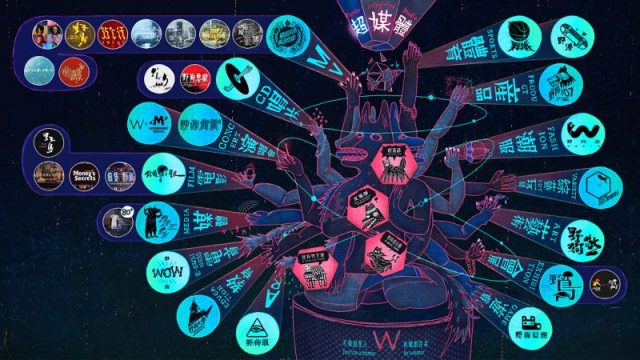 SHP+: W Agency has only been around for three years, but your recognition must be growing. Will you stay small?
W创意机构只是三年前成立的,但是一定有越来越多人认识你们了?你们以后还会保持公司的小规模吗?

Irene: Take a look at our Hypermedia map. We're planning on building out a new division for each specific kind of content: a production house, a film company, a music label. [Ed.'s note: This also includes an art zine, tech-art, an educational platform, concert production, and other departments in gaming, fashion and sports. We highly recommend you check out all of their projects.]  We're going to grow but in different ways. We're going to be a smaller version of Alibaba.
日清:看看我们的超媒体分布,我们计划每一个特定的内容类别都要建立一个新部门:制作部门、影视部门、音乐部门等。(编辑注:也包括艺术设计、科技艺术、教育平台、打造音乐会、游戏部门、时尚部门、体育部门。强推大家看看W的其他项目)我们会不断壮大,但是方式与众不同。我们要成为阿里巴巴的精简版。
3Water: (laughing) That's what Alibaba said, not what we're thinking.
三水:(笑着说道)阿里是这么说的,其实我们没这么想。
Jack: They told us we're a small Alibaba after looking at our road map.
振杰:阿里看了我们的规划,跟我们说我们就是一个浓缩版的阿里。