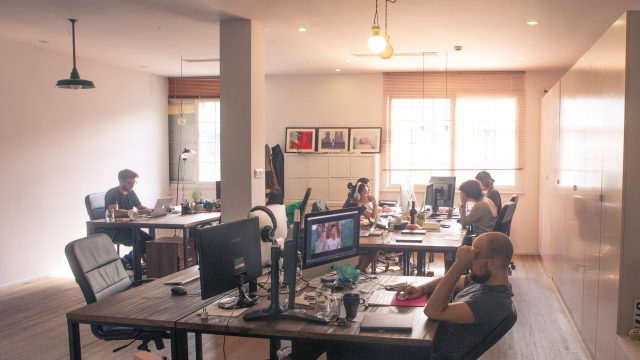 Ores办公室 – 上海 | Ores Office Interior – Shanghai 
上海法租界树木林立,在这里一幢不起眼的小楼的三层,坐落着Ores公司。作为整合营销传媒公司,Ores的商业模式还真不一般。四年前,法国里尔办公室和上海办公室同时成立,公司致力于为客户提供一站式服务,提供客户所需的各种支持,落实品牌的营销战略,从概念创意到策划制作,再到后期,统统包含在内。
Tucked behind a tree lined street in Shanghai's Former French Concession, Ores' is discretely perched on the third floor of a plain tiled office building.  The business model behind Ores, an integrated communications agency, however, is far from ordinary.  Ores simultaneously opened offices four years ago in Lille, France and Shanghai, China, they claim to be a one stop shop for clients, providing support and executing a brands' communication strategy from creative conception to planning, production, and post.
这样的商业模式理论来讲对客户和广告公司都大有裨益,既能减少成本,又能节省来来回回沟通的时间,这样广告宣传和拍摄时间都不会停滞不前。而且每一步都是Ores内部来完成,保证了品牌营销战略的连贯性,原创概念创意人员跟后期制作团队都在一起,这样在后期剪辑片子的时候,能及时沟通。
The business model in theory benefits both client and agency, reducing costs and endless back and forth communication time that often bogs down campaigns and shooting timelines.  Since every aspect of a campaign is done in-house, Ores also boasts more continuity for the brand's marketing strategy, given the creative who crafted the original concept will also be in the same office when the post production is editing images for a digital campaign, a photo spread, or a TVC.

Hermes品牌形象中国宣传片 | Hermes' Portrait Film for China Launch  
毋庸置疑,世界各地广告公司和制作公司都很嫉妒Ores流畅的商业模式,确实,这完美的超乎现实。各个领域的人才聚集在同一屋檐下,创意人员、制片人、其他人员都能很好的沟通,而客户的创意宣传也可以节省成本,但是成品质量却丝毫不会打折扣。
Global agencies and production companies will surely envy the fluidity of Ores' business model and indeed it almost sounds too good to be true.  Combining all talents under one roof allow the creatives, producers, and others involved to get a better mark up, while clients pay less for creative campaigns and maintain the same if not better results.
过去四年的业绩也已证明Ores可以为各大国际品牌提供广泛的服务,不论是在法国还是在中国,不论是欧莱雅还是托马斯·库克,Ores的实力不在话下。团队在法国里尔创意之初只有五个人,想说服客户他们有能力独自完成包括品牌战略到后期的每一个步骤,还真不容易。然而,两位创始人Nicolas Guittard和Thomas Bevilacqua(迪卡侬前营销传播总监)深知广告行业的各种艰辛,依旧坚持着最初的目标 – 提供整合服务,事实证明,像他们这样人才辈出的小团队也是可以让客户非常满意的。
Ores has demonstrated over the past four years, its ability to convert on a wide range of campaigns for international brands from L'oreal to Quechua, in France and China. Starting with a five person team in Lille, it certainly was not easy at the beginning to convince clients that every part of a campaign, from strategy to post production, would be done in-house.  The founders, comprised of Nicolas Guittard and Thomas Bevilacqua – former marketing and communications director at Decathlon – were not new of course to the challenges in the advertising industry.  The pair set out with the original goal of creating an integrated agency and have stuck to it, proving it's possible to achieve client satisfaction with a smaller, multi-talented team.

(From L to R) Pierre Sensey – Head of strategy and CFO; Martin Granger – Business Development Director; Julien Boulard – Creative Director and GM; Tancrede Wozney – Head of Production 
而他们在进军上海时,找到了Julian Boulard(来自佛海佛瑞),Alexandre Mulliez(来自Threesome Films)和Aurelien Pelaprat(来自欧赛轮中国)加入他们。一开始他们便打造了Quechua品牌宣传广告,这个项目奠定了他们在中国的事业基础,现在Quechua仍然是他们的忠实客户。最初,公司的法国人脉是主要业务来源,但是现在上海团队后来居上,各大国际品牌更愿意跟对中国市场有一定把控和了解的公司合作。
To establish themselves in Shanghai they partnered with Julian Boulard, from Fred&Farid, Alexandre Mulliez from Threesome Films, and Aurelien Pelaprat from Oxelo China.  They landed a campaign with Quechua, a brand they still work with, which helped them originally get a foothold in China.  At the start it was Ores' connections in France that was the main business driver for the agency.  Now it's the Shanghai office that's leading, as international clients are eager to work with an agency that already has a grasp of the Chinese market.
Quechua品牌宣传片 | Quechua Brand Film 
现在,Ores有意寻找跟他们一样的小公司合作拓展客户源,希望找到跟他们技术互补的公司。Ores创意总监Julien Boulard如是描述这样的合作关系,"我们也想参与创意步骤,而不是单单执行,要不然就没劲了"。
They also have plans to expand their client base by pitching to new clients in partnership with other smaller agencies of their similar size, who compliment skills and areas of expertise where they are lacking.   In these partnerships Ores' creative Director Julien Boulard makes it clear "we want to be part of the creative process as well, we don't want to just execute, that would be frustrating".
一定意义上讲,整合商业模式也就意味着广告和制作两方面都能有更多的创意,也能对创意过程有更多的把控。众所周知,中国客户要求甚高,而且总是最后一刻还要求修改,如果公司能提供整合方案,那无疑会对创意流程和沟通预算方面能有更好的把控,这样无疑会给双方节省时间和经济成本。
On a certain level, an integrated model is a lot about agencies and production having more creative license and control of the creative process.  While Chinese clients are notoriously demanding and will always make the final cut, an integrated agency can certainly take back a little more control on the creative flow, communication, and budget which arguably benefits all sides in terms of cost and time.
Yuesai CBeauty – 产品发布宣传片 | Yuesai CBeauty – Community Launch Film 
同时,整合方案也可以让各大品牌更好的适应市场新潮流和广告平台,适应不断发展的数字时代。一站式服务可以让品牌宣传更迅捷,能满足不同的平台和媒介。这种能力在数字媒体宣传中更为重要,广告自身的水平和制作相对没那么重要,但是主要是看品牌是否能走在潮流的前沿,更快打造顺应消费者需求的内容。
Working with an integrated agency is also about brands being able to respond faster to market trends and advertising platforms that continue to evolve in a digital era.  When everything is created in-house the turn-around time is faster on campaigns that are often being launched on multiple platforms, in multiple mediums.  The ability to convert quickly is more important on digital-centric campaigns, where it feels less about quality and large TVC productions and more about the brand's ability to stay ahead of trends and consumers by producing more consistent content, more frequently.
年轻的Ores团队坦言,有时候确实要一人身兼数职,才能完成项目,这或许更证明了员工的专业知识深度。Ores说每一步都是自己内部完成的,这样的说法一点也不夸张。而在制作人员名单上,他们会直接写上"Ores团队",而不是列出个人,因为他们相信每一个项目都是整个团队的力量集合。
The young Ores team openly admits they do sometimes have to multitask to get projects accomplished.  Which perhaps indicates more the depth of their staff than a weakness.  Ores is not exaggerating when they say they complete everything in-house.  For the credits they don't list individuals but rather prefer to simply list 'The Ores Team' as they consider each project a full group output.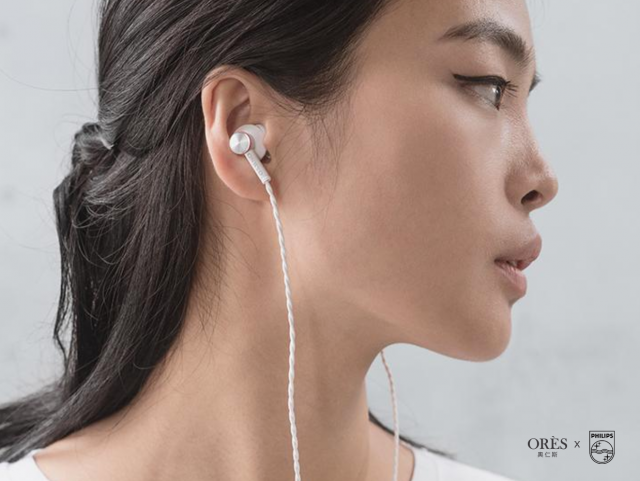 飞利浦品牌形象 | Philips Image
在这样的理念下,他们更愿意招募年轻的创意人才和制片人等等各类人才。上海团队充满创业热情,满满的能量和骄傲,团队中国人和外国人加起来一个20人。法国里尔团队现有40人,纽约和香港团队也在发展壮大。
Along this vein, they are also more willing to risk hiring younger, less established creatives, producers, and other talent.  There is a sort of start-up vibe to the energy and pride in the Shanghai office, a mix of 20 foreigners and Chinese. Ores' Lille office currently has a staff of forty and they are growing offices in New York and Hong Kong as well.
或许,Ores的成功也预示着传统的从客户到广告公司再到制作公司的模式正在逐渐消亡。关键的问题似乎不再是是否这三方需要联合起来,而是他们如何整合串联起来,顺应新的市场潮流。
Ores' success may indicate a larger trend of a dying traditional client – to agency – to production company structure.  The question now seems not to be about if agencies, production, and clients should integrate but how these three players will integrate and interact to respond to the current market.