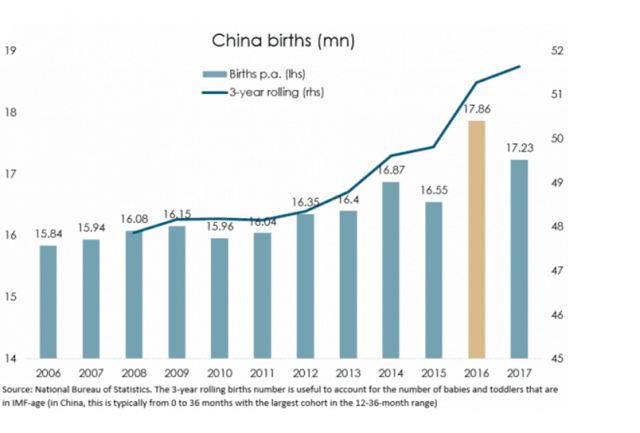 The abolishment of the controversial one-child policy in China is an economic prospect for many child-oriented businesses, especially baby formula.
中国颇有争议的独生子政策的废除,对于许多针对婴幼儿产品的产业来说,尤其是婴幼儿奶粉,带来了经济前景。
The 2017 statistics show that 75% of Chinese mothers feed their babies  formula, many of them being forced to use it due to short maternity leaves. Baby formula is a safe alternative to mother's milk, however its business has had some turbulent moments in China. Ten years ago, a scandal broke out involving a toxic milk and baby formula product infused with melamine which poisoned around 300,000 people. The incident ended up with hospitalization of 50,000 babies and death of six of them. The babies were fed infant formula produced by Shijiazhuang-based Sanlu Group, however later lab inspections concluded that problems existed in 21 baby formula companies.
2017年的统计数据显示,75%的中国母亲用奶粉喂养她们的孩子,其中许多人是因为产假太短,不得已而选用奶粉。奶粉相对于母乳而言,算是一种较为安全的替代物,然而这一产业曾经在中国引起过动荡。十年前,一则关于毒奶粉的丑闻被曝出,含有三聚氢氨的婴幼儿乳粉制品毒害了近三十万的婴幼儿。本起事件引起了五万婴幼儿就医,其中六人死亡。婴幼儿食用了位于石家庄的三鹿集团生产的奶粉,不久之后经过实验检测,有二十一家奶粉公司涉入此案。

This has shattered the trust of local products, forever changing the baby formula market in China.  Chinese parents care much more about the quality and nutritional value of infant formula than the price of the product, one research shows. This drives the need for international premium brands and creates big opportunities for them. However, the Chinese market is a special place where every step of branding and strategy needs to be executed with precision, from brand presentation to platform selection. Chinese consumers are internet savvy, and appropriate usage of Internet platforms such as e-commerce, Weibo, WeChat, Little Red Book, etc. is the key to success.
这起事件让人们不再相信国货,同时也改变了中国的奶粉市场。研究表明,相较于价格,中国父母更注重奶粉的质量和营养价值。这一倾向推动了对国际一线品牌的需求,也为它们创造了机会。然而,中国对于品牌定位,营销策略而言依然是一个特殊的市场,不论点从品牌定位还是平台的选则,每步都要谨慎执行。中国客户是网购行家,适当使用电商,微博,微信,小红书等网络平台是取得成功的关键。
Aptamil x JD京东
Aptamil is arguably one of the most popular baby formulas, and with their sweet new commercial, they are cementing their status in the country. The rather pricy German brand retails for 15 euros (around 100 yuan) per box in Europe, whereas in China the price is as high as 50 euros (around 350 yuan). The big price gap is a direct result of the numerous scandals involving domestic manufacturers, which allows foreign brands to charge premium prices.
爱他美可以说是最受欢迎的奶粉品牌之一。它们以一则温馨甜美的商业广告,巩固自己在中国的地位。这家相当昂贵的德国品牌制造商在欧洲的零售价为每盒15欧元(折合约人民币100元),而在中国的售价高达50欧元(合人民币350元)。国内制造商曝出的丑闻是造成如此巨大的差价的直接原因,这使得外国品牌可以收取溢价。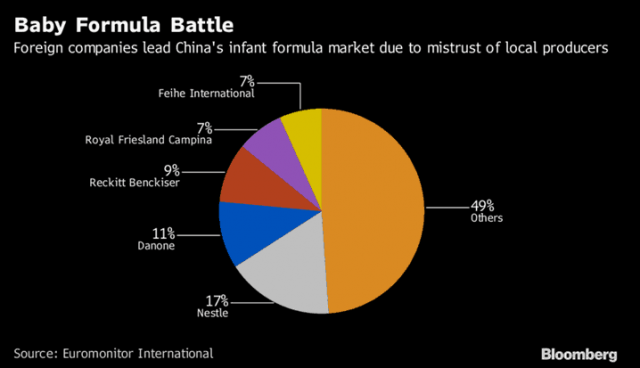 According to Euromonitor, eight out of ten brands of baby formula in the Chinese market are foreign, which is a huge portion of this $20bn market. Since the scandals involving baby formula, we have noticed that big companies such as Nestle, Danone, Dumex, etc are spending large amounts on commercials, employing big agencies and good creatives and directors and often putting the accent on "bio" and "organic". The commercials are frequently shot in beautiful meadows in foreign countries implying purity and freshness. Brand Dutch Lady states in their commercial "What we give to you, we give to our children", trying to ensure Chinese parents that their formula is indeed clean since they also give it to their children.
欧睿信息咨询(Euromonitor)的数据显示,中国市场上10个品牌的婴儿奶粉中,有8个是外国品牌,在这个200亿美元的市场中占据了很大份额。自从奶粉丑闻被曝出以后,我们注意到雀巢、达能、多美滋等大公司在广告上花费大量资金,聘请大的广告公司、优秀的创意人员和导演,而且常常强调"生物"和"有机"。这些广告往往拍摄于澳大利亚美丽的牧场,寓意纯洁和新鲜。品牌"荷兰女士"在他们的广告中说"我们给您什么,我们就给我们的孩子什么",试图向中国父母保证他们的奶粉确实是干净安全的,因为他们也给他们的孩子食用。
Dutch Lady
The high demand of foreign baby formula might not be strictly limited to the big conglomerate companies such as Nestle, but China could be a fruitful place for small to medium enterprises who commit to their goal and who learn how to navigate through the complex China market.
对外国奶粉的大量需求可能并不仅限于雀巢(Nestle)等大型综合企业,但对于那些致力于实现目标、并学会如何在复杂的中国市场中生存的中小企业来说,中国可能是一个富有成效的地方。
Feihe 飞鹤