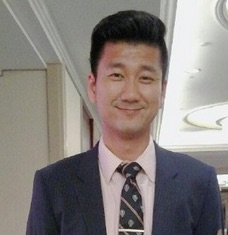 Lei David Chen is a Creative Executive for Gwantsi, a leading TVC production company based in Shanghai, China
Lei David Chen是上海领先影像制作观池影视的创意总监
---
Part of my job is working with overseas filmmakers whose creative tendencies obviously steer toward western sensibilities. Thus a question that frequently comes up is whether their ideas would work under the omnipresent specter of Chinese censorship. The answer is, as it often is in China: Maybe. It depends.
我的部分工作涉及到与国外制片人合作,他们的创作倾向很明显地偏向西方情感,所以常常会有一个问题,就是他们的创意能否通过中国电检制度。答案往往是:不确定,得看情况。
One of the earliest tasks that I asked a colleague to do at our company was to put together a comprehensive list of all the SAPPRFT laws regarding film and television in English. As far as I knew, this was not something you could easily find anywhere, and I wanted to be among the few to have this invaluable resource. However, we quickly ran into a major problem: there was no official list of all SAPPRFT laws even in Chinese.
Instead, what existed was more like a loose collection of articles released over the course of at least a decade that all stacked on top of each other. Aside from some stringent guidelines on depictions of smoking, most of it read vaguely as don't make the Chinese government, people, and culture look bad. Yet there are specific rules that aren't officially stated but are very much in place if you talk to anyone who's been part of a Chinese production. Some are obvious.
很早以前我在公司就让我的同事整理过一个列表,列明广电总局关于电影电视的所有法律规定,然后翻译成英语,因为据我所知,此类列表不是轻而易举就能找到的,这种无价资源我想最先掌握。但是呢,我们很快就遇到了一个问题:不要说英文的,就连中文的都没有。
能找到的也就一些大概出版了至少十年的文章,堆放在那儿。除了对描述抽烟有一些严格的规定,其他诸如不能损害中国政府,中国人民以及中国文化形象的规定都十分含糊。有一些规定虽然官方没有正式声明过,但是任何一个参与过中国电影制作的人都知道。比如下面这些显而易见的。
Want to portray government or police corruption? Not gonna happen.
Trying to discuss Tibet or Tiananmen Square? Try again.
A sex scene?! Have you thought about just making your movie in Taiwan?
Some rules, however, are less obvious. For instance:
Can I have a ghost in my movie?
想要描写政府或警察腐败?不可能。
讨论西藏或天安门事件?有本事就试试吧。
色情场景?干脆考虑在台湾拍吧。
而有些规定就没那么明显了。例如:
我的电影中能出现鬼吗?
The earliest answer I got to this question was no, you cannot depict ghosts. Yet if you watch a few Chinese films, it quickly becomes apparent that isn't the case. Ghosts are all over Chinese movies.
The next answer I heard was that, okay you can have ghosts, but the ghosts must be illusions. For instance, the character seeing ghosts could be schizophrenic. Or the whole Scooby-Doo "It was Old Man Smithers all along!" ploy would work here as well.
我最早得到的答案是不能,不可以描写鬼。但是如果你看过中国电影,很快就会发现不是这样的,中国电影里有很多鬼的形象。后来又有一个说法是,可以出现鬼,但鬼必须是假象,比方说剧中人物看到鬼是因为有精神分裂症。或者《史酷比》中"原来自始至终都是史密瑟斯老人"的桥段在这里可以用。
Then I encountered the film Eternal Beloved that had (SPOILER ALERT!) a non-illusion, non-fake, non-hallucinatory ghost. The three reasons I heard that this was allowed were:
     1. The ghost was not malevolent,
     2. Films set in ancient times can get away with more than ones set in the present, and perhaps most importantly
     3. This was a love story, not a horror story. Where you at, Paramount?
后来我遇到了《爱有来生》这部电影,里面就有一个不是假象,不是虚拟也不是幻觉产生的鬼。被允许的原因大致有以下三个:
     1. 这个鬼不坏;
     2. 剧情设定在古代要比设定在现代更容易侥幸逃脱,这也可能是最重要的一点
     3. 它是一个爱情片而不是恐怖片。
Unfortunately, no matter how many producers I ask, I have yet to receive real clarity on this topic. The cynical answer is that what you can get away with just depends on your relationship with the censorship bureau, but even that isn't bulletproof.
Take the infamous example of the 2014 television series The Empress of China. At the time, this was the most expensive Chinese series ever produced with a production cost of roughly US$50 million. It cleared all the censorship hurdles, was already airing daily on Hunan TV, and was even the no. 1 rated show in the country. But then, 7-8 episodes in, someone somewhere with some level of influence saw the show and decided there was just too much … cleavage.
So Hunan TV had to pull the whole thing down for four days and edit the entire series so that scenes like these:
遗憾的是,不管我问了多少制片人,都没有得到明确的答案。一个嘲讽的回答是能否通过审查得看你和广电总局的关系,但即使有关系也不是能打包票的。
就拿2014年闹得沸沸扬扬的《武媚娘传奇》来看。那个时候,它是中国电视剧制作成本最贵的一个,花了大概5千万美元。排除了所有审查障碍,并且已经在湖南卫视日播,收视率占全国第一。但是播了7,8集之后,某个具备某些影响力的人在某处看到了此剧,认为剧中角色乳沟露太多。于是湖南卫视被迫将该剧停播4天并重新剪辑,所以原本这样的场景: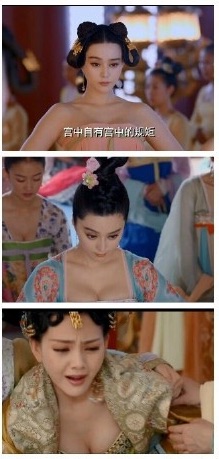 Became these 变成了这样: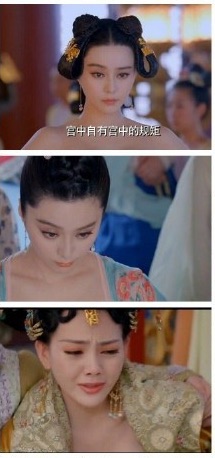 What has your experience been in terms of Chinese censorship? What rules have you heard about ghosts? And while we're clarifying that, what have you heard about zombies, vampires, and time travel? As usual, I'd love to hear your thoughts in the comments!
你与中国的电检制度有何经历?你听说过哪些关于鬼的规定?对于僵尸,吸血鬼以及穿越,你又知道哪些规定呢?还是一样,我很乐意在评论区看到你们的想法!