​Craft and creativity continues to grow in China, none of which would be possible without the inspired and daring minds behind the ideas and production. We are asking the creative community in China five fun questions to learn a little bit more about the people behind this burgeoning industry.  Hope you enjoy! If you think you should be profiled or you know someone creative who should be profiled send an email to info@shpplus.com.

中国的优秀作品和无限创意层出不穷,这离不开那些有思想、有灵感、有胆识的人才。为了更好地了解中国新兴创意产业,我们设计了有趣的小问题,请中国创意人才提供五道问题的答案。精彩不容错过!欢迎自荐和推荐,请发送邮件至info@shpplus.com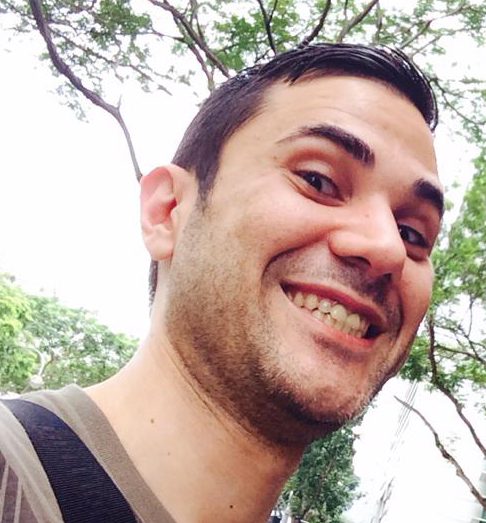 Kosta Lagis
CG Supervisor | 特效总监 | Fin Design + Effects' Shanghai | 丰匀图文设计上海
Kosta has nearly 20 years VFX experience in film and commercial work.  He originally started his arts career as an Illustrator in 1997 before his infatuation with the VFX Industry began.
Kosta从事影视和广告特效已将近20年。1997年,他开始画插画,开启了自己的艺术职业生涯,后来对特效非常痴迷。
He is well known for his character work, technical modelling, and stereo production.  He spent 13 years working with some of the major Australian production houses including Animal Logic, Fuel, Cutting Edge and Fin before moving on to a year of pre-production and technical research for Fury Road with George Miller's famous post house Dr. D.
Kosta最出名的就是角色塑造、技术建模和3D立体制作。曾经有13年的时间,他就职于澳大利亚多家知名的后期制作公司,包括Animal Logic、Fuel、Cutting Edge和Fin,之后的一年里,他又参与到《疯狂的麦克斯4:狂暴之路》的前期制作和技术研究中。
Kosta then spent 6 years at Weta Digital working on feature film productions as a lead artist as part of their optical team. His credits include The Hobbit, Prometheus, Planet of the Apes, Man of Steel, Guardians of the Galaxy 2, Spectral and many more. His expertise is often sought out for solving complex problems involving the integration of CG characters into live action, from onset supervision to post production.
此后六年里,Kosta加入维塔数码,参与多部影片制作,担任光线团队负责人。作品包括:《霍比特人》、《普罗米修斯》、《决战猩球》、《钢铁侠》、《银河护卫队2》和《幽冥》等诸多影片。他专长于解决负责的问题,比如CG人物和实景拍摄的结合,现场指导和后期制作。
Kosta is currently a CG Supervisor at Fin Design + Effects' Shanghai office.
Check out some of his internationally acclaimed work here
Kosta 目前在上海的丰匀图文设计当特效总监。
他在国际上知名的作品链接如下: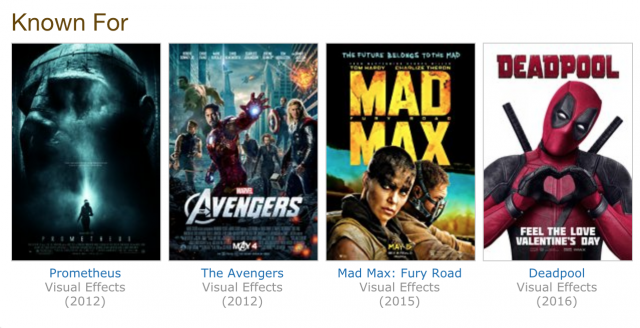 1. What's your favorite movie in the past five years? 过去五年来最喜欢的电影?
The Rover is just a really good movie, devoid of spectacle. It shows that there's parts of Australia already indiscernible from a  hypothetical apocalypse.
《沙海漂流人》是一部非常棒的电影,影片没有任何景色渲染。表现出澳大利亚部分地区已经跟理论上的世界末日没什么区别了。
2. Favorite movie of all time? 有史以来最喜欢的电影?
One Flew over the Cuckoos Nest is amazing – it was an excellent book, and an even better movie.
《飞越疯人院》很棒,小说写的很不错,电影拍的更好。
3. Best TV series out right now? 现在最喜欢的电视剧?
Halt and Catch Fire is great because its so well acted and written. It also takes place in a more familiar 80s than some of the current ham fisted nostalgia. It also shows that the pioneers of this industry were undoubtedly eccentric and led turbulent lives. (Plus everyone is pretty)
《奔腾年代》很好,演技好,剧本也好。故事发生时间是更为熟悉的80年代,不是现在那种笨拙的怀旧感。故事讲述了计算机行业的先锋人物,毫无疑问,他们性格古怪,生活跌宕起伏。
4. Favorite sound? 最喜欢的音乐?
Psalm 69 was the first album I listened to over and over, I had the cassette, then bought the CD, it was the first time I really loved music. It was also the most amazing album to hear live.
《Psalm 69》是我第一个反复听很多遍的专辑,我买了磁带,也买了CD,这是我第一次真正爱上音乐。也是现场版最棒的专辑。
5. Favorite children's story? 最喜欢的儿童故事?
Where the wild things are I loved because the monsters weren't the bad guys, I don't think kids think like that.
我喜欢《野兽家园》,故事中的野兽并不是坏人,小孩子不会把它们当成坏人。
We invite each of the creatives we profile to tag another interesting person for the series.  Kosta is recommending, China based, DoP, Richie Kendall.
我们邀请创意人士来一场接力赛,每个人都要推荐另一位有意思的创意人士。Kosta 推荐的下一个人是:现居中国的摄影导演Richie Kendall。