Craft and creativity continues to grow in China, none of which would be possible without the inspired and daring minds behind the ideas and production. We are asking the creative community in China five fun questions to learn a little bit more about the people behind this burgeoning industry.  Hope you enjoy! If you think you should be profiled or you know someone creative who should be profiled send an email to info@shpplus.com.
中国的优秀作品和无限创意层出不穷,这离不开那些有思想、有灵感、有胆识的人才。为了更好地了解中国新兴创意产业,我们设计了有趣的小问题,请中国创意人才提供五道问题的答案。精彩不容错过!欢迎自荐和推荐,请发送邮件至 info@shpplus.com.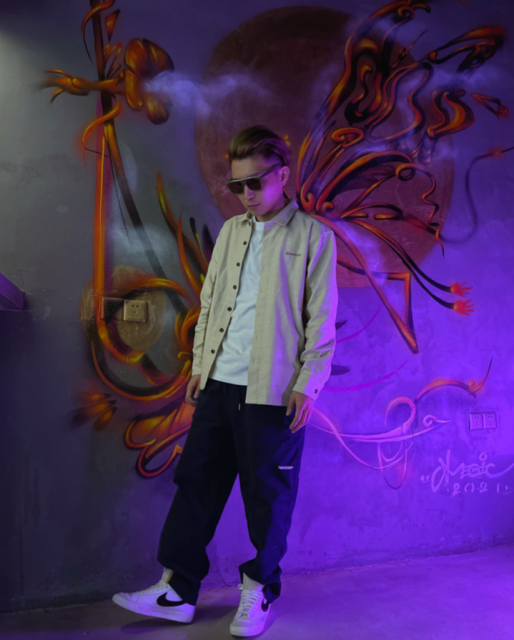 MEGIC 卢弘圳
Graffiti artist, HIPHOP Music video director
涂鸦艺术家/HIPHOP MV导演
MEGIC 卢弘圳 has been creating graffiti since 2007. Inspired by gold lacquered wood carvings in Chaoshan, Guangdong province, he explores the combination of traditional elements with modern graffiti. His works are instantly recognisable, and are characterised by bright colors, and uniquely Chinese aesthetic.  MEGIC has had numerous commercial cooperations in fashion and gaming industries. Some of the brands he worked with include:  Modern Sky, ADIDAS, NIKE, VANS, Converse, Boiling Point skateboards, Whatup Skateboard Magazine, Tencent, Netease, Chow Tai Fook, BOUCHERON, BMW, MiniCooper, 1626 fashion magazine, Guangdong Museum, Shine Hills etc.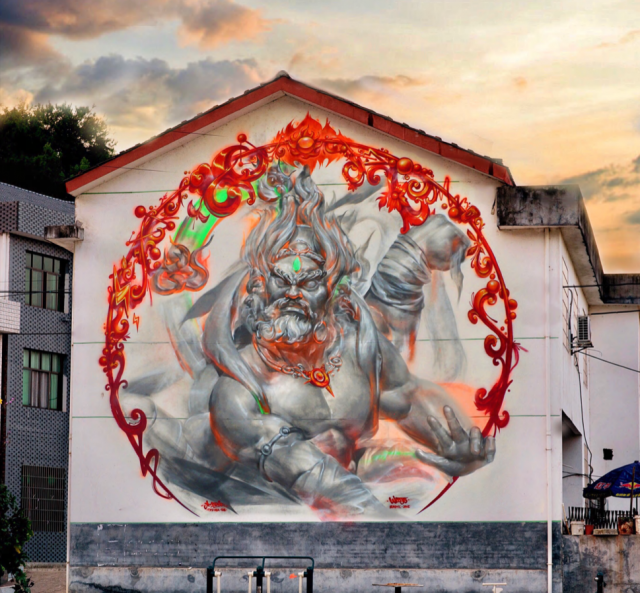 《火神祝融》(Demon of Heavenly Fires) Art by Megic & Woojs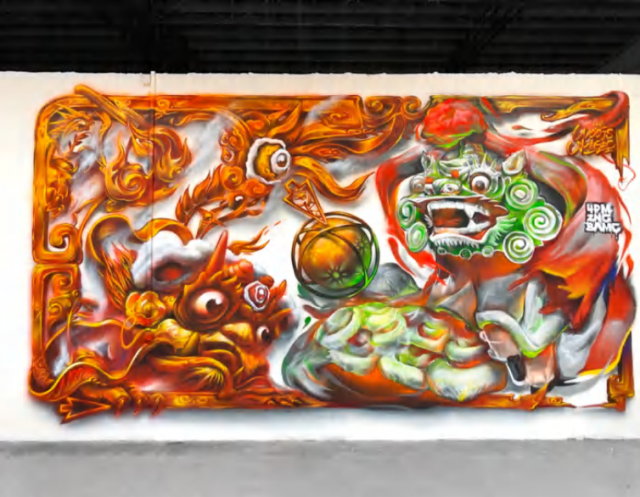 《 双狮戏珠》(Two Lions and a Pearl Drama) Art by megic & Woojs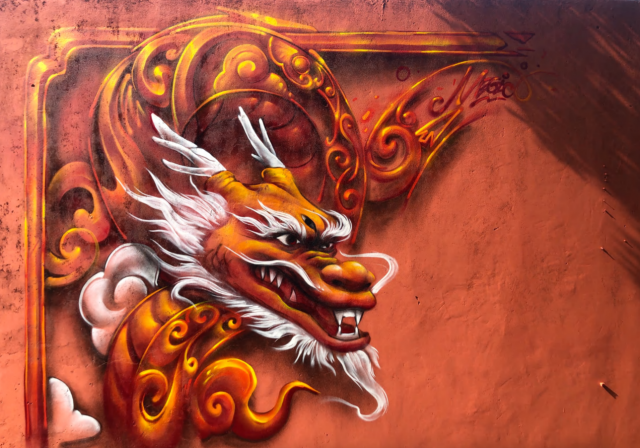 《中国⻰腾》(Chinese Dragon)
MEGIC卢弘圳于2007年开始创作涂鸦至今,其创作灵感源自广东潮汕金漆木雕,探索将传统元素用现代涂鸦的方式结合演绎。作品识别度高,极具中华文化气息特征,颜色鲜明,立体感强烈。MEGIC多次与时尚、 游戏、商业跨界合作,包括、摩登天空、ADIDAS、NIKE、VANS、 Converse、沸点滑板、whatup滑板杂志、腾讯、网易、周大福、BOUCHERON ,宝⻢、MiniCooper、1626潮流杂志、广东省博物馆、 中粮集团祥云小镇等知名品牌合作。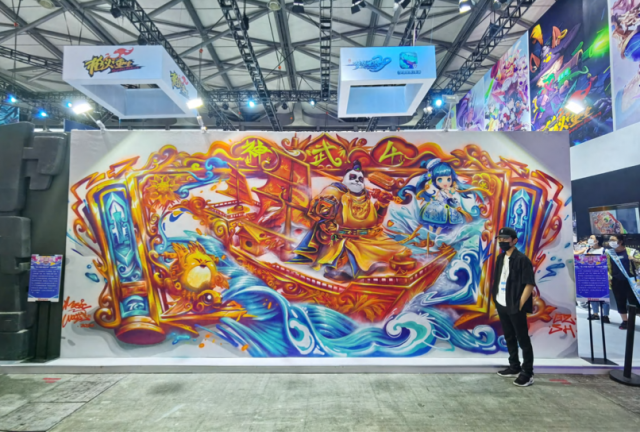 CHINA JOY exhibition booth graffiti (Megic x Guangdong Museum collaboration)
MEGIC X 广东省博物馆神武4 联名涂鸦 (上海CHINA JOY展台开幕涂鸦壁画创作)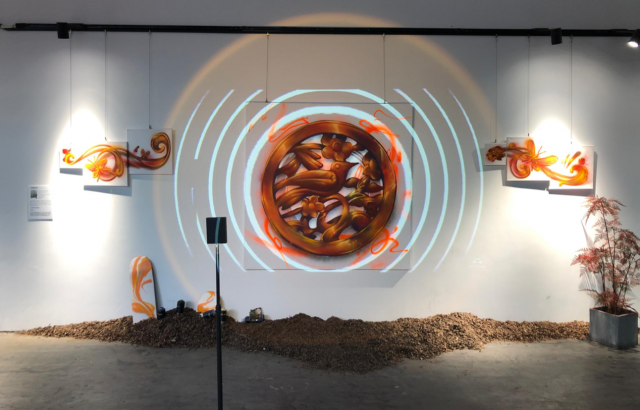 Video installation in Infrom Gallery (Guangzhou)
《爱的魔力转圈圈》 影像装置作品,广州营火画廊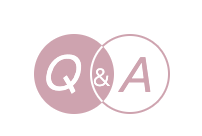 1.Where were you born? 你在哪里出生?
Shenzhen. 我在深圳出生。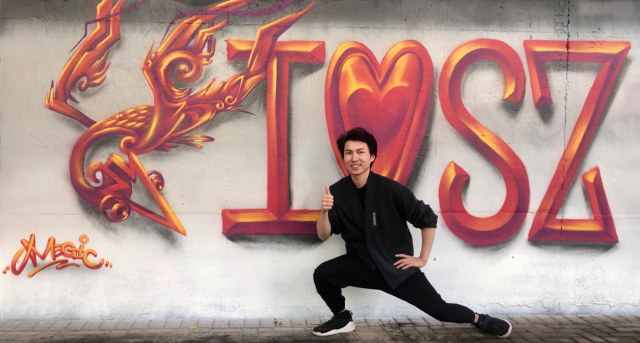 2. Longest you have been away from home? 最长离家多久?
The longest have been one month. 最长一个月。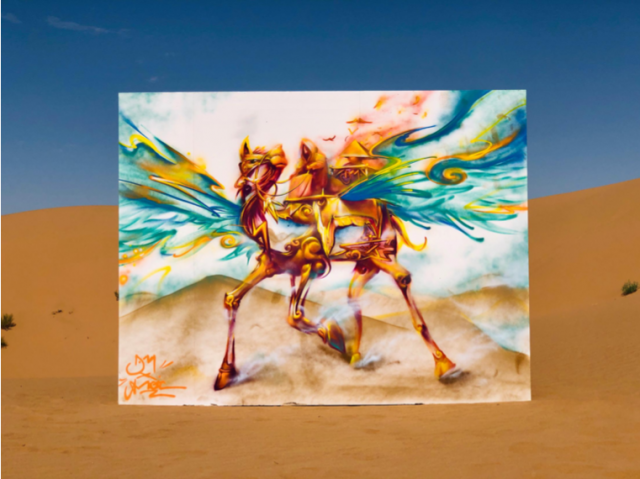 3. The best way to destress? 对你来说,最好的减压方式是什么?
For me, the best way is to go out and paint graffity, freely. That really makes me happy.
最好的方式就是去野外画涂鸦,自由自在的画,让人心情愉悦。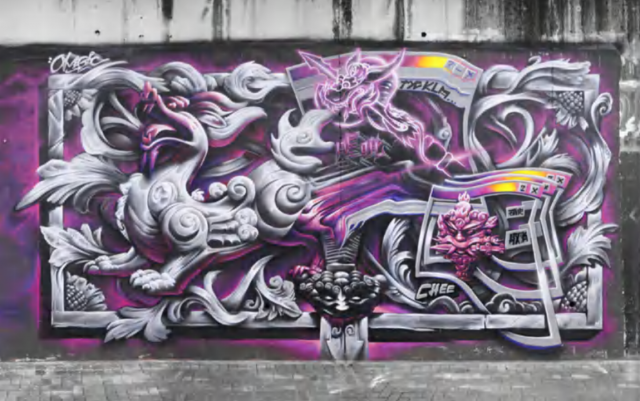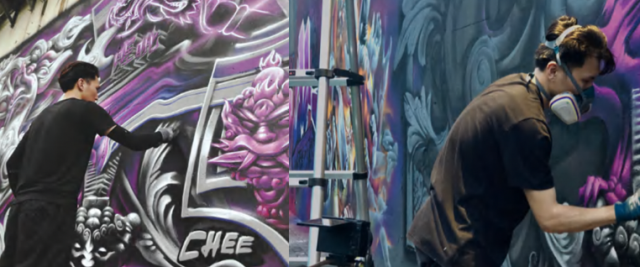 4. How you discovered you were creative?  你是如何发现自己有创造力的?
I've started drawing graffiti in high shool, and havent stopped creating since.
在高中接触了涂鸦之后,我便开始源源不断的创作涂鸦的作品。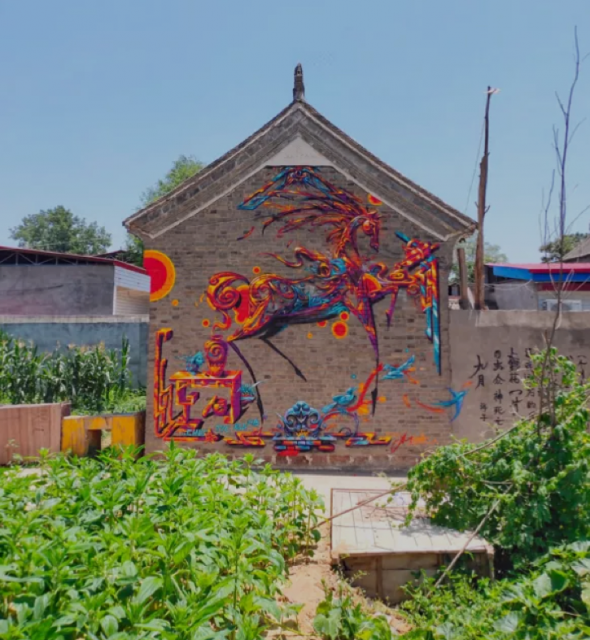 《以梦为⻢》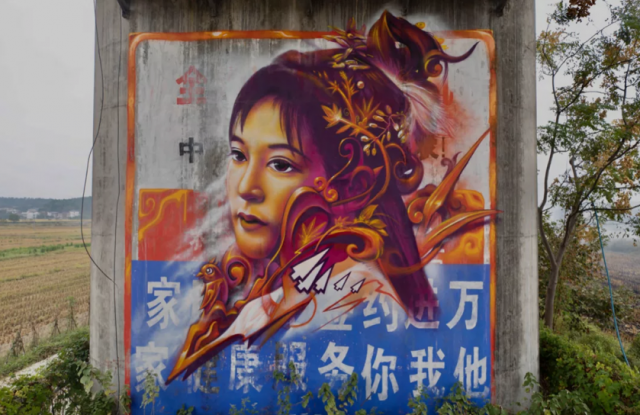 《有机改造乡村广告》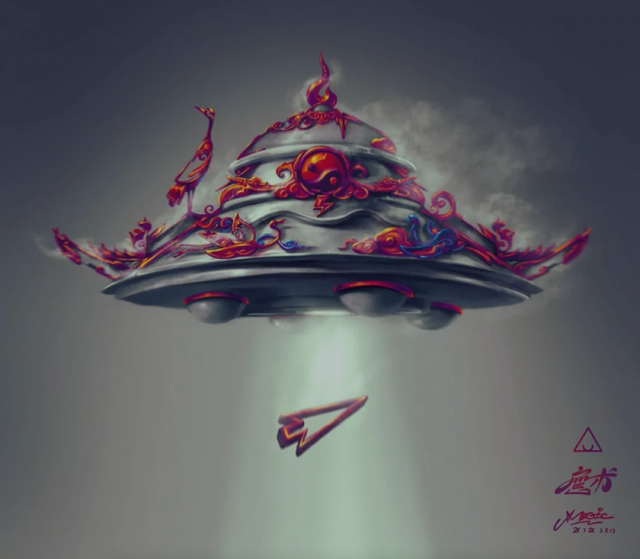 《外星之道》
5.Your favorite creative project you've ever worked on, and why you like it so much?
你曾经参与过的创意项目其中,那个是你最喜欢的项目;为什么你这么喜欢它?
The project in a beutiful village in Jia county, Henan province. The village chief met me and drove me around in his car, and I could choose any wall to draw on. It made me feel like I belonged, and overall very happy and chill.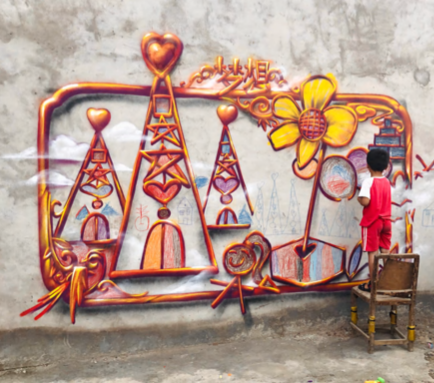 我参与了河南省郏县的一个美丽乡村的涂鸦活动,由村长开车接送,想画哪个墙就画哪个墙,有一直村霸的感觉,让人心情舒畅。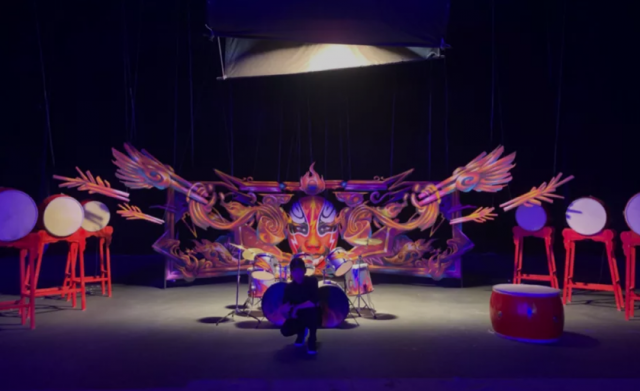 Graffiti installation for Kang Shifu commercial 康师傅麻辣牛肉面 X MEGIC 广告拍摄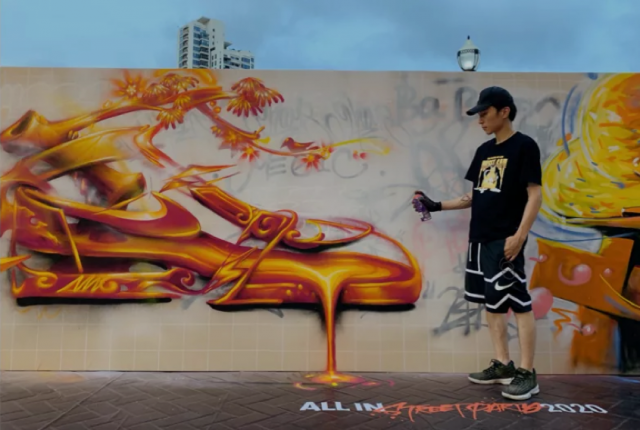 Megic for NIKE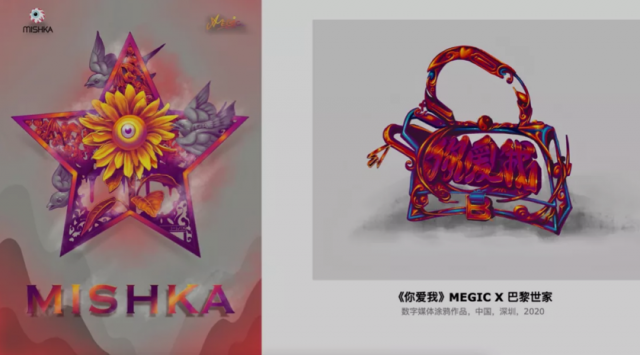 "I Love You" Megic x Balenciaga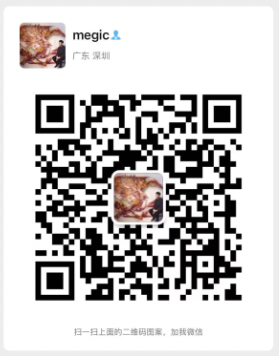 We invite each of the creatives we profile to tag another interesting person for the series. Megic suggested graffiti artist, illustrator KENO.
我们邀请创意人士来一场接力赛,每个人都要推荐另一位有意思的创意人士。Megic推荐的下一个人是:涂鸦艺术家/插画师KENO。
RELATED ARTICLES: