奥美香港近日与香港肯德基推出了两款不同风味的可食用指甲油,并专门打造了一支MV式的广告。结合其著名广告语"令人吮指的回味",在港岛引起了一阵轰动。
Ogilvy Hong Kong has brought new meaning to KFC's famous 'Finger Lickin' Good' slogan, launching two flavours of edible nail polish to celebrate the 30th anniversary of KFC Hong Kong.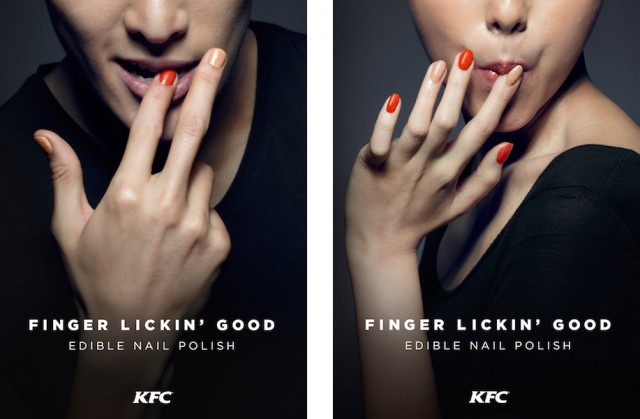 这两款指甲油分别融合了肯德基的两种最受欢迎的口味——原味与香辣味。在味好美食品专家的帮助下,奥美香港与肯德基合力完成了这歌产品。食客们只需将她们涂抹到指甲上——就像普通指甲油一样——然后就可以尽情吮吸。肯德基鼓励食客们为自己钟爱的口味投上关键的一票,因为最终胜出的口味才会投入正式生产,进而被广大食客享用与玩耍。
With the help of food technologists at McCormick, the creators of KFC's famous secret flavoring, Ogilvy and KFC collaborated to concoct two types of nail polish flavoured with KFC's all-time favorite recipes, Original and Hot & Spicy. The nail polish works like any other: consumers simply apply and dry like regular nail polish, then lick to their heart's content. 
KFC Hong Kong have offered the public the chance to take a taste test, and are then inviting them to vote for their favourite flavour on Facebook, with the eventual winner being formally introduced to every franchise of the restaurant in Hong Kong.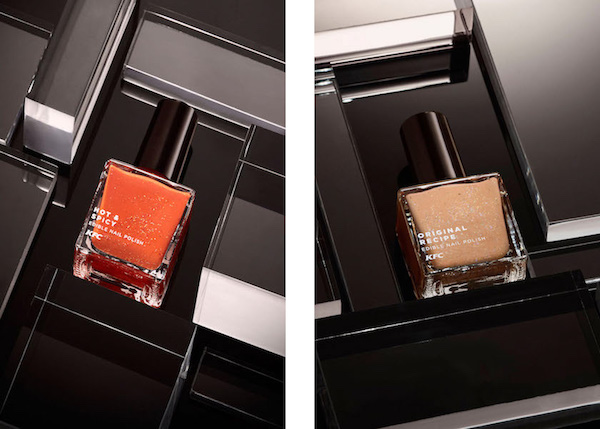 配套的一分半钟MV由Mutual Workshop打造,Helen Clemens执导,两位分别涂抹了原味与香辣味指甲油的年轻人上演了一出beat box与机械舞的表演。
To support the launch, Ogilvy created a 90-second music video.  Produced by Mutual Workshop and directed by Helen Clemens, the film features electro kids beat boxing and body popping wearing the tasty nail glaze.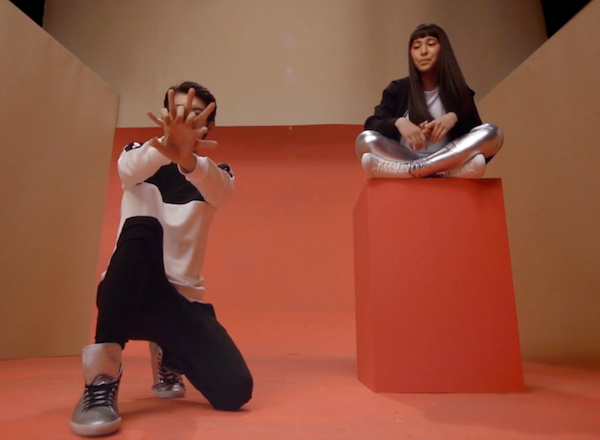 尽管可食用指甲油的创意引起了广泛关注,有部分网友对于该产品的安全性仍心存疑问。无独有偶,去年一家美国公司推出了世界上第一款可食用指甲油。这家叫做Kidlick的公司推出了包括红菜味,纯天然草绿以及胡萝卜味的三种不同风味的指甲油。这款可食用指甲油在北美地区大受好评,尤其是对于有小孩的家长来说,他们再也不用担心自己的小孩会因为好奇而"品尝"有毒的指甲油了。
Though there has been widespread interest in the innovation, some netizens have questioned the hygiene of people licking their fingernails throughout the day.  The idea is not without precedent. American company Kidlick last year launched the world's first edible nail polish. The product, released in three enticing flavours – beats, grass green and sour carrot – has proved popular with North American parents wary of giving their kids toxic nail polishes.