4月26日,杜蕾斯为了推广旗下新产品"超薄空气套",他们邀请了100位情侣现场体验该产品并在B站,乐视,斗鱼等多个视频网站上进行了直播。当天晚上9点超过500万网友期待着这场"超限制级"的直播大戏,最终的结果却令人失望:在一个停尸间般的房间内,经过了3个小时的漫长等待后,现场喷出了一股白烟,而直播也就到此结束。
等待直播的500万网友明显对于这个结果非常不满意,有人评论说这场直播是"史上最长的前戏","最无聊的直播","一个小时搬床,半个小时采访,半个小时体操,半个小时吃水果,另外半个小时迷之沉默,最后放了一个屁"。"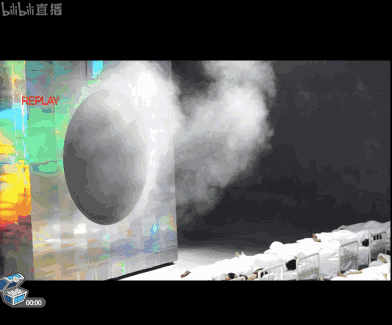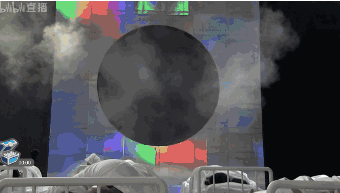 杜蕾斯"百人试套"营销|Durex AIR condom campaign
To promote its latest AIR condom, Durex China invited 100 couples to 'try' their new product on the evening of April 26th and have their encounter streamed live on video websites such as Bilibili, LeTV and Douyu.
However, there was to be no cigar for the 500 million virtual voyeurs. The couples climbed into lined up beds, creating a mortuary-like impression, and chatted for three hours, before covering themselves with sheets and finally disappearing behind a shroud of white smoke.  Frustrated netizens were left hot and bothered, describing the event as the "most stupid and boring live show ever in history" and "the longest foreplay in history" that ended in "a mysterious fart".
杜蕾斯美国:充气狗|Durex USA: Get It On
由于中国市场的特殊性(昂贵的广告费用,法律条款以及相对小众的成人用品市场),杜蕾斯很快意识到在其他地区所采用的营销手段在中国市场并不适用。他们因此一改国外电视广告为主的战略,以微博等社交媒体为基础,展开了互动式的数字营销。杜蕾斯在中国的成功应当归功于2011年的"鞋套事件"。6月23日,一场暴雨席卷北京城,出租车进水,地铁关闭,地面积水5厘米等消息铺天盖地。北京杜蕾斯办公室的工作人员灵机一动,将杜蕾斯的避孕套套在了鞋子外面并拍照上传了微博。该消息在一个小时内就获得了上千次的转发,将雨灾的消息远远甩在了身后。三天后,该消息的转发量达到了9万次。这也是新浪微博第一次非明星事件、非天灾人祸、非转发就发财而是原创和品牌相关的内容登顶本周转发热门榜第一名。

杜蕾斯鞋套事件|Durex Beijing Condom Shoes
With strict regulation on adult products and a general taboo on sex in the media in China, Durex have had to be crafty about their domestic marketing, adopting an interactive and digital strategy focused on social media.  Their first notable success came in 2011, when a storm swept Beijing resulting in closed metro stations and flooded streets.  Employees at Durex's Beijing office waterproofed their shoes with condoms and posted pictures of the masterstroke on Weibo.  The post was 'retweeted' 1000 times in the first hour, eventually maxing out at 90,000 hits after three days, marking the first ever viral company post on Weibo.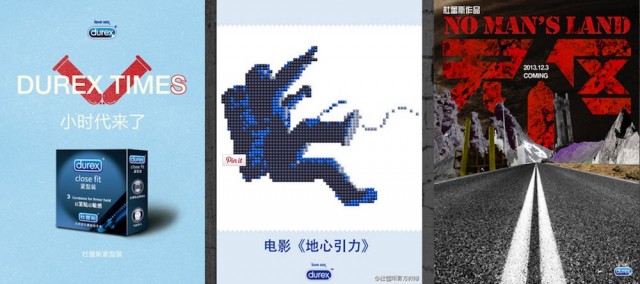 杜蕾斯中国微博海报|Durex's Print Ads on Weibo
杜蕾斯的微博营销同时也围绕着当前时事与名人微博展开。2011年4月26日,微博红人作业本发布了一条微博称:"今晚一点前睡觉的人,怀孕。"杜蕾斯的微博账号立刻转发该微博并评论道:"有我,没事!"这条微博先后被转发超过7000余次,杜蕾斯的微博账号当天也新增了近3000名粉丝。
A key part of Durex's strategy is sparking discussion based on celebrity Weibo tweets.  The most high profile example came in April 2011, when online star Zuo Yeben joked, "Those who sleep before 1 am tonight will get pregnant."  Durex retweeted the post, commenting "With me, you don't need to be afraid of pregnancy." The post was retweeted over 7000 times, earning Durex more than 3000 new followers in one day.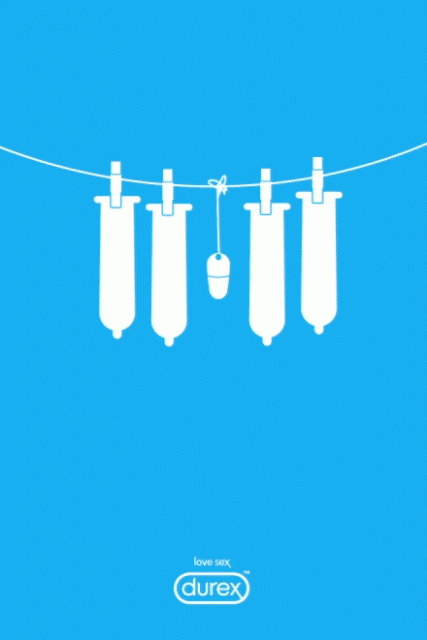 凭借其在微博上幽默与睿智的回复,杜蕾斯已经占据了中国避孕套市场30%的份额,他们在中国的销量自2010年起翻了将近三翻。紧跟杜蕾斯的脚步,其他知名成人用品公司如冈本OK也纷纷展开了微博营销,转发评论大量热点新闻来吸引公众眼光。如此次的"百人试套"直播,冈本在当夜凌晨直播结束时发了一条微博配图写着"冈本君关掉直播,并用003爽了一把"。尽管网友们对这次"超限制级"直播的无数吐槽,杜蕾斯仍旧凭借此次营销博得了大众的眼球。500万的点击率也成功达到了本次营销的意图。
It's not exactly groundbreaking stuff, but the strategy has helped Durex to build a 30% share of the adult product market in China and tripled their domestic profits since 2010.  Rival adult product companies have unsurprisingly followed suit and adopted their own social media-based campaigns. Immediately following the AIR stunt, Japanese condom brand Okamoto posted on Weibo, "We turned off the live stream and had some pleasure time with Okamoto."  Viewers may not have found relief but, with 500 million viewers, for Durex it marked a very happy ending.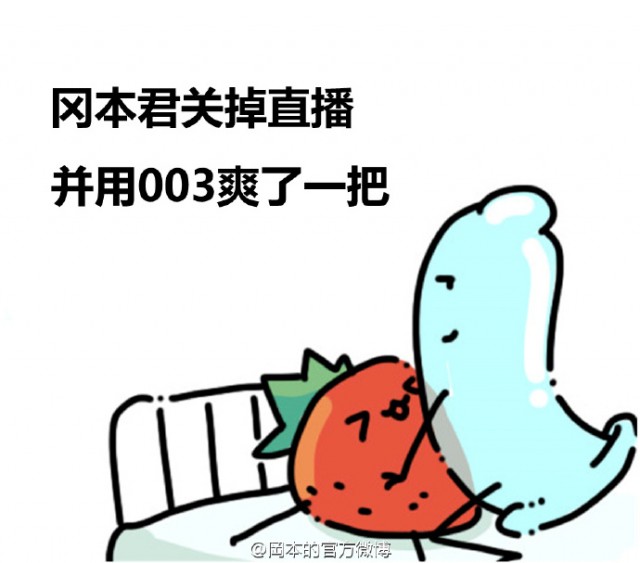 冈本微博配图|Okomoto's Weibo Post