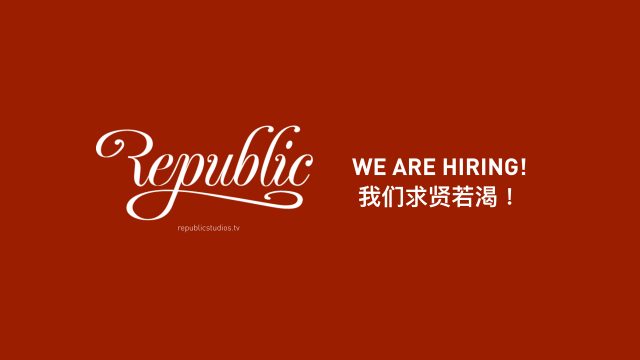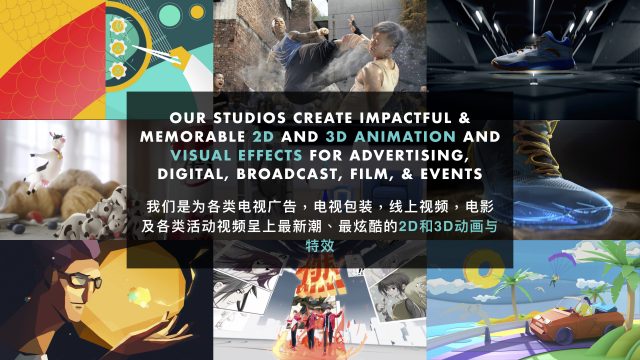 HIRING: PRODUCER 招聘 : 制片
We are currently looking to hire a producer/project manager with strong English skills (verbal andwritten) for both internal communication between our international team members and external communication with clients. In addition to English and translation proficiency, this candidate will also fulfill basic producer/project manager roles, including budgeting, working with client and advertising agency producers, and managing schedules and internal resources to ensure smooth delivery of our projects.
We are looking for someone who has an interest in working in a fast-paced and creative industry, who has strong people and communication skills, and who can manage multiple projects on their own. Previous experience in any media or design company, especially in commercial production or post-production companies, is strongly desired but not necessary.
Republic Studios是一家来⾃美国的小型⼴告动画公司,在纽约和上海都有工作室。我们主要为美国和中国市场的商业⼴告做⾼质量的motion graphics(动态影像)和视觉特效。目前我们正在寻找一位制片来担负基本的制片职责,需要有很好的英语(⼝头和书面)沟通能力进行公司内部及公司与客户之间的沟通交流。
工作内容主要包括:中英⽂书⾯翻译,报价、与制作公司和代理商的制片,一起合作沟通项目进程、项目进度表管理、与内部制作团队沟通合作保证项⽬顺利完成。需要你能够胜任快节奏强压⼒的环境,有出色的沟通交流能力,能够同时独立管理不同的项目。有⼴告或制作等相关经验则优先考虑。
HIRING: MOTION GRAPHICS ARTIST 招聘 : MG 动画师
We are currently seeking creative talent interested in joining our Shanghai office. We are looking for motion designers and animators who are looking for an opportunity to produce innovative and high quality work.
Qualifications and requirements include:
- Basic Design/Layout Skills
- Primary Software Skills: After Effects
- Secondary Software Skills: Photoshop, Illustrator
- Capable of doing animation for motion graphics and also compositing for 3D animations
- Proficiency with 3D software preferred but not required
Republic 是⼀家来自美国的⼩型广告动画公司,在纽约和上海都有工作室。我们主要为美国和中国市场的商业广告做高质量的motion graphics (动态影像) 和视觉特效。我们正在寻找具有创造才能的有志人士加入我们⼀起创建上海办事处。我们所需要的是能够设计创造出创新及高品质作品的设计师和动画制作⼈员。
该职位的资格与条件描述:
- 有基础平⾯设计能力
- 主要软件技能: After Effects及相关
- 其他软件技能: Photoshop, Illustrator及其他
- 能制作MG动画,并合成3D动画
- 会3D软件者优先考虑
If interested, please email your C.V. and showreel to
请将个⼈简历及作品集和期待薪资发到
zhaopin@republicstudios.tv
>

Locations
Shanghai / 上海

934 Nanjing West Road, Ste. 406


南京市西路934号406室


New York

200 Broadway, New York, 10038