Future+ Media is an experiential marketing & advertising agency, providing solutions for business development and brand strategy. We offer creative concepts, event design, TVC creative, and anything else you need to expand your brand, plus more. Our name reflects our commitment to provide more than just the basics, to build the extraordinary, to always go the extra distance and help our clients think ahead.
Future+ Channel will be a content platform, acting as an owned media channel for Future+'s exclusive IPs and original videos. The channel will be focused on attracting high-income audiences both in China and abroad with distinctive and engaging original content.
Manager Director
Main Responsibilities
• Fully responsible for the company's business development and team management, new business development and achievement of performance goals.
• Fully understand the company needs, understand and dig the core of our brand communication, establish stable and long-term contacts and good cooperative relationships with clients, provide Future+ with visible, experienced, and effective strategies and solutions.
• Subordinate personnel training and team building, guiding and improving the team's professional capabilities and service levels, inspiring and leading the team to submit outstanding works.
Job Requirements
• Understand the establishment of company management framework.
• Understand the establishment of team incentive mechanism.
• Understand talent management and training.
• Proficient in brand marketing strategies, strong strategic forward thinking, especially leading market insight and analysis capabilities in the field of advertising and video creative industry.
• Excellent team building capabilities of team formation from scratch.
• Have more than five years of top management experience in the same position, team management of more than 10 people.
Business Development
Main Responsibilities
• Manage and expand brand customer resources to achieve the company's strategic goals.
• Have outstanding business development capabilities.
Job Requirements
• Strong internal and external team coordination and communication skills, courage to take responsibility. Better have own business recourse.
Marketing Director/ Marketing Manager
Main Responsibilities
• Be responsible for the overall market positioning and expansion of Future+ Media brand.
• Combining Future+ Media various types of business, through all kinds of public relations, channel promotion, brand design, content marketing, industry cooperation, and other marketing methods to create brand awareness.
Job Requirements
• Understand the entertainment and advertising industry marketing methods and models, and continue to follow the trend to expand new channels.
• Have rich marketing management experience.
Video Director/Independent Film Director
Main Responsibilities
• Research and dig up viewing the attributes of high-end video platforms, dig up topic video selection, creative content according to needs.
• Can individually produce video from brainstorm stage to post-production stage is preferred.
Job Requirements
• With script ability and creative thinking, familiar with lens language and various film and television methods to output ideas.
• Strong sense of beauty, big and active thinking, many ideas, quickly produce attractive content based on current trends.
Video Animation Designer/VFX Designer
Main Responsibilities
• Responsible for the visual construction and extension of the company's overall brand image, and can produce certain high-quality works.
• Cooperate with the creative execution team to execute the ideas perfectly and control the executable and achievability of the ideas.
Job Requirements
• Proficient in use of PS/AI/AE/Zbrush/C4D and other related design software, better familiar with SketchUp or any of the 3D software.
• Have strong comprehensive analysis ability, innovative thinking, and his own unique creative ideas. It is not just an executive design. It accurately understands the needs of the work and completes it efficiently.
Senior Creative/Creative Director
Main Responsibilities
• The creative energy is bursting, which can accurately grasp and tap the future +'s needs, and let our brand feel the continuous visual climax when you propose.
• Analyze customer creative needs, main target audience insight, and refine concept.
Job Requirements
• Be creative, brain-minded, have entertainment sensitivity, be familiar with creative development trends, and have unique and bold insights.
• Familiar with various design software, not purely rely on design team to complete the work.
• Better based on art creative.
• Strong communication and expression skills.
• Rich management experience in creative team.
Senior Art/Art Director
Main Responsibilities
• Ultra-high aesthetic taste, control quality and tone.
Job Requirements
• Strong communication and expression skills, proactive, serious and responsible, hardworking.
• Proficient in all types of design skills, including but not limited to PS/Indesign/video editing & video creative with outstanding works.
Senior 2D Designer
Main Responsibilities
• Responsible for the design of brand vision for Future+ Media & Future+ Channel.
• Can independently complete the design of the main visual.
Job Requirements
• Have strong design creative ability, understanding visual expression.
• Better control of the combined use of materials, lights and colors and overall effect.
• Outstanding the brand guideline and update the brand image frequently.
Senior Copywriter
Main Responsibilities
• Capable of working independently and writing beautiful, fresh, sticky copy.
• Be able to write compelling and grammatically correct copy for all kinds of channel including but not limited to social media, website projects proposals and all types of scripts. Preferred bilingual(Chinese & English).
Job Requirements
• Excellent copywriting experience.
Human Resource
Main Responsibilities
• Developing and administering human resources plans and procedures that relate to company personnel.
• Provide training, management and guidance to directly employed staff.
• In charge of recruitment of all types of employees.
Job Requirements
• Better have advertising / video / event related industry employee or freelancer resources.
• Excellent communication and staff management skills.
• Leadership skills / interpersonal skills / negotiation skills / computer skills is what we need.
• Both excellent in English and Chinese oral & writing skills.
If you are interested in our positions, please email your resume, showreel and your work to us.
Contact Email: hr@futureplusmedia.com
Follow us on:
F+ WeChat : Future Plus SH
F+ Weibo : FuturePlusMedia
F+ Instagram : futureplusmediaofficial
F+ Facebook : Future Plus Media
F+ Linkin : Future+ Media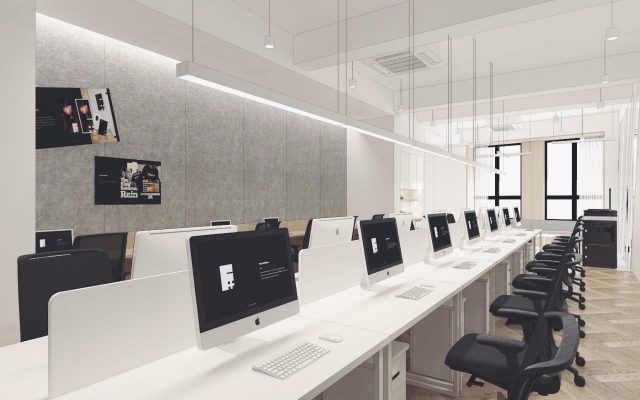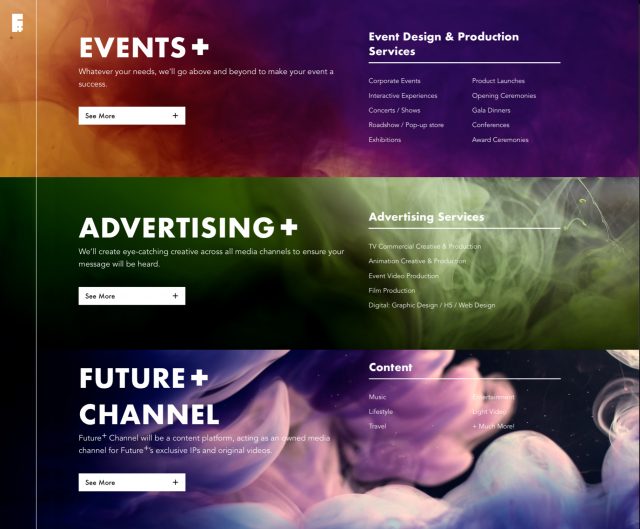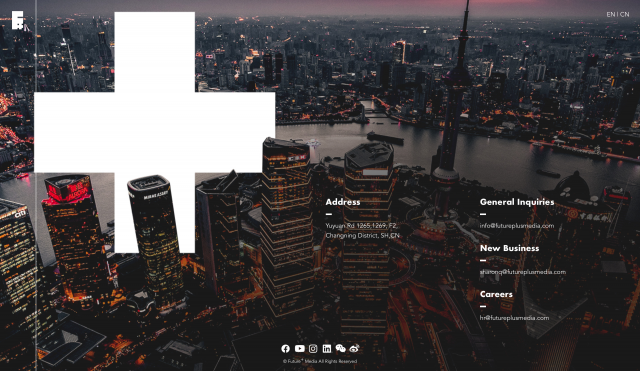 >

Employees
Sharon Q
General Manager
sharonq@futureplusmedia.com
Ivan Wu
Co-Founder
ivanwu@futureplusmedia.com
>

Locations
Shanghai / 上海

Yuyuan Rd 1265, F2, Changning District

长宁区愚园路1265号2层